Hanwha Techwin Signs Gas Turbine Package Project MOU with GE
MOU signed with GE Oil & Gas for gas turbine and compressor partnerships in the Asia-Pacific region
Hanwha Techwin selected as the sales agent for GE's newest compact gas turbine model, NovaLT5, in February
Partnership between two companies expanded to include not only aircraft gas turbine engines but also energy equipment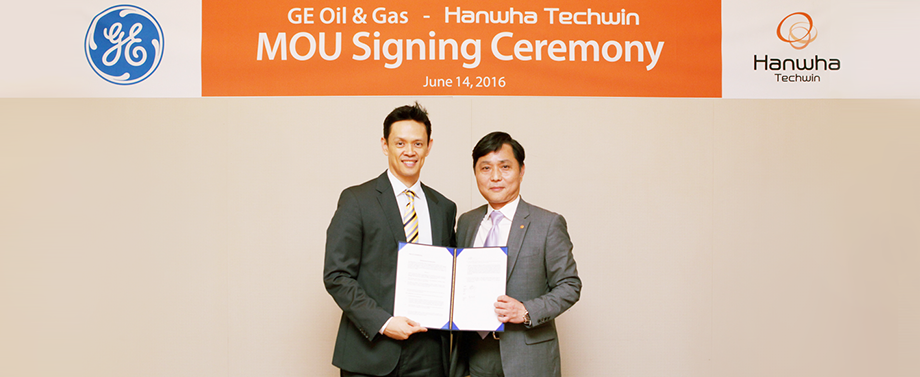 On June 15, Hanwha Techwin (CEO of Aerospace and Defense Business Group Shin Hyun-Woo) announced the signing of an MOU with General Electric (GE) Oil & Gas, a leading U.S. global energy equipment company, for gas turbine and compressor package project partnership, during the ASME Turbo Expo 2016¹ held at COEX, Seoul.
¹ ASME TURBO EXPO 2016
The world's largest turbomachinery technical conference organized by the American Society of Mechanical Engineers (ASME) is held from June 14 to 16 at COEX in Seoul. Over 1,000 technical papers on turbo-related equipment including gas turbines, steam turbines, wind turbines, and supercritical carbon dioxide engines will be presented during the conference; this year's event is the first to be held in the Asian region.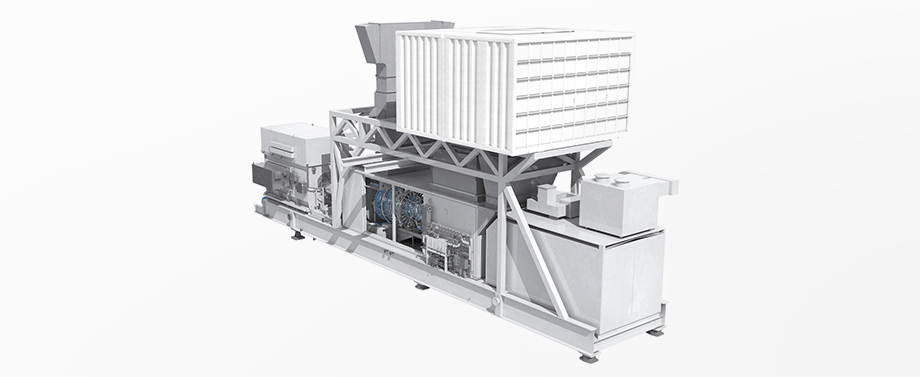 The MOU contains an agreement for Hanwha Techwin and GE Oil & Gas to engage in active cooperation for future gas turbine and compressor package projects in the Asia-Pacific region.
The latest agreement will allow Hanwha Techwin to bring in key energy equipment components such as gas turbines and compressors from GE Oil & Gas to produce gas turbine generator set or compressor set packages, which are integral parts of power generation and voltage regulation processes.
Earlier in February, Hanwha Techwin signed an MOU with GE Oil & Gas for the right to sell GE's NovaLT5 series of gas turbines in Italy. The NovaLT5 is a compact 5.6 MW system that will be officially released in late 2016, primarily designed for use in smaller power systems such as distributed power generation.
A spokesperson for Hanwha Techwin said, "The MOU represents GE's acknowledgement of Hanwha Techwin's business experience and production capability, which has made excellent achievements for the last 20 years in the energy equipment market," adding that "the two companies will continue to expand their partnership to take further leadership in the global energy equipment market."
Hanwha Techwin has developed and manufactured industrial air and gas compressors by building on over four decades of know-how in aircraft engine production, and is currently the sole energy company in Korea capable of designing, producing and testing large-capacity high pressure air and gas compressors and gas turbine packages for power generation.
GE Oil & Gas, a division of GE, the world's largest global infrastructure company, is a leading oil and gas industrial energy equipment firm with its headquarters in the United Kingdom.
The close partnership between Hanwha Techwin and GE, which extends back to the 1980s, has included a wide range of projects from the domestic development and production of gas turbine engines for many of Korea's frontline fighter and rotary-wing aircraft, including the F-5, F-15K, T-50 and Surion, to supplying $406.05 million USD in engine components for civil aircraft in 2015. The latest MOU will expand the close partnership between the two companies to include energy and power-generation equipment.
*Currency is converted into US dollars at the average exchange rate of USD 1=KRW 1,157.50
Hanwha Group
Founded in 1952, Hanwha has grown quickly by anticipating and responding to changing business environments with a balanced business portfolio that includes energy & materials, aerospace, finance and retail & services. Our expertise and synergy in key areas have catapulted us into the seventh-largest business in South Korea and a Fortune Global 500 company. Hanwha continues to grow rapidly as we strive to pursue global leadership in all of our businesses. We are building a robust foundation for sustainable development and a brighter future for everyone.

For more information, visit: www.hanwha.com
Contact Us
Thank you for your interest in Hanwha.
Please contact us for your inquiries.
Email Us
Information Message
Please enter your email address.
Information Message
Please enter a correct email address.
Success
Keep an eye on your inbox for the latest stories from Hanwha.
Information Message
Your subscription request has already been processed. Thank you.