Hanwha Techwin's Video Surveillance Cameras to Livestream Volcanic Eruptions in Iceland
Hanwha Techwin video surveillance cameras have been installed to monitor a volcano near the Icelandic capital of Reykjavik
The cameras feature solutions optimized for volcanic regions, including defog and stabilization functions
Volcanic activity is broadcast in real time through a local media outlet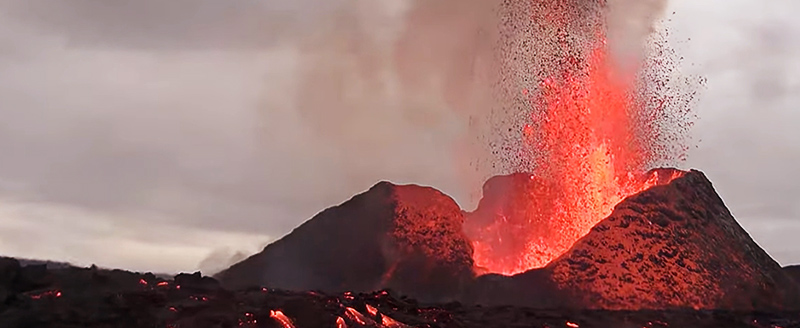 [August 30, 2021] Skyrocketing lava, billows of hot steam rising from the soil, and massive clouds of volcanic ash.
These sights at active volcanoes, which most people would only see in movies or documentaries, can now be viewed in real time with the help of Hanwha Techwin video surveillance cameras.
On July 27, Hanwha Techwin, a global security solutions provider, announced that it had recently installed Wisenet cameras to monitor volcanic activity in the Reykjavik region of Iceland. Located just below the Arctic Circle, Iceland straddles the Eurasian and North American tectonic plates. This makes the country a volcanic hotspot—home to more than one hundred volcanoes.
Installing video surveillance cameras near a volcano is an extremely difficult task—the area adjacent to the volcano is very hot and the air is thick with smoke, ash and dust, which undermine video quality. With earthquakes and eruptions posing a constant threat, overcoming such harsh conditions requires the best technology in the industry.
The three Hanwha Techwin Wisenet cameras that were installed—the XNO-8082R, XNP-6120H and PNM-9030V—not only work well in temperatures that exceed 50 degrees Celsius, but also feature weatherproof housings that protect them from dust and ash to prevent malfunction.
Moreover, the cameras come with a defog feature that can fine-tune images covered by volcanic fog or smog, as well as a built-in gyroscope that compensates for shaking caused by wind or earthquakes, producing sharp and stable images.
Because this harsh environment is not suitable for installing separate power generation facilities, the Wisenet cameras are powered by solar panels and wind turbines.
Volcanic activity captured by the cameras is broadcast to global audiences live, 24/7 through a local media outlet. The streamed video not only offers the unique experience of observing volcanic activity in real time, but also serves as a valuable resource for geological research.
"It was very challenging to install a video solution near an active volcano, but it also gave us an opportunity to demonstrate our technological prowess," said Hafliði Jónsson of Hafnes Ehf, Hanwha Techwin Europe's authorized distributor in Iceland. "We will continue to solidify our position as a solution provider that meets the needs of our customers regardless of conditions."
As a leader in the global video security industry, Hanwha Techwin leverages cutting-edge video technology and artificial intelligence to offer customized solutions in more than 60 markets around the world.
Hanwha Techwin
With over 30 years in the video surveillance business, Hanwha Techwin is a top-tier global security company through its world-class optical, manufacturing and image processing technologies. As the world shifts to the Fourth Industrial Revolution, we are leading the market with next-generation technologies such as deep learning, Artificial Intelligence (AI) and business intelligence (BI), and able to offer solutions tailored to meet various vertical market requirements. Providing cybersecurity that customers can trust and rely on, we offer total security solutions which provide high satisfaction and value as well as real-life practical benefits. Hanwha Techwin will continuously strengthen its development and marketing investments in the security business to drive future growth.

We manufacture our video surveillance devices in South Korea and Vietnam which are sold through our sales networks across Europe, the Americas, China, the Middle East and Asia.

For more information, visit: www.hanwha-security.com/en/
Contact Us
Thank you for your interest in Hanwha.
Please contact us for your inquiries.
Email Us
Information Message
Please enter your email address.
Information Message
Please enter a correct email address.
Success
Keep an eye on your inbox for the latest stories from Hanwha.
Information Message
Your subscription request has already been processed. Thank you.