Hanwha Corporation Showcases Korea's No. 1 CNC Lathe at World's Largest Machine Tool Expo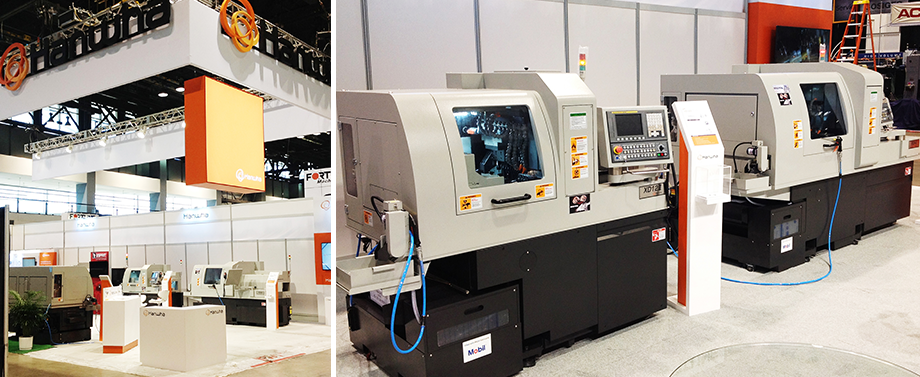 Hanwha Corporation showcased six products including two new automatic lathes in the International Manufacturing Technology Show 2016 (IMTS), one of the world's largest machine tool exhibitions, from September 12th to 17th in Chicago, U.S., and.
Over two thousand companies from more than 100 countries around the world participated in IMTS 2016. Hanwha Corporation used the exhibition as a platform for attracting leading dealers in the Americas and Europe. Hanwha also took advantage of the exhibition as an opportunity to promote it's core products to potential customers visiting the show.
The six automatic lathes exhibited at the show included the XD Series (XD12III-H, XD42N, XD38II-H) and the turret-type STL38H. The XD42N is Hanwha's first automatic lathe to display at an international exhibition. It has an upgraded design ideal for heavy cutting while ensuring high levels of rigidity. The lathe was previously on display at the 17th Seoul International Manufacturing Technology Show (SIMTOS 2016) held in April.
The XD12III-H is a new model improving on the features of its predesscor, the XD12II-H. Both models, however, demonstrate Hanwha's leading technological prowess in the large and compact automatic lathe markets.
Hanwha Corporation launched its machine tools division in 1977, and developed Korea's first automatic lathe in 1983. The company's continuous R&D has allowed it to maintain a strong lead in Korea's CNC automatic lathe market, and the company plans to begin actively expanding into overseas markets.
Machine tools are machines for manufacturing mechanical components; they are often called "machines that make machines;" machine tools form the basic foundation of the machine industry.
CNC (Computer Numerical Control) automatic lathes are designed for mass production. CNC lathes are system machining tools that are driven by computerized control. CNCs are indispensable "one-stop" tools used from fabricating materials to final production across numerous industries including automobiles, electric and electronics, medical equipment, and mobile devices.
Automatic lathes XD Series includes XD12III-H, XD42N, XD38II-H
∙ XD12III-H: 12-guage model, XD Series
∙ XD42N: 42-guage model, XD Series
Turret type is a type of automatic lathe that resembles the turret of a tank that rotates to machine the product, allowing the lathe to perform a wide range of operations to suit various material types.
Hanwha Corporation
Hanwha Corporation, the parent company of the Hanwha Group, is a global manufacturing company that has directly contributed to the growth of South Korea's economy. There are 3 divisions under the Hanwha Corporation: Global, Defense, and Machinery. Hanwha Corporation was founded in 1952 as Korea Explosives Company, quickly becoming the leader in the explosives industry of South Korea. It has since grown into a global manufacturing company operating in three business areas—explosives and chemical, defense, and machinery.

In 1959, Hanwha was the first domestic manufacturer of dynamite in South Korea. After having successfully developed safer, high-quality industrial explosives and fire process products, we have been able to supply the South Korean government with the crucial means to rebuild its cities and infrastructure.

For more information, visit: www.hanwhacorp.co.kr/eng
Hanwha Group
Founded in 1952, Hanwha has grown quickly by anticipating and responding to changing business environments with a balanced business portfolio that includes energy & materials, aerospace, finance and retail & services. Our expertise and synergy in key areas have catapulted us into the seventh-largest business in South Korea and a Fortune Global 500 company. Hanwha continues to grow rapidly as we strive to pursue global leadership in all of our businesses. We are building a robust foundation for sustainable development and a brighter future for everyone.

For more information, visit: www.hanwha.com
Contact Us
Thank you for your interest in Hanwha.
Please contact us for your inquiries.
Email Us
Information Message
Please enter your email address.
Information Message
Please enter a correct email address.
Success
Keep an eye on your inbox for the latest stories from Hanwha.
Information Message
Your subscription request has already been processed. Thank you.