Hanwha Group Launches Hanwha Defense Systems, Enhancing Its Defense Business Portfolio to Leap towards a World's Leading Defense Company
Hanwha Group finalizes acquisition of Doosan DST
Deal takes Hanwha beyond leadership of Korean market, joining the ranks of global defense giants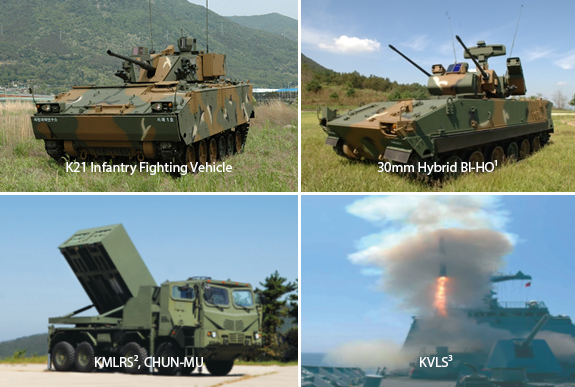 ¹ Hybrid BI-HO: 30mm Gun and Missile Air Defense System
² KMLRS: Korean Multiple Rocket and Missile Launcher
³ KVLS: Korean Vertical Launching System
Hanwha Group has finalized the acquisition of the shares of Doosan DST held by Doosan Corp. and other parties and relaunched the company as a Hanwha Group subsidiary. The deal takes Hanwha one more step beyond its leadership of the Korean defense industry towards establishing itself a top-tier global defense company.
Hanwha Group completed all regulatory processes including M&A approval by the Fair Trade Commission and renamed Doosan DST to Hanwha Defense Systems following shareholders and board of directors meetings on May 31. The new name reflects Hanwha Group's commitment to serving as the central pillar of Korean independent national defense and maintaining its stature as an industry leader, in alignment with the Group's core management philosophy of "contributing to the nation and society through business."
The latest deal makes Hanwha Defense Systems one of Korea's top three land weapons systems manufacturers, with Hanwha Techwin and Hyundai Rotem; the company has consistently recorded solid performance, with last year's sales totaling 598 million USD with profits of 35 million USD for an operating margin of 5.9%.
Shin Hyun-Woo, CEO of Hanwha Techwin's Aerospace & Defense Business Group, assumes the CEO position of Hanwha Defense Systems to stabilize the new business and create synergy with Hanwha Group's existing defense business.
CEO Shin is an expert executive manager with a long history of working in the defense industry and extensive experience in business strategy, R&D and operational management, having served as the director of management strategy for Hanwha Corporation and the executive manager in charge of development projects. He was a major driving force behind Hanwha Techwin's first-quarter earnings surprise and is widely regarded to have put the company's business operation on a solid footing and put Hanwha Techwin on course for strong growth after his appointment in November 2015 as CEO of Hanwha Techwin's Aerospace & Defense Business Group.
With the acquisition of Hanwha Defense Systems, Hanwha Group has further cemented its position as Korea's top defense company with the total Group defense business sales in 2016 estimated at 3.6 billion USD. The synergy between the new company and Hanwha Techwin, Hanwha Corporation and Hanwha Systems is expected to provide the foundations for competing head-to-head with global defense industry leaders.
The Group's extensive defense portfolio—Hanwha Techwin's artillery systems and aircraft engines, Hanwha Corporation's munitions and precision guided weapons, Hanwha Systems' command and control and surveillance and reconnaissance systems and now Hanwha Defense Systems' Land, Air-defense and Guided Weapon Systems—are expected to generate the synergy that will enable Hanwha Group to become one of the world's top ten defense companies with the Group sales of 9.5 billion USD by 2025.
Shin Hyun-Woo, CEO of Hanwha Techwin's Aerospace & Defense Business Group and Hanwha Defense Systems, said, "The acquisition of Doosan DST is part of a long-term strategy for our growth into a global top-tier defense company," adding that "the company will draw from the strong synergy with Hanwha Defense Systems to bolster the competitive capabilities of every business division and actively develop overseas markets, as part of our efforts to grow into a world-leading defense company."

* Currency is converted into US dollars at the average exchange rate of USD 1=KRW 1,158.00
Hanwha Group
Founded in 1952, Hanwha has grown quickly by anticipating and responding to changing business environments with a balanced business portfolio that includes energy & materials, aerospace, finance and retail & services. Our expertise and synergy in key areas have catapulted us into the seventh-largest business in South Korea and a Fortune Global 500 company. Hanwha continues to grow rapidly as we strive to pursue global leadership in all of our businesses. We are building a robust foundation for sustainable development and a brighter future for everyone.

For more information, visit: www.hanwha.com
Contact Us
Thank you for your interest in Hanwha.
Please contact us for your inquiries.
Email Us
Information Message
Please enter your email address.
Information Message
Please enter a correct email address.
Success
Keep an eye on your inbox for the latest stories from Hanwha.
Information Message
Your subscription request has already been processed. Thank you.