Hanwha Corporation/Machinery Establishes its First Production Base in China
Located in Zhangjiagang, Jiangsu, this production base will help Hanwha Corporation/Machinery expand its business in the Chinese market
Launched with an investment of USD 8.8 million, the base produces and sells machine tools and power trains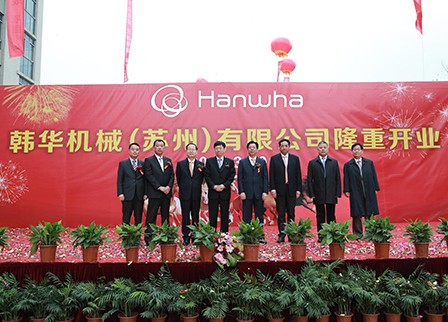 Hanwha Corporation/Machinery Kim Youn-Chul President has taken the first step in expanding the company's operations in the Chinese market by officially beginning production and sales in China. On March 20, an opening ceremony for Hanwha Corporation/Machinery(Suzhou) Co., Ltd. was held in Zhangjiagang, Jiangsu.
About 80 distinguished guests attended the ceremony, including Hanwha Corporation/Machinery Kim Youn-Chul President; Hanwha Group China H.Q. Keum Choon-Soo President&CEO; Hanwha Chemical(Ningbo) Co., Ltd. Han Sang-Heum President; general managers of Hanwha Group affiliates; and Zhang Wei Communist Party Committee Zhangjiagang City Standing Member, Working CPC
of Zhangjiagang Economic and Technology Development Zone Secretary.
Hanwha Corporation/Machinery(Suzhou) Co., Ltd. – which was launched with a 100 percent investment by Hanwha Corporation/Machinery worth approximately USD 8.8 million – focuses on the production and sale of machine tools and power trains.
Since 2003, Hanwha Corporation/Machinery has run an office in Shanghai, China, and won a contract to produce machine tools, transmissions and engine assembly lines. Amid increased demand for transmissions and machine tools in China, Hanwha Corporation/Machinery decided to strengthen its business competitiveness in the Chinese market and set up a production base in China as a hub to help the business become a global engineering company.
The establishment of this local production base enables the company to offer competitive prices and swift service. By maintaining a close cooperative relationship with the city of Zhangjiagang, Hanwha Corporation/Machinery plans to expand its business network in the domestic Chinese market and take advantage of opportunities in the local technology sector on its way to becoming one of the most prestigious global companies in technology and machinery.
Hanwha Corporation/Machinery
Hanwha Corporation/Machinery, founded in 1953 as a small industrial bearing maker, has grown into one of Korea's leading manufacturers of industrial machinery and systems integrators. The company now develops and manufactures industrial furnaces, factory automation systems and CNC lathes, enabling customers around the world to achieve greater productivity and improvement in quality. Today, the company focuses on developing manufacturing equipment solutions for the cleantech industry such as photovoltaics and rechargeable batteries. It is also actively engaged in seeking new growth engines from its own R&D institute. Hanwha Corporation/Machinery, which contributes to the productivity and increased quality of domestic and international companies, is a leader in developing technologies. The company provides total engineering solutions for a brighter future through continuous research
and development.

For more information, visit: www.hanwhacorp.co.kr/eng/

Hanwha Group
Founded in 1952, Hanwha has grown quickly by anticipating and responding to changing business environments with a balanced business portfolio that includes energy & materials, aerospace, finance and retail & services. Our expertise and synergy in key areas have catapulted us into the seventh-largest business in South Korea and a Fortune Global 500 company. Hanwha continues to grow rapidly as we strive to pursue global leadership in all of our businesses. We are building a robust foundation for sustainable development and a brighter future for everyone.

For more information, visit: www.hanwha.com
Contact Us
Thank you for your interest in Hanwha.
Please contact us for your inquiries.
Email Us
Information Message
Please enter your email address.
Information Message
Please enter a correct email address.
Success
Keep an eye on your inbox for the latest stories from Hanwha.
Information Message
Your subscription request has already been processed. Thank you.