Hanwha Techwin and Pratt & Whitney Expand Relationship with Singapore Facility and
Increase Risk Revenue Collaboration on PurePower® Engine Programs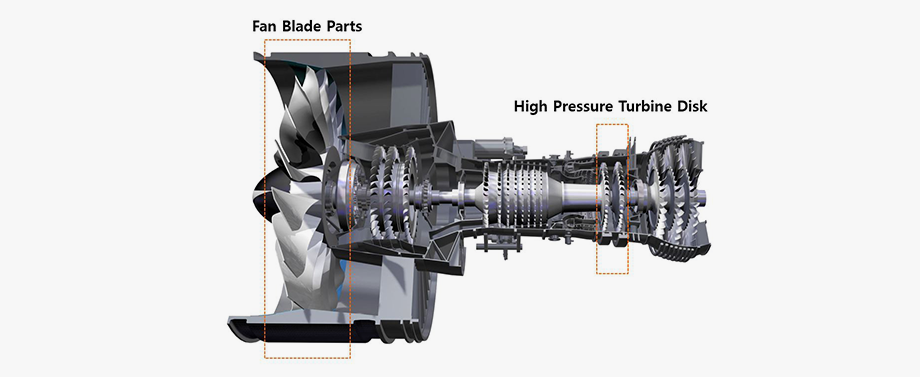 Hanwha Techwin has signed an agreement to acquire a 30 percent equity interest in P&W NGPF Manufacturing Company Singapore Pte. Ltd. (PWMS) with Pratt & Whitney subsidiary United Technologies International Corporation-Asia Private Limited. Under this joint venture arrangement, Hanwha Techwin will supply critical aircraft engine parts worth $4.5 billion for the next 40 years to Pratt & Whitney. Hanwha Techwin also acquired a call option from Pratt & Whitney to purchase additional equity as early as 2023, and the exercise of the call option is expected to have a $10 billion impact on sales revenue.
The Singapore facility specializes in the manufacture of hybrid metallic fan blade parts and high-pressure turbine disks for the PurePower® Geared Turbofan™ (GTF) engine family.
In conjunction with this agreement, Hanwha Techwin and Pratt & Whitney are expanding their risk and revenue sharing partnership¹, increasing Hanwha Techwin's program share on both Pratt & Whitney's 24,000 (24K) and 30,000 (30K) pound thrust GTF programs by one percent each. This brings Hanwha Techwin's program share to three and two percent respectively, to complement a one percent program share on the 17,000 pound thrust GTF engine program.
¹ Risk and Revenue Sharing Partnership (RSP)
· Contract structure that assigns the risk and revenue of the entire process of development, production and
  after-market management of an aircraft engine based on the share of a project participant
· Commonly applied to a forefront nation from the beginning in development of aircraft engine
Hanwha Techwin has worked with Pratt & Whitney on the GTF program since the first development engine, and they have performed very well in their execution of highly sophisticated parts assembly. Building upon that achievement, Hanwha Techwin became a risk revenue sharing partner in June 2015. In December 2015, Hanwha Techwin joined the 30K program as a risk revenue sharing partner and today's arrangement not only increases Hanwha Techwin's program shares but also creates a manufacturing collaboration between the parties.
Through Hanwha Techwin and Pratt & Whitney's expertise, the PWMS facility will enhance delivery of GTF fan blades and high-pressure turbine disks more efficiently at a faster ramp to Pratt & Whitney's sites across its global network so as to meet Pratt & Whitney's increased orders demand.
"Hanwha Techwin's capabilities and performance, combined with their willingness to invest, positions them well to maintain a strong relationship with Pratt & Whitney both today and into the future" said Dave Emmerling, vice president, Strategy and Business Development, Pratt & Whitney. "Having recently expanded our Changwon #2 factory with a new building, the time was right for us to acquire an interest in an overseas engine parts manufacturing facility. We really like the state of the art Singapore facility and intend to be there for the long haul," said Shin Hyun-Woo, CEO of Hanwha Techwin.
In addition to the parts to be made in the Singapore facility, Hanwha Techwin produces mid turbine frames, diffuser cases, high pressure split cases and nickel integrally bladed rotors for Pratt & Whitney's family of Geared Turbofan Engines.
Pratt & Whitney Company Profile
Pratt & Whitney (P&W), a subsidiary of United Technologies Corporation (UTC), is a U.S.-based aircraft engine manufacturer founded in 1925. Together with GE and Rolls Royce, P&W is considered to be one of the world's top aircraft engine manufacturers, producing a wide range of engines for civilian aircraft, military and industry gas turbines, and marine turbines. Revenues totaled $14.5 billion in 2014, with net profits of $1.9 billion. The company is headquartered in Hartford, Connecticut, and employs 33,591 people around the world.

Hanwha Techwin Aircraft Engine Business Overview
Hanwha Techwin is a key partner of a number of fighter aircraft and helicopter engine development projects in Korea, having manufactured jet engines for the F-5 fighter through a technology partnership with GE in 1980 and being selected for the final assembly of the KF-16 fighter in 1986.

In addition to playing key roles in engine development for Korea's frontline military aircraft including the F-15K fighter and T-50 multirole trainer, Hanwha Techwin has been an active participant in the Korean Helicopter Program (KHP) as the Korean engine manufacturer of the Surion helicopter and currently maintains a commanding lead in market presence and technology in the aircraft engine industry in Korea.

Hanwha Techwin has been honing its technological capabilities in aerospace in recent years, participating in the Naro project, Korea's first space launch vehicle, as well as the "KSLV-II" project for Korea's satellite launch system slated to take off in 2021.

Hanwha Group
Founded in 1952, Hanwha has grown quickly by anticipating and responding to changing business environments with a balanced business portfolio that includes energy & materials, aerospace, finance and retail & services. Our expertise and synergy in key areas have catapulted us into the seventh-largest business in South Korea and a Fortune Global 500 company. Hanwha continues to grow rapidly as we strive to pursue global leadership in all of our businesses. We are building a robust foundation for sustainable development and a brighter future for everyone.

For more information, visit: www.hanwha.com
Contact Us
Thank you for your interest in Hanwha.
Please contact us for your inquiries.
Email Us
Information Message
Please enter your email address.
Information Message
Please enter a correct email address.
Success
Keep an eye on your inbox for the latest stories from Hanwha.
Information Message
Your subscription request has already been processed. Thank you.