Hanwha Techwin Expands Its CCTV Business to Global Markets
Signed a global partnership agreement with Oxehealth, the developer of contact-free health monitoring software
Delivers the most power-efficient storage and secure network solution through global partnership with Veracity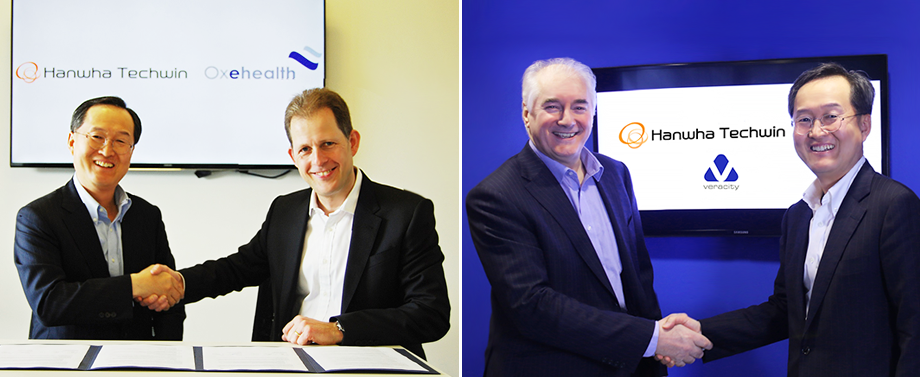 Hanwha Techwin (Security & Machinery Solution Business Group President & CEO Kim Cheol-kyo) is making inroads into the global telemedicine and video surveillance markets, joining hands with European partners.
Oxehealth
Hanwha Techwin announced that it successfully signed a series of partnership agreements in the UK with Oxehealth, a global health monitoring software company, and Veracity, a video surveillance storage solution provider.
Oxhealth specializes in health monitoring software that measures the patient's heart rate, respiratory rate, etc., and is developing remote healthcare monitoring solutions combining its video analytics technology with Hanwha Techwin's high-resolution network camera.
The existing healthcare equipment to measure vital signs requires direct contact with the patient's body using a specific sensor or other means, whereas this solution provided by Oxehealth is an innovative non-contact technology that can remotely analyze and manage the patient's respiratory rate and heart rate simply by using CCTV video.
This enables a rapid response, such as sending an immediate alarm to health managers for emergencies at hospitals, nursing homes, prisons, etc., in the case of sudden changes in the health conditions of patients, seniors, and inmates. This technology is being clinically tested at the UK National Health Service and prisons, and will likely be commercialized within this year.
An official at Hanwha Techwin commented, "the telemedicine market holds unlimited growth potential, and it is expected to expand to USD 4.5 billion by 2018," adding, "we will continue to pursue the market aggressively, developing various solutions through consistent technological collaboration with Oxehealth."
Veracity
Hanwha Techwin has also made a move into the global medium-large network video surveillance market, signing a partnership agreement with Veracity UK Ltd, a global video surveillance storage solution company, to be supplied with the company's high-end 'video surveillance storage system' and 'IP Converter¹.'
¹ IP (Internet Protocol) Converter
A device that converts network signals to analog signals so that the video from a network camera can be transmitted through a coaxial cable.
Hanwha Techwin successfully combined its network camera and software for integrated management with Veracity's high-capacity, lower-power-storage device 'COLDSTORE' to create a 'One-Stop Video Surveillance Solution' that directly stores the data sent from network camera without going through a server or NVR (Network Video Recorder).
This has enabled Hanwha Techwin to provide a quick, easy and highly efficient storage solution to SIs (System Integrators) as well as a competitive and reasonably priced video surveillance system to consumers.
The industry view is that the signing of the partnership agreement has given Hanwha Techwin solid leadership in the market for medium-large video surveillance systems installed in public offices, schools, hospitals and city surveillance centers.
Hanwha Techwin had already joined hands with Veracity in 2015 when it acquired the contract to supply 400 units of 32x zoom network PTZ (Pan Tilt Zoom) cameras (SNP-6321H) for the bus stop project in Birmingham, UK. In addition, it is currently seeking other business opportunities across various industries in the UK, with a plan to expand its supply to all markets around the globe, going beyond Europe to the Americas and Southeast Asia.
An official at Hanwha Techwin remarked, "Hanwha Techwin will continue to develop its technologies and strengthen its global marketing to become a 'top-tier' global leader, equipped with a total security solution."

The size of global video surveillance market is expected to grow from USD 16 billion (KRW 19 trillion) in 2016 to approximately USD 22 billion (KRW 26 trillion) in 2019. Hanwha Techwin is planning to focus its capabilities on dominating the global market, going well beyond simply securing the top position in the Korean video surveillance market.
Hanwha Group
Founded in 1952, Hanwha has grown quickly by anticipating and responding to changing business environments with a balanced business portfolio that includes energy & materials, aerospace, finance and retail & services. Our expertise and synergy in key areas have catapulted us into the seventh-largest business in South Korea and a Fortune Global 500 company. Hanwha continues to grow rapidly as we strive to pursue global leadership in all of our businesses. We are building a robust foundation for sustainable development and a brighter future for everyone.

For more information, visit: www.hanwha.com
Contact Us
Thank you for your interest in Hanwha.
Please contact us for your inquiries.
Email Us
Information Message
Please enter your email address.
Information Message
Please enter a correct email address.
Success
Keep an eye on your inbox for the latest stories from Hanwha.
Information Message
Your subscription request has already been processed. Thank you.