The Hanwha Group Hosts Roundtable for Startups at the Boao Forum

Leaders of Hanwha Group participated in the Boao Forum for Asia (BFA)¹ Annual Conference held in Boao, Hainan Province, China, for the fourth consecutive year. This year's forum was held from March 23rd to 26th.
At the BFA forum, Hanwha became the first Korean company to host an official roundtable event. The roundtable discussion was called "From Made in Asia to Created in Asia" with founders from 20 Asian startups as panelists. The founders in their 20s and 30s were from China, Japan, Korea, India, and Thailand. The event lasted two full hours from 9 a.m. to 11 a.m. on the 24th of March at Boao's Dongyu Island Hotel in the Hainan Province of China.
Dong Won Kim, the Head of FinTech and the Head of the Innovation Center of Hanwha Life, who had previously made his debut at the forum last year as an official panelist of the Young Leaders Roundtable, hosted the roundtable of international startup panelists. He later met with key figures and engaged in nongovernmental economic diplomacy discussions on themes of global interest.
¹ Also known as Asia's World Economic Forum, Boao Forum for Asia is held every year. It is the biggest forum
in Asia and attracts politicians, government leaders and company representatives from over 30 countries.
Dong Won Kim leads the discussion on the growth potential of Asia's startup ecosystem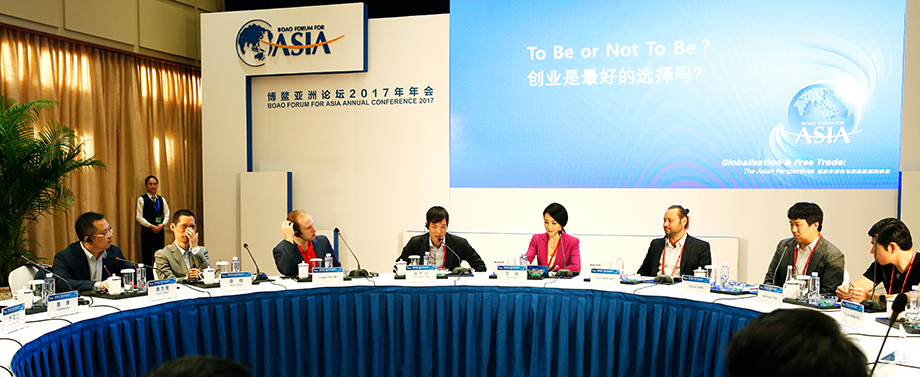 The panelists included: Anisha Singh of India's leading online shopping service Mydala; Chang Wen Lai of Singapore's delivery service giant Ninja Van; Anthony Tan of Southeast Asia's largest car sharing platform Grab; and Yod Chinsupakul of Thailands's biggest restaurant review site Wongnai.
The startup founders who spoke at the roundtable shared stories of their challenges and successes – all driven by their ideas and ambitions they harbored since they were young. They also exchanged their views on the potential of driving further growth for their businesses by networking across Asia.
The panelists engaged in vigorous discussions on ways to grow the potential of the startup ecosystem in the Asian region. They talked about their ideas for securing open innovation strategy, creating new growth engines for Asia's future growth, and the importance of a tapping into a startup network.

"We hosted the roundtable to discuss how much creative influence can be brought to the global market by Asian countries – countries that can boast a long history and tradition," said Dong Won Kim, after the roundtable. "If Asian startups can be interconnected with one another, it can lead to much greater potential."
He urged participants to forge a "pan-Asian startup ecosystem" to effectively share experiences and know-how of global startups that have created something out of nothing, and help Asian startups make inroads into the global market.

Among all sessions held at this year's BFA, the "From Made in Asia to Created in Asia" was undoubtedly the most multi-national. The participants expressed enthusiastic support for the initiatives discussed and agreed to hold regular forums going forward to seek measures to continuously develop the ecosystem of Asian startups.

After the talks, Kim said, "With this roundtable, we build momentum by assembling competitive Asian startups that Hanwha's DreamPlus, Korea's first conglomerate-led startup accelerator, will support in Korea and abroad. And our vision is for them to each grow to become a unicorn² company, the dream of all startups."
² A unicorn is an unlisted startup company valued at over USD 1 billion, even before going public.
The list of past unicorn companies include: Uber, Airbnb, Pinterest, GitHub, MongoDB, Evernote of the U.S.;
Xiaomi, Didi Chuxing, DJI of China; and Coupang of Korea.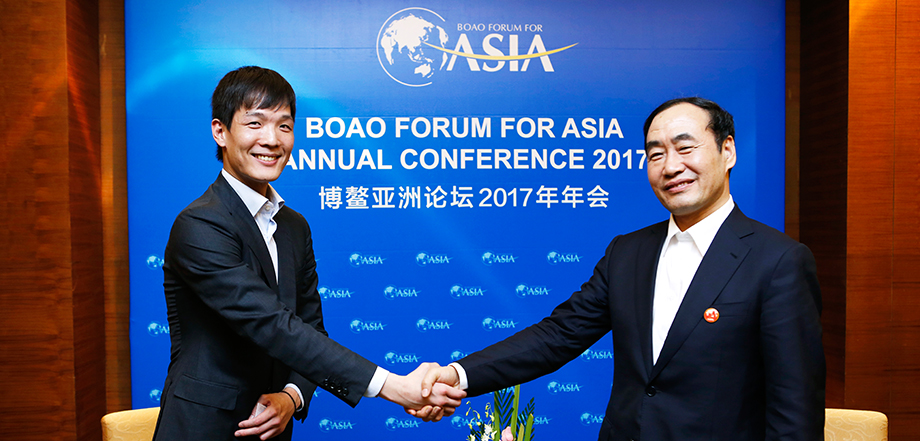 In the afternoon, Kim met Zhao Haishan, vice mayor of Tianjin³ together with Hanwha Asset Management CEO Yong-Hyun Kim, and shared his interests in the city and its free trade zone as well as the investment environment there. Mr. Dong Won Kim also asked the vice mayor's cooperation in securing an operation license from Asset Management Association of China so that Hanwha Asset Management could set up a local office in the city.
Mr. Yong Hyun Kim and Mr. Dong Won Kim were also joined by Hanwha Life Vice President Seung Jun Hwang and they each served as representatives of the Hanwha Group at the BFA Annual Conference. They met with global leaders over the four days of the forum, exchanging ideas and often finding accord on key areas.
³ Tianjin is a metropolis and the largest port city in northeastern China with a population of 15.4 million.
It is one of the four direct-controlled municipalities (along with Beijing an Shanghai) and is central to the Bohai
Economic Rim.
Hanwha DreamPlus, the cradle for Asian startups
The Hanwha Group hosted the roundtable discussion with startup companies at this year's BFA against the backdrop of its startup incubator DreamPlus, an ambitious program Hanwha is pursuing in Korea and abroad.
DreamPlus is Hanwha Group's own startup accelerator program led by Dong Won Kim. It provides end-to-end support for startup activities across Asia through its network including DreamPlus Shinsa and DreamPlus 63 in Korea, DreamPlus Tokyo in Japan, and DreamPlus Shanghai in China.
DreamPlus 63 is Korea's only FinTech support center led by Hanwha Life insurance company located in the 63 Building in Yeouido, Seoul, the hub of Korea's financial industry. The center is currently receiving the 2nd round of applications from startups desiring to become tenants at DreamPlus 63. The tenants of DreamPlus 63 are provided with office space, access to different facilities, promotional services, and other benefits. Earlier, on March 15, DreamPlus 63 held the 1st DREAMERS' DAY, a forum for sharing success stories of the 1st group of DreamPlus 63 tenants. The next group of startup tenants are expected to concentrate on other technologies such as chatbots, IoT, wearable devices, and other fields that can create synergy in the financial industry.
DreamPlus also offers GEP (Global Expansion Program for domestic startups looking to sell their products overseas) and various other activities to support young startups and ecosystems in Korea and abroad.
Hanwha Group
Founded in 1952, Hanwha has grown quickly by anticipating and responding to changing business environments with a balanced business portfolio that includes energy & materials, aerospace, finance and retail & services. Our expertise and synergy in key areas have catapulted us into the seventh-largest business in South Korea and a Fortune Global 500 company. Hanwha continues to grow rapidly as we strive to pursue global leadership in all of our businesses. We are building a robust foundation for sustainable development and a brighter future for everyone.

For more information, visit: www.hanwha.com
Contact Us
Thank you for your interest in Hanwha.
Please contact us for your inquiries.
Email Us
Information Message
Please enter your email address.
Information Message
Please enter a correct email address.
Success
Keep an eye on your inbox for the latest stories from Hanwha.
Information Message
Your subscription request has already been processed. Thank you.