A Long Awaited Moment
Korea Space Launch Vehicle-1 (Naro-1) Project
"When we first decided to take part in the 'space project,' my imagination ran wild with scenes from science fiction films. I began to ponder all of our possibilities with Hanwha's technology. As I began to imagine our new challenge, my heart beat against my chest just thinking about my childhood dream becoming a reality."
Hanwha Corporation R&D Team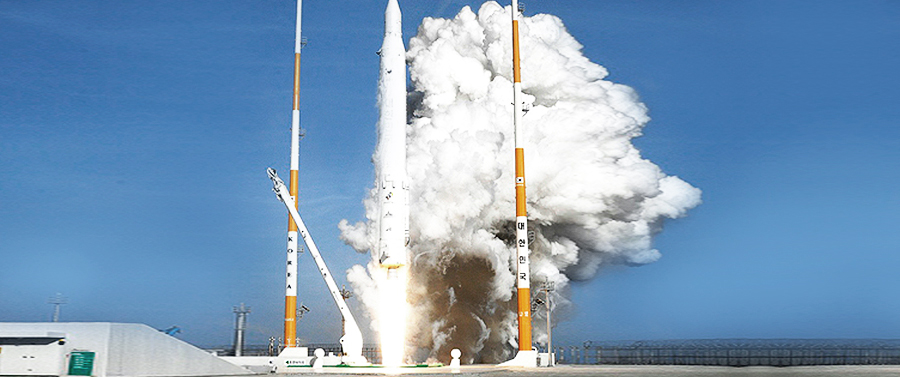 A long awaited moment has finally become a reality for the Republic of Korea. After 11 long, arduous years, a Korean-made rocket was finally launched into space in 2013. The Naro-1, as it came to be known, became the first South Korean rocket to put a domestic satellite into orbit.
The First Chapter in Hanwha's Journey Through the Era of Aerospace
After 6 minutes 35 seconds, the satellite was discharged from the main rocket unit and propelled itself into Earth's orbit. This moment would become the first chapter in Hanwha's journey through the era of aerospace.
The patented kick motor and thrust vector control system that propelled the satellite was developed single-handedly by Hanwha. But the development of Naro-1 was ripe with difficulties. From Space Environment Testing to Ignition Testing, the team underwent a total of 15 development phases that ultimately led to the successful completion of the project. Through it all, each member of the Hanwha team became fully immersed and worked with a challenging spirit to showcase their technical skills
on the global stage.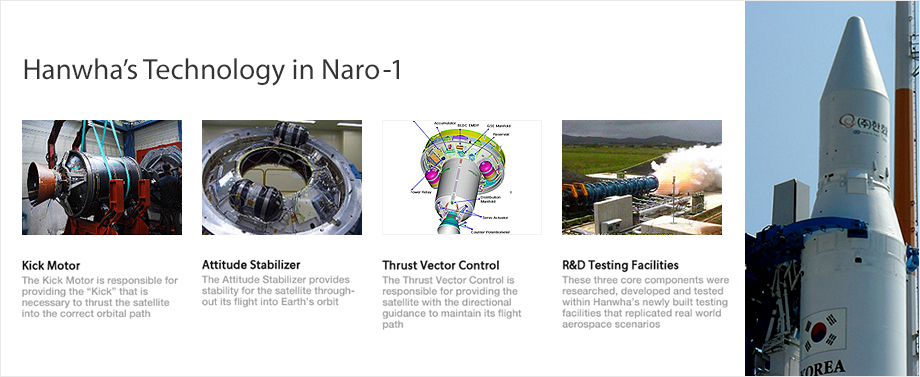 Hanwha's Propulsion Expertise Makes Advancements in Big Ways
Through the Naro-1 launch, Hanwha's propulsion expertise made advancements in big ways. Now, with recognition and acknowledgment both domestically and internationally, Hanwha will actively participate in the business of Korean-made phase 2 projectiles and moon satellite probes. With the history already made, the Republic of Korea, along with Hanwha, can set its sights on the future.
Contact Us
Thank you for your interest in Hanwha.
Please contact us for your inquiries.
Email Us
Information Message
Please enter your email address.
Information Message
Please enter a correct email address.
Success
Keep an eye on your inbox for the latest stories from Hanwha.
Information Message
Your subscription request has already been processed. Thank you.