Galleria Duty Free 63: "A Journey to Modern Luxury" to Seoul's Golden Landmark

A "Golden Journey" has begun with the grand opening of Galleria Duty Free 63 in July 2016. Galleria Duty Free 63 is located in the 63 Building, one of Seoul's best known landmarks for its shimmering golden luster that offers an expansive view of the Han River and city of Seoul. Galleria Duty Free 63 provides visitors to Korea with an unmatched experience as a shopping Mecca that also serves as a gateway to the wide range of charming tourist sites across Yeouido, a large island in the Han River and Seoul's main business and investment banking district, and the best that Korea's Hallyu culture can offer.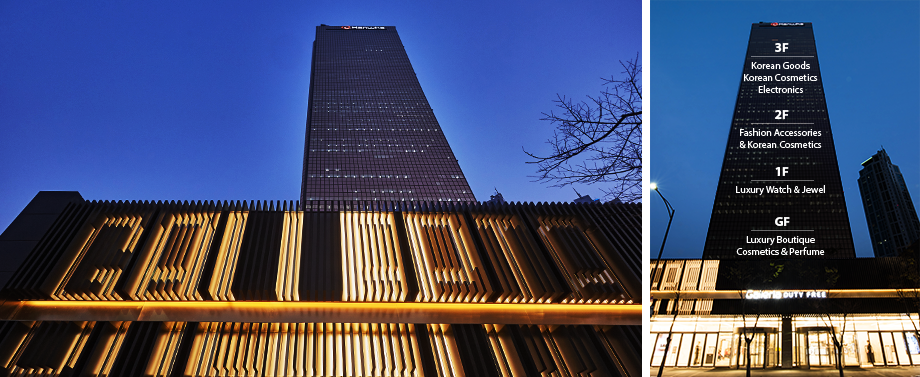 Galleria Duty Free 63 encompasses four stories for a total floor area of 10,153㎡, allowing visitors to comfortably shop in a modern and pleasant space. Bright and cheerful natural lighting greets visitors to the ground floor, which features luxury boutiques and cosmetics brands. Golden Goose, Stefano Ricci, Launer London, Corneliani are among the hot boutique brands launched in a duty free shop for the first time in the world. On the first floor, global luxury watch and jewelry brands await visitors. The second and third floors are filled with fashion, tobacco, alcohol and general merchandise brands including Korean cosmetics brands that have become wildly popular in Asia. G. Street 1O1, offering diversified fashion items by rising Korean designers, can also be found on the second floor. Another unique feature of Galleria Duty Free 63 is the K-Special Hall located on the third floor, where visitors can experience a wide variety of products from 141 brands by Korea's leading SMEs(Small and Mid-Sized Enterprises) and high-potential enterprises. The third floor also includes a character store for children and a hands-on IT product zone for kidults designed to cover a wide range of preferences and interest of visitors.
A "Golden Journey" that Begins from Galleria Duty Free 63
The 63 Building is already a noted cultural and tourist attraction with annual visitors of over 3.32 million. After shopping at Galleria Duty Free 63, visitors will have a delightful time choosing what to do from an increasingly rich variety of activities within the 63 Building.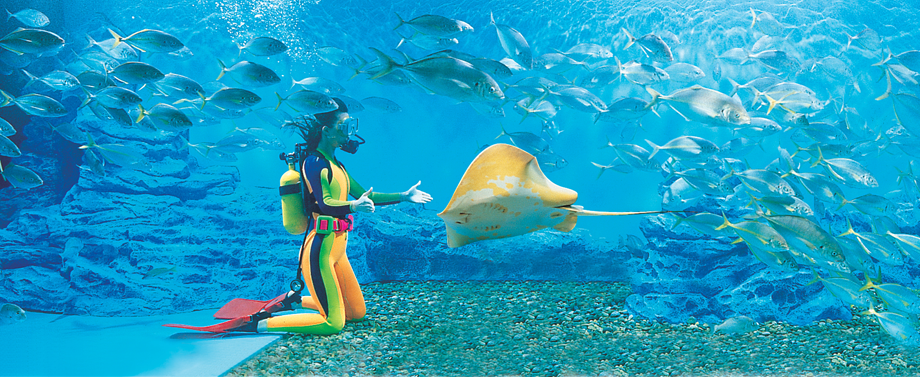 Aqua Planet 63 where visitors can enjoy underwater performances and view the exotic aquatic wildlife, 63 Art that provides an unmatched view of the Han River as well as numerous works of art, and the premium buffet restaurant and high-end Chinese, Japanese and French cuisine that can be enjoyed together with a commanding view over the Han River are just a few of the delights that should not be missed by visitors to the 63 Building.
Galleria Duty Free 63 also offers One Stop Tour courses that group together Yeouido's tourist products by theme, including shopping, tourist sites, Hallyu content, and more. The One Stop Tours include the Hallyu Course, Traditional Korean Market Course, Culture and Art Course and the Han River Course, offering half- or full-day tours that include both shopping and sight-seeing. A tour might begin with shopping at Galleria Duty Free 63, after which visitors ride bicycles along the riverside park bike path, experiencing a variety of water sports leisure activities along the way, followed by a relaxing break while taking in a view of the Han River.
Elegant Golden Shopping at Galleria Duty Free 63
Galleria Duty Free 63 offers a variety of benefits by linking with the Galleria Department Store¹. The One Card Service is one of these services that delivers a variety of benefits and membership discounts of the duty free store, department store and shopping mall with a single card. Customers who already hold a department store membership card need only to register their passport numbers to receive additional benefits.
Galleria Duty Free 63 also operates the Diamond Lounge on the third floor for VIP guests. A one-on-one concierge service provides a shopping advisor who can cater to the unique needs of each customer, with other premium benefits available including reservations for tourist spots in Yeouido, delivery service to airport pickup zones, and complimentary snacks and beverages. Galleria Duty Free 63 will provide visitors with fond memories of the highest level of luxurious value of elegant shopping.
¹ Since opening in 1990, Hanwha Galleria was the first luxurious department store that still remains Korea's best-known destination for shopping, featuring the largest number of luxury brands in Korea with upscale service.
Contact Us
Thank you for your interest in Hanwha.
Please contact us for your inquiries.
Email Us
Information Message
Please enter your email address.
Information Message
Please enter a correct email address.
Success
Keep an eye on your inbox for the latest stories from Hanwha.
Information Message
Your subscription request has already been processed. Thank you.