Hanwha Corporation Expands Its Mining Services to the Global Market
Laying the Foundation for Korea's Explosives Industry
With more than six decades of success of experience in commercial explosives, Hanwha Corporation helped lay the foundation of Korea's economic rise.
Hanwha was first founded under the name Korea Explosives (Hangook Whayak) in 1952.
It became the first Korean company to produce dynamite using domestic technology in 1959.
Hanwha invested in detonator manufacture, packaged emulsion manufacture, bulk emulsions and down-the-hole services. Hanwha also manufactures, sources and distributes ammonium nitrate.
The company has evolved as the clear market leader, offering safe, reliable explosives for mines and quarries.
The Explosives Division has also expanded into other forms of high-energy materials, which includes chemical manufacturing, retail of materials used for industrial explosives, cladding and fireworks.
It was therefore a natural step to develop business opportunities in Asia and the rest of the world. Hanwha has established a global mining services division and now offers a full range of commercial explosives products and services. The company is gearing offers to meeting customer's needs, particularly in light of the tough commodity conditions, which are flexible and fit for purpose.
Service offers include: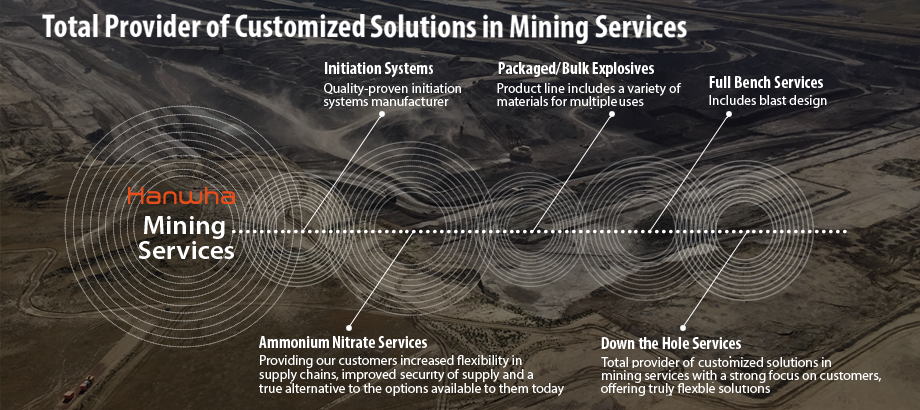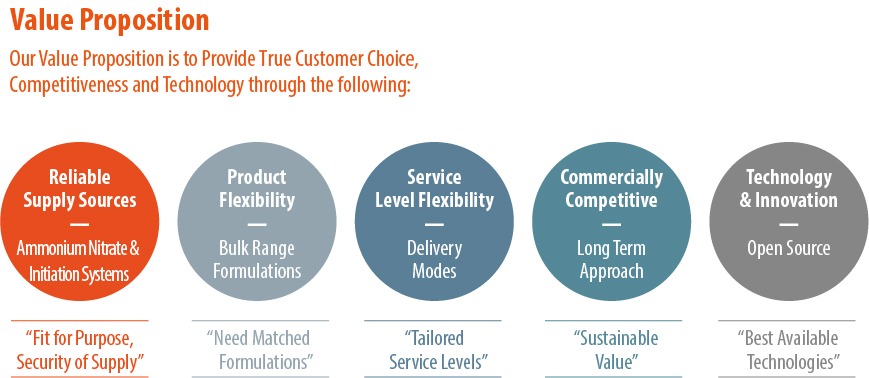 Hanwha Mining Services Aims to Reach New Horizons in Market Excellence
With firm foundations as the best supply and services provider in the Korean market, Hanwha launched its initial international business strategy in 2013 by appointing a management team with both Korean and international talent. In the same year, operations in Indonesia commenced and a package plant was built in Vietnam.
In 2014, Hanwha opened offices in Australia, Singapore, Chile and Peru and an emulsion plant in Indonesia was commissioned. New technology, R&D and strategic relationships formed with proven business partners.
In early 2015, storage and distribution infrastructure was commissioned in Kalgoorlie, Western Australia, to supply the Australian market with detonators manufactured in Korea. Offices in Perth and the East Coast were established to support the regional business.
The Hanwha HiTronic™ electronic detonator has been proven in the Korean quarry market and ongoing development is underway for compatibility with mining applications. A new three-layer signal tube extension line was commissioned to provide high specification detonator products for the international mining markets.
In August 2015, Hanwha acquired Low Density Explosives (LDE) Corp. Established in Queensland, Australia in 1996. LDE Corp. has an annual emulsions explosives production capacity of 200,000 tons.
The company manufactures a variety of unique explosive formulations in Australia and the U.S., and provides true differentiation in mining services to the market. Hanwha Mining Services is constructing three additional emulsions plants in 2016 to enhance our security of supply and service offerings to our customers.
Aspiring to become a global leader in mining services, Hanwha is evolving as a total mining services provider in the Asia-Pacific and the Americas to meet the changing needs of global customers.
Contact Us
Thank you for your interest in Hanwha.
Please contact us for your inquiries.
Email Us
Information Message
Please enter your email address.
Information Message
Please enter a correct email address.
Information Message
Thank you for your newsletter subscription.
Your email account has been successfully registered.