Hanwha Founder Chong-Hee Kim
Honored with Korean Academic Society of Business Administration CEO Grand Prix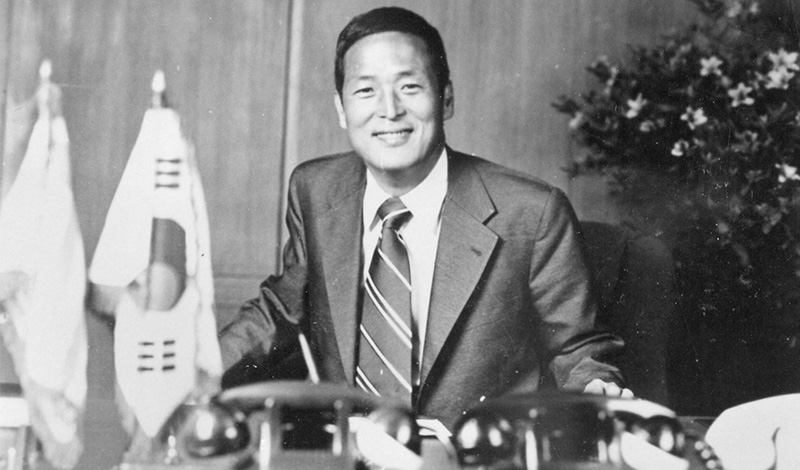 In December of 2018, Chong-Hee Kim, the founder of Hanwha Group, posthumously received the KASBA CEO Grand Prix from the Korean Academic Society of Business Administration. Known for his passionate dedication to Korea's economic growth, the award recognized both Chairman Kim's business success and his selfless drive towards helping others.
Throughout his life, Chairman Kim was firmly committed to working in service to his country and community. Early on, he recognized the important role industrial explosives would play in the industrialization and modernization of the Korean economy. Taking action, Chairman Kim, at just 30 years of age, founded Korea Explosives, the company that would eventually become Hanwha, in 1952.
From its original home base in Busan, Korea Explosives expanded across the Korean peninsula. After acquiring a gunpowder factory in Incheon in 1955, Chairman Kim dedicated himself and Korea Explosives to develop the capability to domestically produce industrial explosives. His dogged and successful pursuit of this goal, as well as his firecracker personality, led to Chairman Kim being affectionately nicknamed "Dynamite Kim".
Chairman Kim was dedicated in his belief that individuals must work in service of something greater than themselves. Due to this, Korea Explosives diversified beyond gunpowder and explosives to bring key industries to Korea and contribute to the country's economic development. Within 30 years of its founding, Korea Explosives had expanded into heavy industries including machinery, petrochemicals, energy production, and more.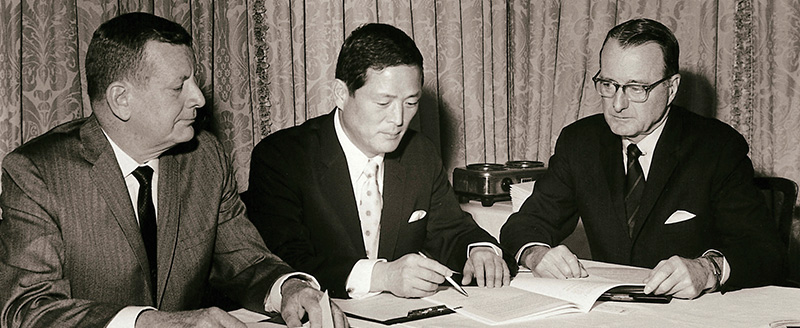 Beyond business, Chairman Kim was an accomplished civic diplomat. Understanding the importance of international relations, he served as director of the ROK-US Alliance Friendship Association and developed an extensive personal network of influential Americans. Chairman Kim also helped strengthen diplomatic ties between Korea and Greece, even being named an Honorary Consul General to the Hellenic nation in 1967 in recognition of his efforts.
Not wanting others to struggle like he did in childhood, Chairman Kim was eager to funnel his profits back into Korean society to nurture the young and talented. In 1968, he founded the Baek-Am Culture Foundation to provide educational opportunities to gifted youngsters. Building on his belief in the importance of education, he established the Cheonan Bugil School Foundation in 1975, which was followed by the opening of Cheonan Bugil High School, an academically rigorous boarding school, in 1976.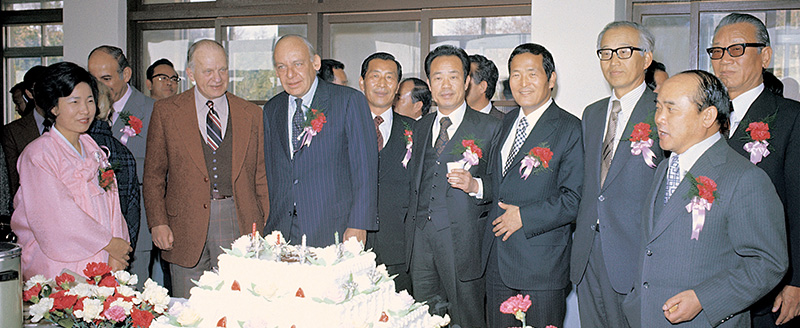 In times of crisis and hardship, Chairman Kim always looked out for others, even committing his personal wealth and assets to make sure that salaries were paid and retail investors were taken care of. Through his efforts, Hanwha grew and diversified to become one of Korea's top ten corporations and listed on the Fortune Global 500 in 1980.
Since Chairman Kim's passing in 1981, Hanwha's leadership continues his legacy. Now a major multinational ranked 244th on the Fortune Global 500 with close to 57,000 employees worldwide, Hanwha is committed to tirelessly giving back to communities throughout the world through its corporate philosophy of "Going Further Together".
As it continues to grow and diversify, Hanwha has undertaken everything from massive reforestation projects, to donating solar energy systems, and ensuring that the disadvantaged receive medical care in order to continue carrying the torch Chairman Chong-Hee Kim lit in 1952.
Hanwha Group
Founded in 1952, Hanwha has grown quickly by anticipating and responding to changing business environments with a balanced business portfolio that includes energy & materials, aerospace, finance and retail & services. Our expertise and synergy in key areas have catapulted us into the seventh-largest business in South Korea and a Fortune Global 500 company. Hanwha continues to grow rapidly as we strive to pursue global leadership in all of our businesses. We are building a robust foundation for sustainable development and a brighter future for everyone.

For more information, visit: www.hanwha.com
Contact Us
Thank you for your interest in Hanwha.
Please contact us for your inquiries.
Email Us
Information Message
Please enter your email address.
Information Message
Please enter a correct email address.
Success
Keep an eye on your inbox for the latest stories from Hanwha.
Information Message
Your subscription request has already been processed. Thank you.