Smart Factories Transition
from "Automation" to "Intelligence"
– Hanwha Aerospace –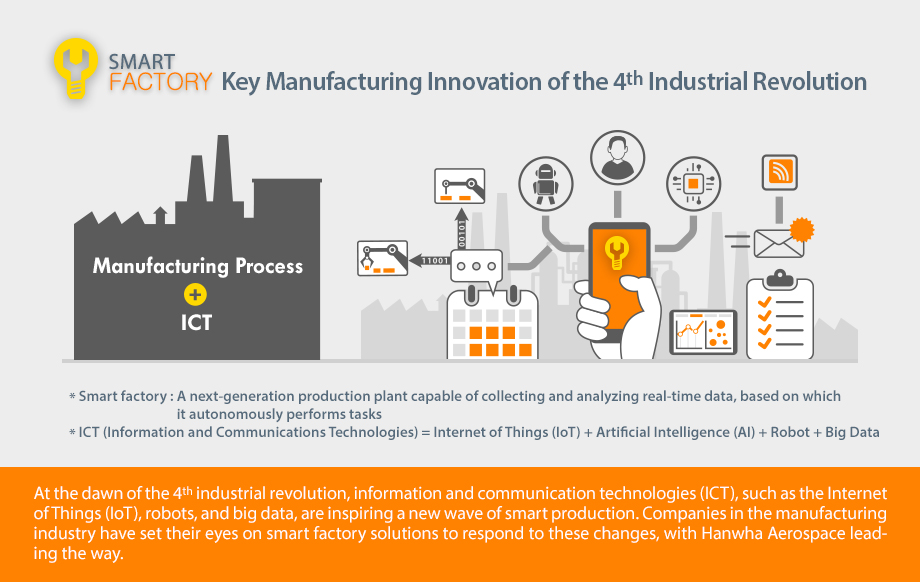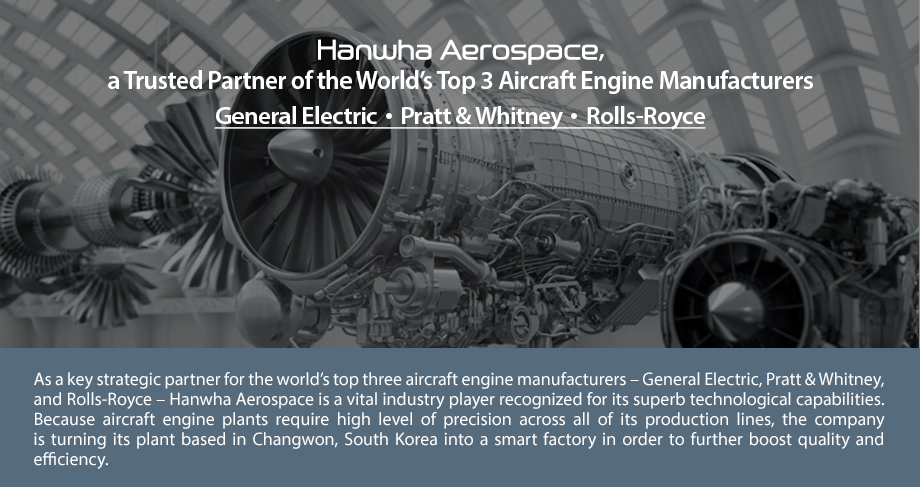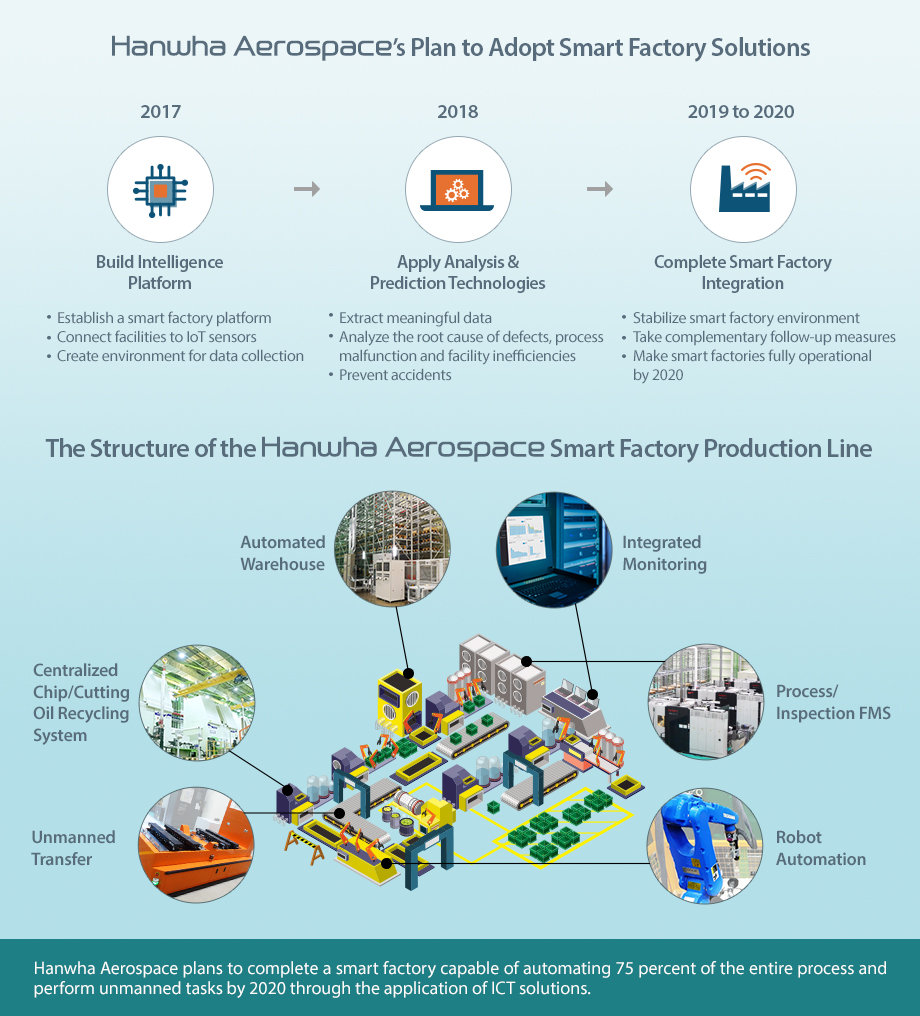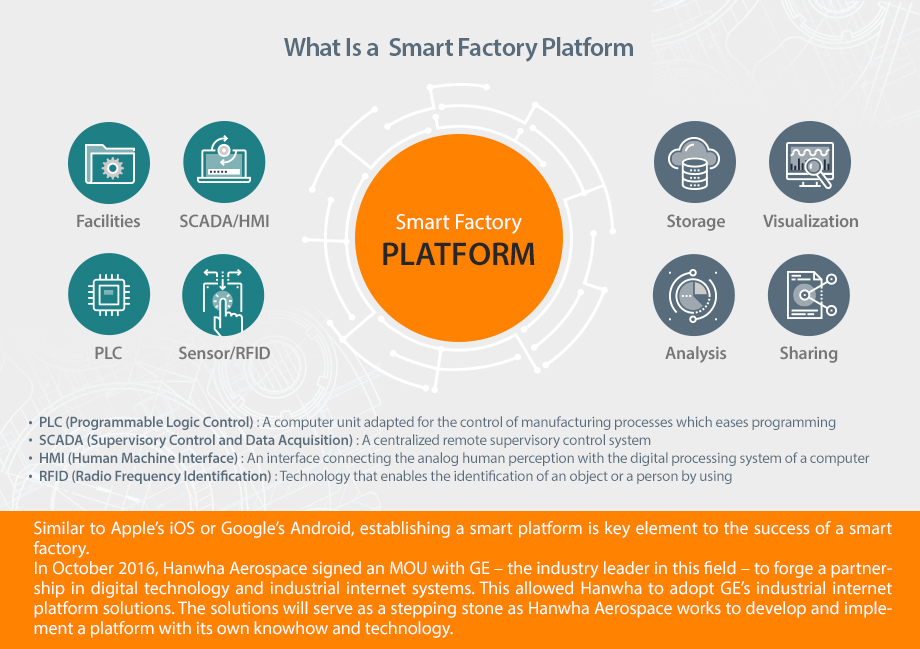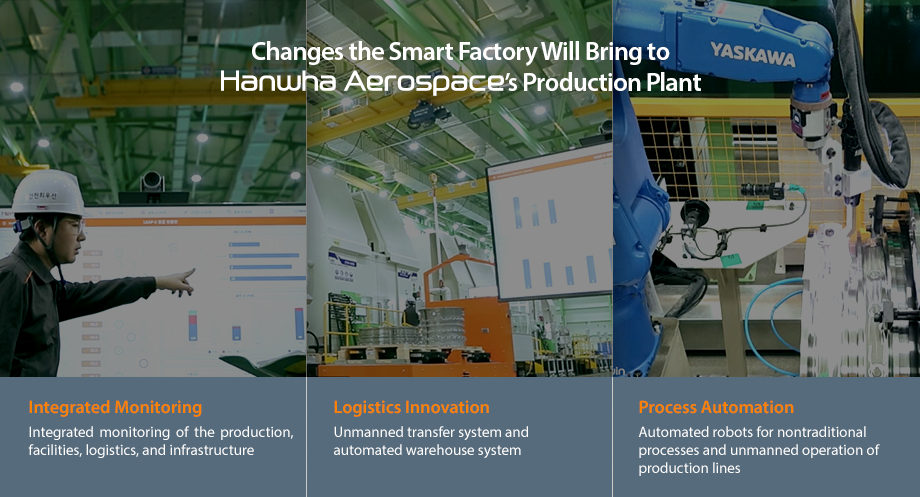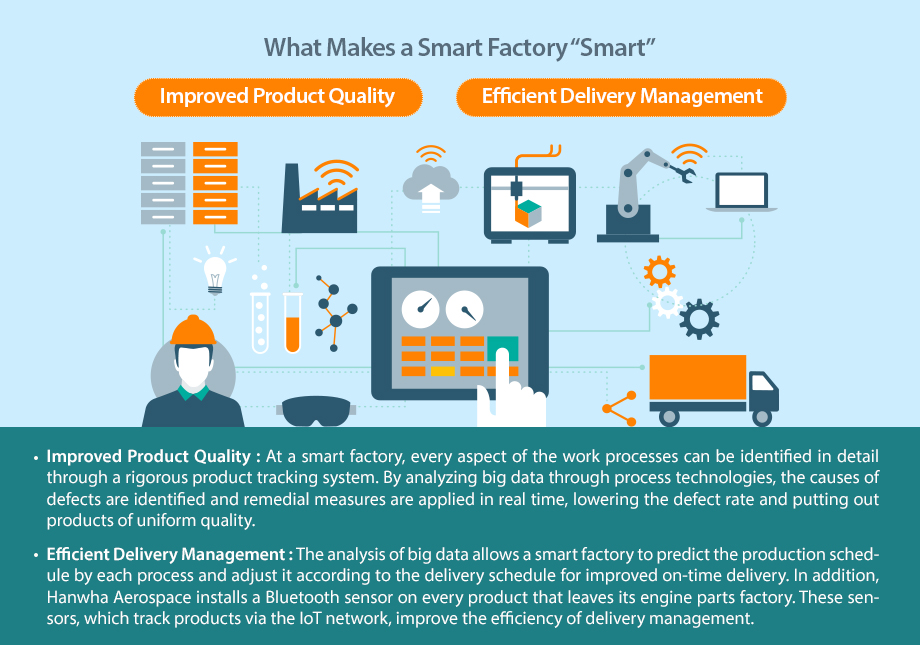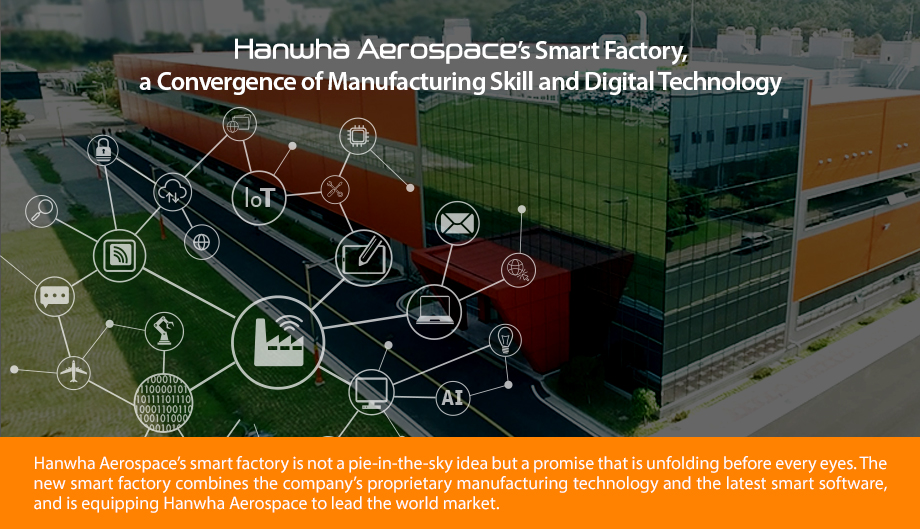 At the dawn of the 4th industrial revolution, information and communication technologies (ICT), such as the Internet of Things (IoT), robots, and big data, are inspiring a new wave of smart production. Companies in the manufacturing industry have set their eyes on smart factory solutions to respond to these changes, with Hanwha Aerospace leading the way.
As a key strategic partner for the world's top three aircraft engine manufacturers – General Electric, Pratt & Whitney, and Rolls-Royce – Hanwha Aerospace is a vital industry player recognized for its superb technological capabilities. Because aircraft engine plants requires a high level of precision across all of its production lines, the company is turning its plant based in Changwon, South Korea into a smart factory in order to further boost quality and efficiency.
Hanwha Aerospace plans to complete a smart factory capable of automating 75 percent of the entire process and perform unmanned tasks by 2020 through the application of ICT solutions.
Similar to Apple's iOS or Goggle's Android, establishing a smart platform is key element to the success of a smart factory. In October 2016, Hanwha Aerospace signed an MOU with GE – the industry leader in this field – to forge a partnership in digital technology and industrial internet systems. This allowed Hanwha to adopt GE's industrial internet platform solutions. The solutions will serve as a stepping stone as Hanwha Aerospace works to develop and implement a platform with its own knowhow and technology.
At a smart factory, every aspect of the work processes can be identified in detail through a rigorous product tracking system. By analyzing big data through process technologies, the cause of defects is identified and remedial measures are applied in real time, lowering the defect rate and putting out products of uniform quality.
The analysis of big data allows a smart factory to predict the production schedule by each process and adjust it according to the delivery schedule for improved on-time delivery. In addition, Hanwha Aerospace installs a Bluetooth sensor on every product that leaves its engine parts factory. These sensors, which track products via the IoT network, improve the efficiency of delivery management.
Hanwha Aerospace's smart factory is not a pie-in-the-sky idea but a promise that is unfolding before every eyes. The new smart factory combines the company's proprietary manufacturing technology and the latest smart software, and is equipping Hanwha Aerospace to lead the world market.
Contact Us
Thank you for your interest in Hanwha.
Please contact us for your inquiries.
Email Us
Information Message
Please enter your email address.
Information Message
Please enter a correct email address.
Success
Keep an eye on your inbox for the latest stories from Hanwha.
Information Message
Your subscription request has already been processed. Thank you.