Environmental Management

At every stage of its business management, Hanwha strives to reduce environmental impacts through low-carbon energy sources and by living up to its responsibilities as a reliable and environmentally-safe business.
Advanced Management to Protect the Environment
and Address Climate Change

In 1991, through the ECO-2000 campaign, Hanwha became the first South Korean company to implement environmental management. We announced our Environmental Safety and Health Policy in 2000, and since then, we have implemented sustainable management practices on environment safety, health, energy, and greenhouse gas issues under the guidance of the Hanwha Eco-Institute. We use globally renowned companies for benchmarks, and have created a midterm master plan to establish performance index targets for 2020 in areas such as environmental performance and safety.

Reducing Greenhouse Gases
and Waste

Reducing greenhouse gas emissions is now at the top of the agenda for all companies around the world. In 1999, Hanwha officially began its efforts to reduce its greenhouse gas emissions and save energy by organizing an energy task force. We reduced waste disposal by recycling waste paper, waste concrete, computer toner cartridges and printer ink. We have also installed water-saving equipment in our office buildings, hotels, and resorts. In 2015, we reduced our energy consumption to 14,000 TOE (tons of oil equivalent), saving USD 800 million, which in turn reduced greenhouse gas emissions by 40,000 tons. We also reduced 12,000 tons of waste and 180,000 tons of water and wastewater through meticulous waste management.
Eco-Friendly R&D
and Businesses

Hanwha is taking the lead in fostering a low-carbon society. We joined the Carbon Disclosure Project (CDP) in 2011 and were the first company in South Korea to disclose publicly the carbon management information for all of our group affiliates. Hanwha Chemical received the first Carbon Trust Standard (CTS) within the domestic chemical industry (CTS is granted to firms demonstrating excellent climate change initiatives). In 2014, our company was recognized for our commitment to eco-friendly management at home and abroad, receiving the Carbon Management Special Award. Hanwha SolarOne (now, Hanwha Q CELLS) was among the first solar energy solution providers to receive the Product Carbon Footprint Certification (ISO 14067), a new international standard at the time--for the company's HSL 60 Poly and HSL 72 Poly solar modules. Hanwha has also introduced green purchasing to procure efficient, recyclable office supplies. The cost of its green procurement reached USD 1.4 billion in 2015.

Establishing
Safety Culture

Hanwha works hard to gain the trust of local communities by promoting safety as an important component of its corporate culture and by creating a safe workplace for its employees. In particular, our Constant Cross-Check Rule, our Line Responsibility Policy, and our Three Strikes policy are at the center of our safety efforts. The Constant Cross-Check Rule refers to our safety check system, implemented jointly by the Hanwha Eco-Institute, by Hanwha headquarters, and by our individual facilities. We use this system to check the safety status of every plant and raise our employees' safety awareness. The Line Responsibility Policy process team or business unit holds the responsibility for our environmental stewardship and safety. According to the Three Strikes policy, employees who violate the standards of procedures three times will be reprimanded regardless of whether or not an accident had occurred. After implementing the policy, Hanwha Corporation's Machinery Division improved its performance 24-fold with a Lost Time Injury Rate (LTIR) of just 0.09, far better than the targets set by our 2015 accident-free campaign.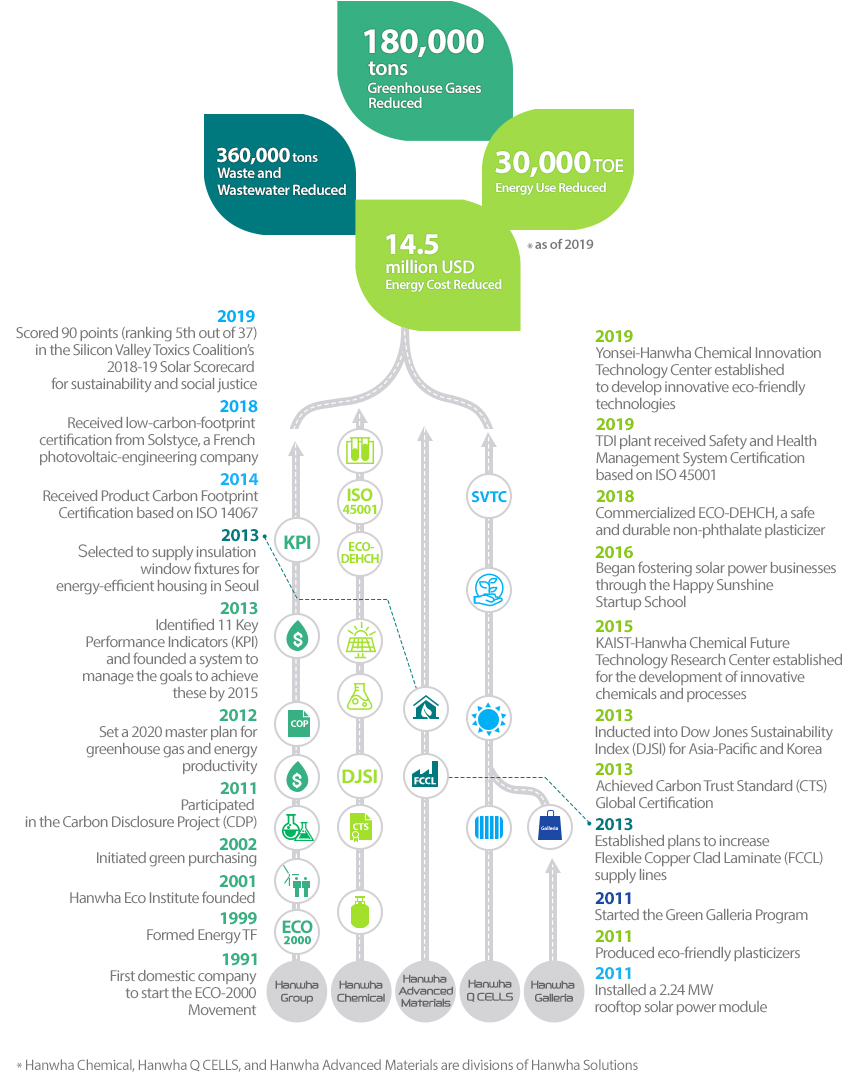 We have voluntarily publicized our figures on greenhouse emissions and also participated in the CDP(Carbon Disclosure Project) to spearhead the movement toward a low-carbon society. In 2013, we reduced its energy consumption to 17,472 TOE(Ton of Oil Equivalent), saving USD 11.4 million, which in turn reduced greenhouse gas emissions by 48,000 tons. The waste disposal and treatment expenses were also reduced by USD 2 million, or 15,000 tons of waste material and 519,000 tons of wastewater.