People at Hanwha

Vũ Ngọc Duyến
Hanwha Life Insurance VietnamSenior Sales Manager
Hanwha Life Insurance Vietnam offers
great products with valuable benefits,
and I am proud to introduce them to the
Vietnamese people and become
their trusted partner
Vũ Ngọc Duyến, Senior Sales Manager with Hanwha Life Insurance Vietnam, has a tough job.
For the past 10 years with the company, she has been trying to educate the people of Vietnam to consider insurance policies as investment vehicles for their future. While the economy of Vietnam has taken off for the past few years, with its people starting to enjoy better incomes and living standards, only about 1% of the population of over 95 million people are insured. This makes Vietnam one of the most underserved, but exciting, insurance market in the region.
Hanwha was the first Korean life insurance company to enter the Vietnamese market in 2009. Today, it is one of the top three insurance companies in the country in terms of charter capital size. The company's healthy financial standing not only gives Vũ the confidence to speak with her customers, but it reassures her that she is working for a company that is committed to Vietnam for the long term. Furthermore, she believes that Hanwha Life Vietnam genuinely offers products that are tailored to the needs of the Vietnamese people.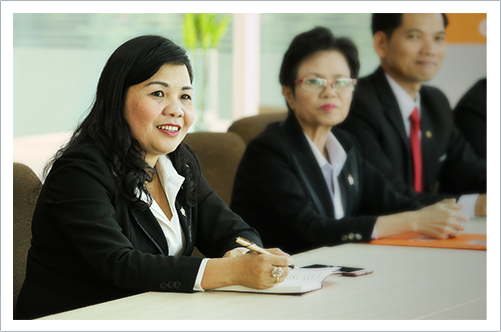 " Not only am I proud that
our company is strong financially,
but also that it has outstanding
corporate ethos, vision, good credit,
and excellent products that
satisfy the needs of customers. "
This was especially true when she witnessed firsthand how the company and the benefits of having protection helped the family of her customer who passed away get through a very difficult period of their lives. It is not easy for anyone to cope with a tragedy like the death of a loved one, but having a safety net helped the family eventually overcome their difficulties and gave them hope for the future.
As more Vietnamese people are looking to plan for their future, Vũ is not resting on her laurels just yet. She is happy that Hanwha is becoming a more familiar name, but she also concedes that there are still lot of people that don't know much about the company and the products that it offers. She is extremely proud to be working at Hanwha Life Insurance Vietnam, and she is determined to do more to continue elevating the Hanwha brand in the country.
More stories on people at

Hanwha