Hanwha Q CELLS Takes Center Stage in the Global Photovoltaics Industry

Hanwha Q CELLS' belief in the need and the potential of solar PV as a sustainable energy has, for a long time, driven the company to make solar PV technology a part of valuable solutions for the future. To do so, Hanwha Q CELLS established innovation and R&D centers in Germany, Korea, Malaysia and China. And as a result, in 2017, the company has achieved the world's largest solar cell production capacity, strengthening its position as a leader in the global PV industry.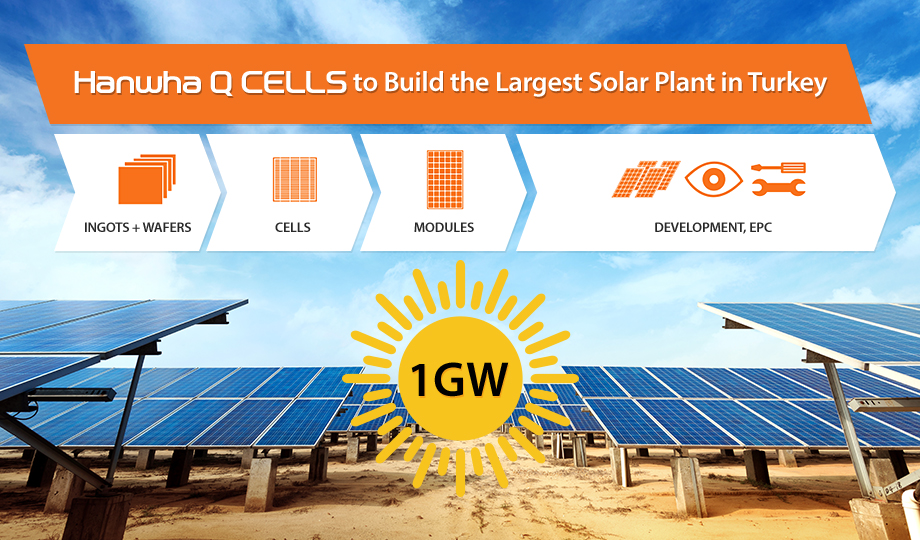 By the end of 2015, Hanwha Q CELLS had built an 8.3 MW solar power plant in Turkey. The following year in 2016, a bigger 10 MW solar power plant was built. These plants helped Hanwha Q CELLS become number one in the Turkish solar market. In March 2017, the company expanded its presence in the country by striking another deal to construct the biggest solar power plant and production facility in Karapinar, 250km south of the Turkish capital.
The new solar power plant in Karapinar is expected to be the 2nd largest in the world and the largest in Turkey. Hanwha Q CELLS plans to construct a plant with a solar ingots and modules production capacity of more than 500 MW within 21 months, and eventually complete the 1 GW solar farm within 36 months' time using products manufactured at the plant.
With this project, Hanwha Q CELLS expects to cement its position as the leader in the Turkish solar market and lay the groundwork to make inroads into the Middle East and neighboring countries.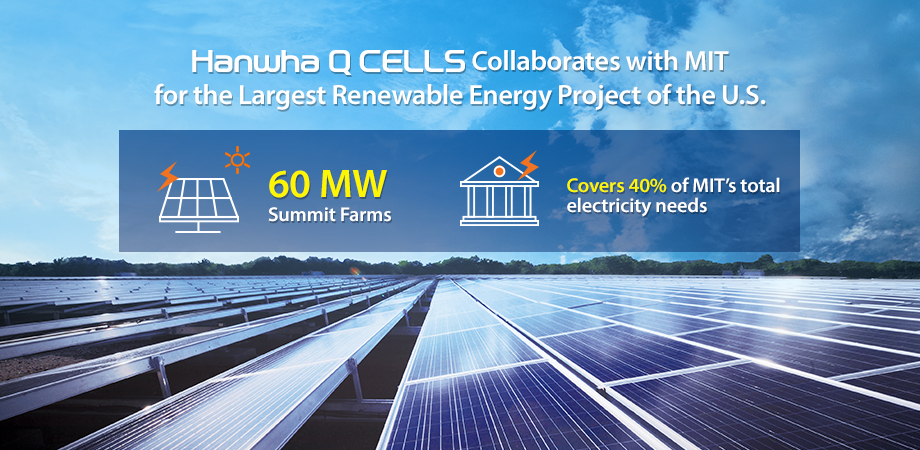 Hanwha Q CELLS also drew a great amount of attention as a supplier of solar modules to the 60 MW solar power plant, Summit Farms, in North Carolina, USA.
Summit Farms was built in partnership with Boston Medical Center and Post Office Square Redevelopment Corporation (POS) and is currently operated by Massachusetts Institute of Technology (MIT), one of the most prestigious universities in the United States. Summit Farms provides approximately 40 percent of MIT's total electricity – the largest supply from solar power among any university or research institute in the United States.
Expectations are high for the new synergy between Hanwha Q CELLS, the state-of-the-art technology leader that holds the record for the world's highest cell efficiency, and MIT, the world's top engineering institute. It's a partnership that raises hope amidst concerns on climate change and increasing air pollution.
The trend to gain independence from fossil fuels and invest in green energy resources is becoming mainstream worldwide. Hanwha Q CELLS is at the forefront of this effort with solar energy.