Hanwha Corporation/Machinery Customizable Precision on Display
at IMTS 2018
Hanwha's new CNC automatic lathe is introduced for the first time outside of Korea
A new collaboration machinery and Smart Factory solutions are demonstrated at the tradeshow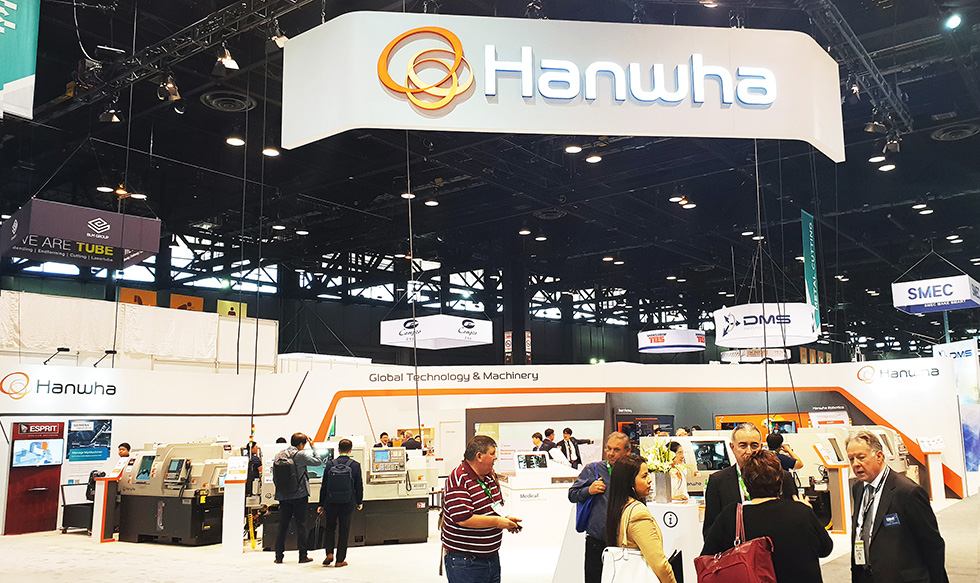 [October 2, 2018] Hanwha Corporation/Machinery unveiled six industrial machineries including its brand new Computer Numerical Control (CNC) automatic lathe at the International Manufacturing Technology Show (IMTS) 2018 in Chicago, Illinois from September 10th through the 15th. Visitors to the booth were particularly impressed by the high level of customizability of the products and their thermal displacement calibrating systems.
More than 2,000 exhibitors from 100 countries were at hand to put their products and services on display for over 110,000 visitors. Hanwha Corporation/Machinery has been exhibiting at the show every year since 1990.
During the trade show, special efforts were made to reach market segments that require the type of extreme precision Hanwha Corporation/Machinery's products offer - these included the automotive parts manufacturers and medical device manufacturers.
CNC automatic lathes use computer programs to machine metal parts without human input during the machining process. With improved precision and more powerful motors, it is an ideal tool for machining a wide variety of geometrically complex parts. Hanwha Corporation/Machinery excels at developing one of the most advanced CNC automatic lathes in the world. And an embodiment of the company's advancements in this machinery is the XD26II-V. The XD26II-V was proudly on display at IMTS 2018. It was the first time that the XD26II-V CNC automatic lathe was exhibited outside of S. Korea.
Hanwha Corporation/Machinery also showcased its Intelligence CNC Prognostic System (Hi-CPS). Hi-CPS was developed as a smart factory solution to increase productivity. The system was designed to leverage cloud computing to enable customers to operate an entire factory from the convenience of a computer or a handheld device.
Another product that Hanwha Corporation/Machinery presented at IMTS 2018 was the Hanwha Collaborative Robot (HCR), the HCR served as a sneak peek to the future of the machining industry. The HCR can automatically feed raw materials to an XD38II CNC automatic lathe and then remove the machined part once the job is complete. This sophisticated machinery is increasingly gaining wider adoptions in the robotics markets worldwide.
"Our products provide the precision and flexibility our customers need," says Youn-chul Kim, CEO of Hanwha Corporation/Machinery. "And as the leader in the Korea machine tools market looking to become a leader in the global market, we will apply our know-how and experience to the automotive parts and medical device markets and grow our customer base."
Hanwha Corporation
Hanwha Corporation, the parent company of the Hanwha Group, is a global manufacturing company that has directly contributed to the growth of South Korea's economy. There are 3 divisions under the Hanwha Corporation: Global, Defense, and Machinery. Hanwha Corporation was founded in 1952 as Korea Explosives Company, quickly becoming the leader in the explosives industry of South Korea. It has since grown into a global manufacturing company operating in three business areas—explosives and chemical, defense, and machinery.

In 1959, Hanwha was the first domestic manufacturer of dynamite in South Korea. After having successfully developed safer, high-quality industrial explosives and fire process products, we have been able to supply the South Korean government with the crucial means to rebuild its cities and infrastructure.

For more information, visit: www.hanwhacorp.co.kr/eng
Hanwha Group
Hanwha Group, founded in 1952, is one of the Top-Ten business enterprises in South Korea and a "FORTUNE Global 500" company. Hanwha Group has more than 85 domestic affiliates and over 380 global networks in three major sectors: manufacturing and construction, finance, and services and leisure. With more than 65 years track record of industrial leadership, Hanwha's manufacturing and construction businesses encompass a broad range of fields from chemicals & materials, aerospace & mechatronics, total solar energy solutions, and global construction. The finance network, covering insurance, asset management and securities, is the second largest non-bank financial group in South Korea. The services and leisure sector offers premium lifestyle services with retail and resort businesses.

For more information, visit: www.hanwha.com
Contact Us
Thank you for your interest in Hanwha.
Please contact us for your inquiries.
Email Us
Information Message
Please enter your email address.
Information Message
Please enter a correct email address.
Success
Keep an eye on your inbox for the latest stories from Hanwha.
Information Message
Your subscription request has already been processed. Thank you.