Hanwha's Four Defense Companies Gear up
for Global Expansion
Hanwha Group's defense companies presented their first joint exhibit at IDEX 2017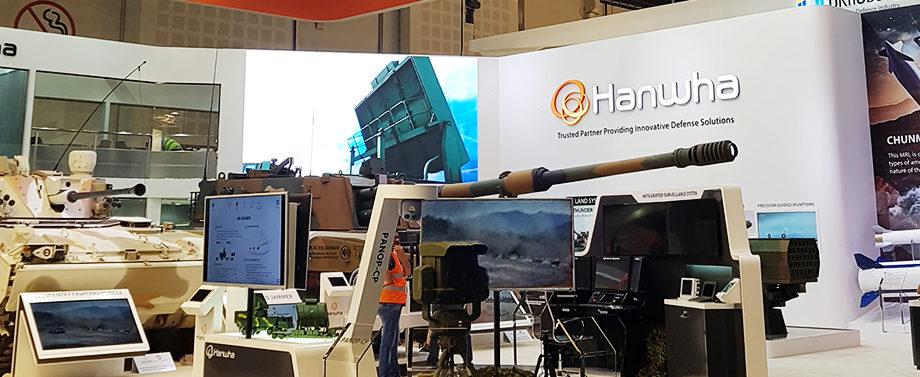 The International Defense Exhibition & Conference 2017 (IDEX) is the largest defense industry exhibition in the Middle East and North Africa. IDEX has been held biennially since 1993 and this year's 5-day exhibition from February 19th to 23rd took place in Abu Dhabi, the capital of the United Arab Emirates. Attendees included 100,000+ visitors made up of military personnel, defense & security experts, journalists, and world leaders who came to see the products from more than 1,200 companies from nearly 60 countries. At the world's largest and most strategically important defense mega conference, Hanwha's four defense companies operated a single exhibit as a way to present a united front and a more comprehensive offering of world-class defense and security capabilities. The four Hanwha companies – Hanwha Corporation, Hanwha Techwin, Hanwha Defense Systems, and Hanwha Systems each featured different products but they shared the common objectives to develop new export opportunities and expand into overseas markets as global defense contractors.
Hanwha Techwin exhibits K9 artillery and the K10 ammunition carrier
Hanwha Techwin featured its K9 self-propelled howitzer (the actual gun along with two replicas) and the K10 ammunition resupply vehicle model, an integrated system that has revolutionized the concept of battlefield artillery operation.
The K9 has a maximum range of 40km and a maximum speed of 67km/h. It can place rounds on a target in 30 seconds while stationary or hit the target while maneuvering in 60 seconds, making it one of the world's most capable artillery systems. Export deals were signed with Turkey in 2001 and Poland in 2014. The company plans to launch an aggressive marketing campaign targeting Scandinavian and Middle Eastern countries to expand its overseas market share.
The K10 ammunition resupply vehicle is a robotic equipment that can automatically deliver ammunition to K9 self-propelled howitzers in the field. The K10 is equipped with the world's first "fully-automatic control system" that can resupply the K9 at a rate of over ten rounds per minute.
Hanwha System looks to strengthen its position as a total solution provider
Hanwha Systems' plan is to expand its presence overseas by strategically targeting exports to national markets around the world. This plan includes increasing marketing efforts to develop new business relationships and selling procurement projects in the UAE, Oman and other countries in the Middle East. And by coming to IDEX, Hanwha Systems could execute this plan by featuring its comprehensive defense systems that positions the company as a total solution provider.

To this end, Hanwha Systems showcased its range of electro-optical, radar, combat, and electronic warfare systems for military reconnaissance and surveillance. In addition, the company featured its Command, Control and Communication systems (C3S), which make up the brains of weapon systems.
The company also exhibited cutting-edge integrated surveillance systems including the TAS-815K thermal observation device, short and long-range radar systems that highlight Hanwha Systems' – a product that represents over 40 years of radar technology development experience.
Hanwha Systems will continue to focus on strengthening its technological capabilities in multipurpose radar systems and naval combat systems. The company's strategy includes looking into other business areas while exploring and developing new businesses in unmanned systems and cyber security, stepping up the company's overseas marketing efforts and solidifying its position as a global defense total solution provider.
Hanwha Defense Systems looks to expand its presence in the Middle East through targeted marketing
Hanwha Defense Systems will continue to grow its influence in the Middle East market by leveraging its 40+ years of technological experience in ground weaponry and air-defense systems. The company plans to focus on the Vision 2030 project, Saudi Arabia's long-term national development plan, in order to both expand its business relationship with the kingdom as well as contribute to further strengthening the defense partnership between Korea and Saudi Arabia.
At this year's IDEX, Hanwha Defense Systems showcased a full-scale operational K21 infantry fighting vehicle (IFV) as well as five small-scale replicas including that of the lighter version of the K21 tank and other wheeled armored vehicles. The K21 IFV is armed with a 40mm cannon and is capable of fording streams without logistics support. An early-warning radar threat detection system on the K21 increases its survivability against attacks by enemy tanks or aircrafts.
Hanwha's exhibit also included the K21-105 Medium tank – the first lighter version of K21 but equipped with a 105mm gun turret. The K21-105, manufactured by CMI Defense, is faster and has better transport capacity than its heavier counterpart tanks. At the same time, these lighter tanks are capable of greater tactical mobility while being able to deliver formidable firepower on the battlefield.
Hanwha Defense Systems also exhibited the Hybrid BIHO, a new weapons system that combines the BIHO self-propelled anti-air artillery with the Shingung short-range anti-air guided missile system that allows the operator to select between cannons or missiles depending on the distance of the target. Military officials from India and the Middle East have showed considerable interest in this system.
Hanwha Group
Founded in 1952, Hanwha has grown quickly by anticipating and responding to changing business environments with a balanced business portfolio that includes energy & materials, aerospace, finance and retail & services. Our expertise and synergy in key areas have catapulted us into the seventh-largest business in South Korea and a Fortune Global 500 company. Hanwha continues to grow rapidly as we strive to pursue global leadership in all of our businesses. We are building a robust foundation for sustainable development and a brighter future for everyone.

For more information, visit: www.hanwha.com
Contact Us
Thank you for your interest in Hanwha.
Please contact us for your inquiries.
Email Us
Information Message
Please enter your email address.
Information Message
Please enter a correct email address.
Success
Keep an eye on your inbox for the latest stories from Hanwha.
Information Message
Your subscription request has already been processed. Thank you.