Hanwha Eyes Vietnam, ASEAN's Rising Star

December 19, 2018 (KST)
Hanwha Eyes Vietnam,
ASEAN's Rising Star

Vietnam is attracting global attention as an emerging growth engine among ASEAN member countries. Thanks to its sizeable workforce and business-friendly environment, the country's economy has experienced 6% annual growth for the past five years. Incomes and living standards have also risen, leading to higher consumption. In order to sustain such explosive growth without impacting the environment, the Vietnamese government is seeking to improve its energy infrastructure and turning to renewable energy sources.

Vietnam's economic transformation presents exciting opportunities for Hanwha, whose business spans diverse industries, including: solar energy, aerospace, machinery, and finance. Hanwha's advanced technologies and capital power, coupled with Vietnam's vast workforce and growth potential, will lead to exciting to new opportunities.

In the finance sector, Hanwha Life Insurance entered the Vietnamese market in 2009. After its VND 2.92 trillion (USD 125.3 million) charter increase in 2018, it became the country's fourth largest insurer in terms of capital holdings. In August of 2018, Hanwha Asset Management invested VND 9.323 trillion (USD 400 million) in Vingroup JSC, Vietnam's largest conglomerate, and further solidified Hanwha's position in Vietnam.

Additionally, Hanwha is establishing a manufacturing base in Vietnam. Hanwha Techwin built a plant to manufacture security products in Bac Ninh Province in 2017. Hanwha Aerospace, meanwhile, opened a brand new aircraft engine parts and components manufacturing plant in Hoa Lac Hi-Tech Park, near Hanoi, in December of 2018. These two plants now serve as strategic production bases that will support Hanwha's continuing growth and its goal to become a global leader in the plants' respective fields.

Hanwha is also quickly expanding its solar energy business in Vietnam thanks to the Vietnamese government's active support for renewable energy production. In September of 2018, Hanwha Energy opened a representative office in Ho Chi Minh City and began business development operations. Hanwha Energy is also working on the construction of a solar power plant in Khanh Hoa Province. Work on the plant is expected to be completed by June of 2019, after which Hanwha will generate and supply electricity for the region for the next three years and potentially more.

Other Hanwha business units operating in Vietnam include Hanwha Corporation/Trade, which has a representative office in Ho Chi Minh City, and Hanwha Precision Machinery, which is based in Bac Ninh Province and has a service center in Ho Chi Minh City.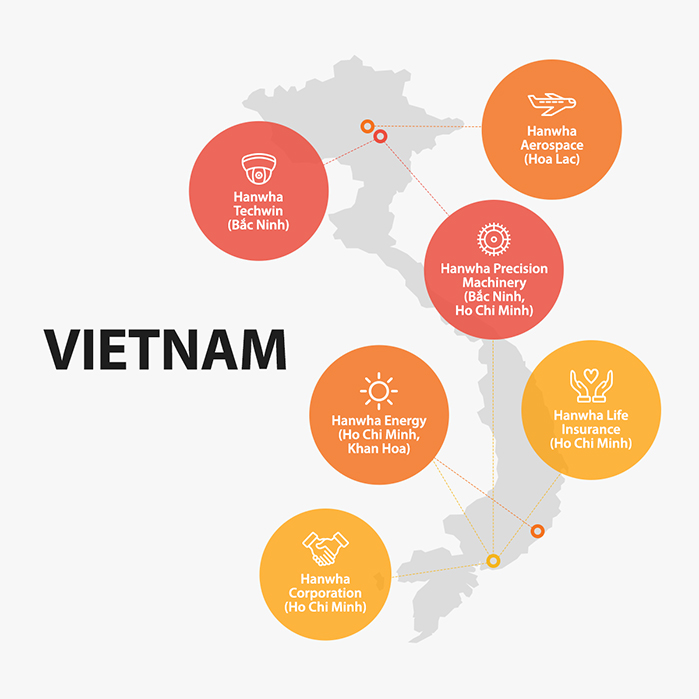 In December of 2018, Hanwha Group Chairman Seung Youn Kim visited Vietnam and stressed out that "As a member of the local community, Hanwha won't just be concerned with how we can contribute to the economy, but also how we can help address environmental issues as well."

During his visit, Chairman Kim also met with Vingroup Chairman Pham Nhat Vuong to discuss a business partnership and CSR activities. Through this collaboration, Hanwha and Vingroup will work together across various industries, including finance, automobile component materials, solar power system installation, and security.

The journey for Hanwha in Vietnam has only just begun. Under the philosophy of "Going Further Together", Hanwha will continue to create shared values and nurture local talent to grow its business in the country.

In his 2018 new year's message, Chairman Kim said, "We must always take the right path, however difficult. It must be a path that involves cooperation, a path on which the weak are not taken advantage of but where the benefits are mutual and can help us go further, together." This is the big picture for Hanwha in Vietnam, where talent, technology, and capital come together to create socioeconomic value for a better tomorrow.
Building a Life Commitment to
Vietnam
When Hanwha Life Insurance entered the Vietnamese insurance market in April of 2009, it did so as the first Korean life insurance company to set up a wholly owned subsidiary without a local partner in the country. And with Hanwha Life Vietnam's tenth anniversary just around the corner, the company is now regarded as a prime example of how to enter and succeed in the Vietnamese financial market.

Hanwha Life Vietnam's success is due to its strong localization strategy. Among its 295 original employees, 292 were local hires while only three were Korean expatriates. Through their intimate knowledge of the local market and the needs of local consumers, Hanwha Life Vietnam's local employees were able to develop an effective sales network that gives the company a significant competitive advantage.

Furthermore, Hanwha Life's organizational management and its ability to train financial planners have contributed to Hanwha Life Vietnam's dramatic growth. Since its founding, Hanwha Life Vietnam has grown nearly 15 times larger, surging from VND 42.1 billion (USD 1.8 million) in new contracts in 2009 to VND 681.6 billion (USD 29.2 million) in 2018. The company now has 108 offices in major cities, including: Ho Chi Minh City, Hanoi, Da Nang, and Can Tho, as well as more than 13,500 financial planners throughout Vietnam, having begun with just 450 planners in 2009.

Hanwha Life Vietnam also has some of the best customer retention rates in the Vietnamese insurance market and boasts a product portfolio designed specifically for local customers and it is updated continuously to meet their changing needs. For seven consecutive years, from 2010 to 2016, Hanwha Life Vietnam received the Golden Dragon Award for Best Products and Services from the Vietnam Economic Times, Vietnam Chamber of Commerce and Industry, and the Vietnamese Ministry of Planning and Investment.

Hanwha Life Vietnam's active CSR outreach, based on the philosophy of "Going Further Together", has also helped the company build its good reputation among the local communities. As a life insurance company, it was only natural for Hanwha Life to actively promote activities to help improve people's lives.

Volunteers from Hanwha help install a corrugated roof on a donated charity house in Quảng Điền District, Thừa Thiên-Huế Province
In Vietnam, individuals must purchase new health insurance cards every year. Although there is some government assistance for underprivileged demographics, there are still many children and elderly who cannot afford to buy a new health insurance card every year. Since 2014, Hanwha Life Vietnam has donated health insurance cards to nearly 45,000 people in 26 regions.

Hanwha Life Vietnam is further improving the lives of underdeveloped communities and marginalized citizens by constructing health centers, donating bicycles to schoolchildren, and building new homes for the disadvantaged.

In September of 2018, the Ho Chi Minh City People's Committee and the Sponsoring Association for Poor Patients awarded Hanwha Life Vietnam a Certificate of Merit in recognition of its CSR activities.
In July of 2018, Hanwha Life Vietnam's charter capital surged by more than 150% to VND 2.913 trillion (USD 125 million) through an injection from Hanwha Life headquarters in Korea, making it the fourth largest insurance company in Vietnam. As an income insurance company, Hanwha Life Vietnam is ranked eighth out of 18 life insurance companies. By 2025, the company seeks to be the fifth largest income insurer in Vietnam.

Vietnam is still very much an emerging insurance market with only around 5% of the population having any sort of coverage. However, the demand for insurance coverage is rapidly increasing due to the improving economy resulting in higher wages, a growing middle class, and expanding awareness among younger people on the importance of insurance.

Deutsche Bank expects the Vietnamese insurance market to grow briskly, with 12.5% annual growth by 2020.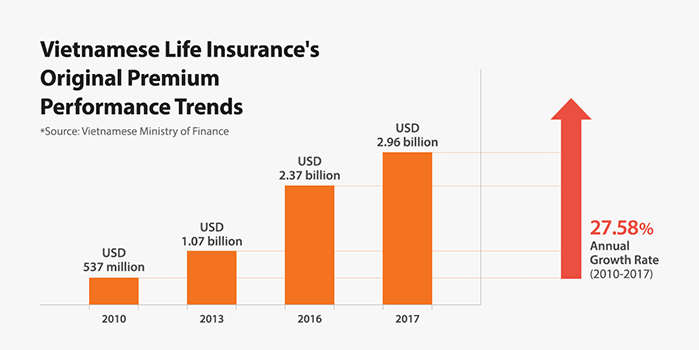 Life Insurance Premium performance / average annual growth rate in Vietnam
Source: Vietnam Ministry of Finance
Hanwha Life Vietnam intends to set the gold standard for achieving success in the growing Vietnamese insurance market. With Vietnam's population of 100 million people experiencing greater prosperity and neighboring countries like Myanmar and Cambodia experiencing similar economic booms, Hanwha Life Vietnam is poised to become a regional bulwark from which Hanwha can expand its South East Asian business interests.
Helping Vietnam Harness
the Power of the Sun
Hanwha Energy is a comprehensive energy solutions provider that is driving the growth of renewable energy. It aims to become the world's Number One solar power generator with more than 10GW of clean energy projects in the pipeline by 2020. The company is simultaneously diversifying its business portfolio by offering operations and maintenance (O&M) services and energy storage solutions.

24.5MW Solar power plant in Kitsuki(Japan) financed, constructed, and operated by Hanwha Energy
Hanwha Energy has already completed many successful projects in Japan, the United States, and Latin America. The company is currently operating a 99MW solar power plant in Japan and has more recently finished the construction of a solar power plant in Texas that will supply more than 50,000 homes with clean energy. A large-scale 125MW solar power plant is also under construction in Mexico.

Today, Hanwha Energy is actively engaged in Vietnam, a country that is keenly interested in adopting and investing in renewable energy sources.

According to Vietnam Electricity's Annual Report 2017, Vietnam's energy consumption is increasing by 10% annually. The country has an urgent need to develop alternative energy sources to meet future energy demand.

Although 37.6% of Vietnam's power comes from hydroelectric plants, it still faces the issue of increasing air pollution caused by the use of fossil fuels. Thus, corporate and public interest in renewable energy is very high. Also having signed the Paris Agreement in 2016, Vietnam must keep a close eye on its carbon emission levels.

Vietnam plans to triple its renewable energy usage and be able to power at least 26% of its homes with solar energy by 2030. To facilitate this, the government is incentivizing renewable energy companies to invest and operate in the country by providing exemptions on corporate taxes and land use regulations, easing customs regulations, and lowering tariffs on imported components and intermediate goods.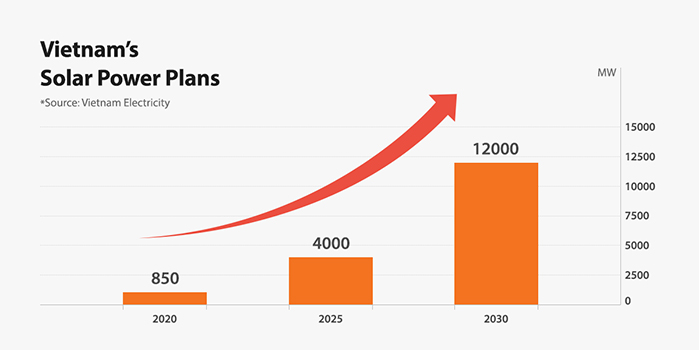 Under the Vietnamese government's current plans, the country's solar power capacity will rise from 850MW in 2020 to 12,000MW in 2030. Much of the investment and expansion of Vietnam's solar power plants will be in the country's southern regions, where sunlight is more abundant.

Hanwha Energy is currently constructing a 100MW solar power plant in Cam Lam, Khan Hoa Province through a joint partnership with Hanwha Engineering & Construction and Hanwha Q CELLS. Once the power plant is completed and goes on line in June of 2019, Hanwha Energy will supply the surrounding region with energy and O&M service for at least three years as an Independent Power Producer.

In addition, Hanwha Energy seeks to expand its Veitnamese solar power capacity by 500MW over the next three years. In order to achieve this goal, Hanwha Energy opened a representatitve office in Ho Chi Minh City in September of 2018 and is in discussions with local developers in Nihn Thuan and other provinces.

Hanwha Energy harnesses the power of the sun to provide communities with clean renewable energy
Hanwha is the world's largest producer of solar cells. It has manufacturing facilities in Korea, Malaysia, and China that collectively produce more than 8GW of solar cells and modules annually. This is enough renewable electricity to sustain 12 million people a year. Hanwha plans to invest USD 8 billion in its solar energy business units by 2022 and develop them into its next generation growth engines.

Hanwha's technical expertise in solar energy and the growing demand for renewable energy in Vietnam represent a lucrative opportunity for Hanwha in Vietnam. Hanwha looks forward to fostering an even closer partnership with Vietnam and play a major role in the country's transition to renewable energy.
Hanwha Aerospace Kicks Off
a New Chapter in Vietnam
As Korea's only aircraft engine provider, Hanwha Aerospace has assembled more than 8,600 gas turbine engines since 1979. Possessing end-to-end design and manufacturing capabilities in a highly automated environment, Hanwha Aerospace provides engine components and modules for the three major global aircraft engine manufacturers: Pratt & Whitney, General Electric, and Rolls-Royce.

Over the past four years, Hanwha Aerospace has entered into Revenue Sharing Partnerships and long-term supply contracts with these three manufacturers, totaling more than USD 17.1 billion. To meet with growing demands, Hanwha Aerospace has built a brand-new manufacturing plant in Hoa Lac Hi-Tech Park in Vietnam to increase its production capacity. The plant is roughly the size of 16 football pitches, with 100,000 square meters of manufacturing floor space.

At the plant's completion ceremony on December 6, 2018, Hanwha Group Chairman Seung Youn Kim said, "This Hanwha Aerospace plant in Vietnam will play a vital role in Hanwha's goal to become a major global player in the aircraft engine industry." He also said that Hanwha's philosophy of "Going Further Together", through trust and mutual growth, will help strengthen bilateral ties between Korea and Vietnam.

The Vietnam plant will leverage the technology and experience developed at Hanwha Aerospace's flagship plant in Changwon, Korea, to produce cost-competitive aircraft engine parts and components in large volumes. As the aircraft engine industry requires decades of investment in technology and equipment, as well as deep technical expertise, Hanwha Aerospace intends to develop its operations in Vietnam for the long term.

Hanwha Group Chairman Seung Youn Kim (third from right) and Vietnam's First Deputy Prime Minister,Truong Hoa Binh (second from right), inspect the production line of Hanwha Aerospace's new manufacturing plant in Vietnam
Recently, the increasing number of passenger and cargo flights has led to considerable growth in the commercial aircraft market. As a result, the global aircraft engine market has grown significantly and is expected to reach approximately USD 54.2 billion by 2025. By then, Hanwha Aerospace intends to exceed USD 886 million (KRW 1 trillion) in aircraft engine component sales and become the world's major aircraft engine manufacturers' number one partner.
Vietnam is rapidly emerging as a global manufacturing hub due to its large workforce and low corporate tax rates for high tech businesses. The synergy created between Hanwha Aerospace's technical expertise in aircraft engine parts & components and Vietnam's young workforce will help Hanwha Aerospace make the leap to become a leader in the global aircraft engine market.
Hanwha Techwin Expands
its Vietnam Base to Become
a Market Leader
Hanwha Techwin is a total security solutions company with world-leading optical design, manufacturing, and image-processing technologies. The company offers a comprehensive catalog of CCTV products including security cameras, storage devices, integrated control and video analysis software.

By continuously developing new and cutting-edge technology, Hanwha Techwin has become Korea's largest, and the world's fifth largest, security solutions provider, with a global network of more than 5,000 partners and vendors in Europe, North and South America, the Middle East, and Asia.

As part of its strategy to become the world's number one security solutions provider, Hanwha Techwin expanded its global manufacturing base with the construction of a 60,000 square meter plant Bac Ninh Province. The new plant began mass production in March of 2018, significantly improving the company's production capabilities and lowering costs to improve its global competitiveness in order to meet the world's growing demand for high-tech security solutions.

The new plant's capacity will support Hanwha Techwin's growing sales in North America, Europe, and the Middle East. The company has been winning contracts for large-scale retail projects, increasing premium product sales and effectively leveraging existing business relationships.

Within the security systems market, artificial intelligence and IoT technologies are converging. By investing in developing technologies and keeping up with changing trends, Hanwha Techwin seeks to become the world's leading security solutions company and provide its customers with true peace of mind.