Hanwha Explores Future Growth Engines and Accelerates Drive to Enhance Its Global Competitiveness

The Hanwha Group (Chairman Seung Youn Kim) participated in the World Economic Forum (WEF) Annual Meeting 2017 held in Davos, Switzerland, to spur the Group's efforts to strengthen its global competitiveness.
This year's forum was held over four days from January 17th through the 20th and the attendees included the President and CEO of Hanwha Life Nam-Gyu Cha, the CEO of Hanwha Techwin's Aerospace & Defense Business Group Hyun-Woo Shin, the CEO of Hanwha Total Petrochemical Hee Cheul Kim, the CEO of Hanwha Asset Management Yong-Hyun Kim, the CCO of Hanwha Q CELLS Dong Kwan Kim, and the Head of both Hanwha Life's FinTech and the Innovation Center Dong Won Kim. The Hanwha executives took part in a series of meetings and collaborative activities with over two hundred other global leaders.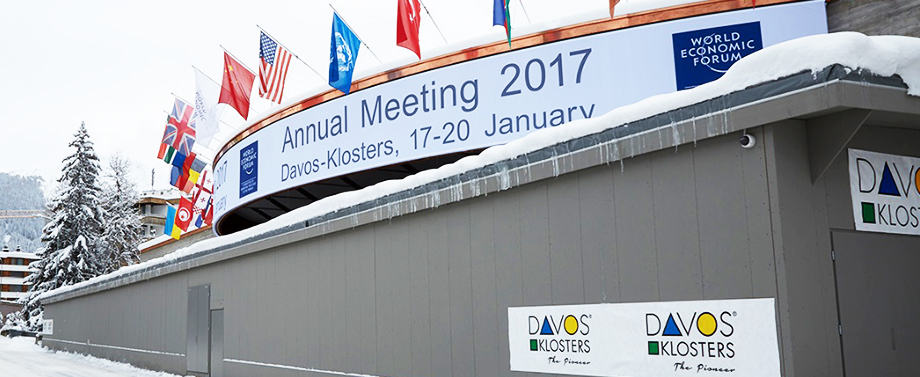 Hanwha Life and Hanwha Asset Management seek new opportunities in overseas markets and expand their asset management portfolios.
The CEO of Hanwha Life Nam-Gyu Cha has attended the WEF for 5 years in a row. This year he focused his efforts on exploring new strategies to expand the company's financial business overseas.
On January 17th, the Head of both FinTech and the Innovation Center, Dong Won Kim met with the Chairman of Vietnam's No. 1 software company FPT, Mr. Truong Gia Binh, to discuss the development of a customer support software for FPT's Vietnamese subsidiary. Mr. Cha met with the CEO Michał Krupiński of PZU SA, the biggest insurer in Poland and Eastern Europe. They talked about the current landscape and prospects in the insurance market in the region.
The next day on January 18th, Mr. Cha and the CEO of Hanwha Asset Management Yong-Hyun Kim met with Thomas M. Finke, the Chairman and CEO of Barings, the American investment management firm. They talked about global trends in asset management and shared insights on emerging investment markets against the backdrop of revenue growth in whole life insurance that had lasted for nine consecutive years (ending in 2015). They also engaged in strategic discussions on bancassurance, brokerage, and direct insurance. The meeting was later joined by Roger W. Crandall, President and CEO of Massachusetts Mutual Life Insurance Company, the parent company of Barings.
On the 19th, Mr. Cha and Mr. Kim met with the Carlyle Group Co-Founder David M. Rubenstein and TPG Co-CEO Jim Coulter to talk about strategies and opportunities in the global economy, the private fund market, and evolving investment markets. In another meeting with Jayne Plunkett, the CEO of Reinsurance Asia of Swiss Re, the world's second largest reinsurer, Mr. Cha discussed the ways in which to preempt the protracted low interest rate environment as well as the ever-changing financial market.
Hanwha Techwin has its sights on becoming the new leader in aerospace and energy equipment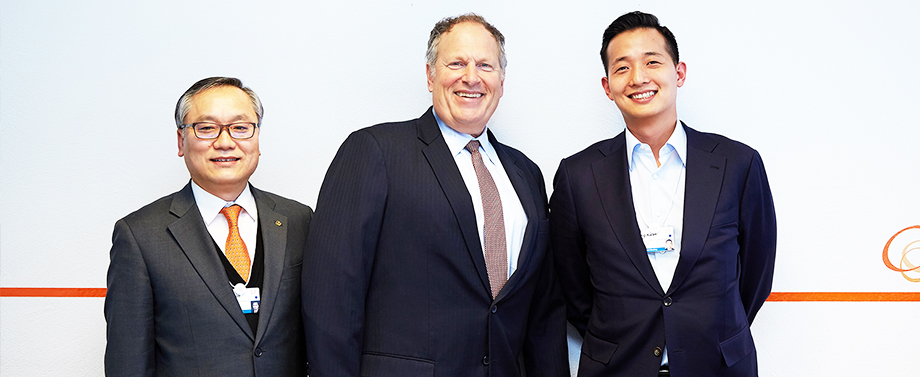 Hanwha Techwin CEO Hyun-Woo Shin set up a platform to meet with world business leaders and discuss opportunities created by global megatrends and also propose the cooperation necessary to address the fundamental shifts in the global business world.
Mr. Shin and Hanwha Q CELLS CCO Dong Kwan Kim met with Lorenzo Simonelli, President and CEO of GE Oil & Gas, a global leader in energy equipment, to talk about how GE Oil & Gas and Hanwha could boost collaborations to take advantage of changing opportunities in the market. He also met with David M. Cote, Chairman and CEO of the global technology giant Honeywell, to share M&A strategies, insights into the Fourth Industrial Revolution, and to discuss how Honeywell and Hanwha Techwin could further work together on aviation projects.
At the banquet hosted by Saudi Arabia's state-run oil company Saudi Aramco, Mr. Shin proposed various ways in which to collaborate in energy equipment as part of a larger effort to lay the foundation for working with more global industry leaders.
Hanwha Total Petrochemical sets out on examining prospects for global petrochemical market
Visiting Davos for the World Economic Forum for the second time since 2011, Hanwha Total Petrochemical CEO Hee Cheul Kim increased his efforts to expand the company's global petrochemical business.
On January 17th, Mr. Kim met with Dmitry Konov, Chairman of the Management Board of Russia's SIBUR Holding, to discuss Russia's growth potential in the petrochemical market and the outlook for global energy industry, focusing on gas and natural gas liquids. At another meeting, Total Chairman and CEO Patrick Pouyanné discussed strategies and how Hanwha could support Total's goals in petrochemical and new & renewable energy.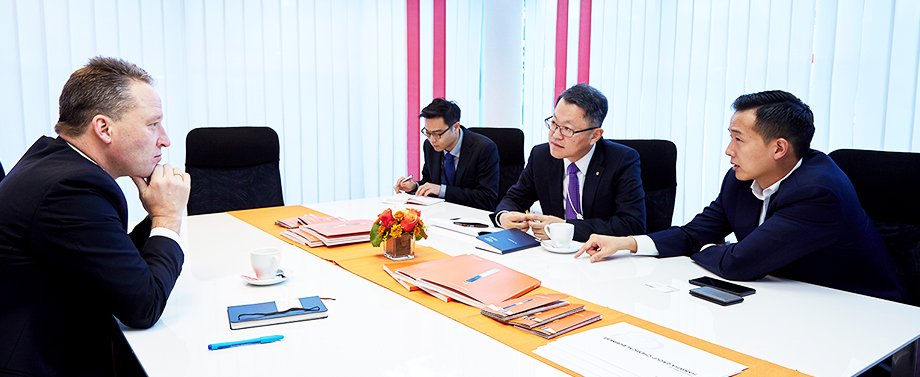 Following the meeting, Mr. Kim met with Sri Prakash Lohia, Chairman of Indorama Ventures, a synthetic textile company in Thailand, and Supattanapong Punmeechaow, President and CEO of Thailand's PTTGC, to discuss the petrochemical market trends in Southeast Asia and the potential business opportunities.
Mr. Kim also attended a meeting with representatives of Lanxess, one of Germany's top five chemicals companies, and other manufacturers of high-value-added specialty chemicals. The meetings focused on sharing outlooks for the industry and plans through which companies could mutually benefit from collaborating with various Hanwha businesses.
Hanwha is looking to leverage brand marketing and global management strategies gained at this year's World Economic Forum and proactively respond to the changes in the market. Through "Responsive and Responsible Leadership," the Group will address growing neo-isolationism while embracing the Fourth Industrial Revolution with both an integrative and comprehensive approach.
Hanwha Group
Founded in 1952, Hanwha has grown quickly by anticipating and responding to changing business environments with a balanced business portfolio that includes energy & materials, aerospace, finance and retail & services. Our expertise and synergy in key areas have catapulted us into the seventh-largest business in South Korea and a Fortune Global 500 company. Hanwha continues to grow rapidly as we strive to pursue global leadership in all of our businesses. We are building a robust foundation for sustainable development and a brighter future for everyone.

For more information, visit: www.hanwha.com
Contact Us
Thank you for your interest in Hanwha.
Please contact us for your inquiries.
Email Us
Information Message
Please enter your email address.
Information Message
Please enter a correct email address.
Success
Keep an eye on your inbox for the latest stories from Hanwha.
Information Message
Your subscription request has already been processed. Thank you.