Hanwha's Financial Divisions Seek the Future of Digital Finance at Money20/20 Asia
Hanwha networked with other global companies in the fintech industry for business development opportunities
DreamPlus startup incubator was promoted at the conference and encouraged startups to participate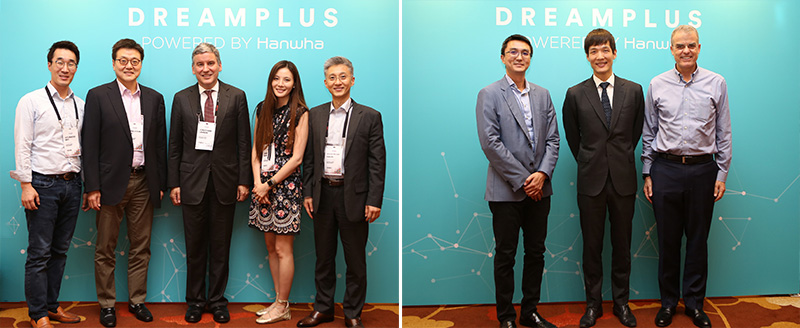 Hanwha's financial division executives participated in the annual Money20/20 Asia conference at the Marina Bay Sands from March 19 to March 21 in Singapore. The team of executives from Hanwha included the CEO of Hanwha Life Seungjoo Yeo, Chief Digital Officer(CDO) and the Head of Global Business of Hanwha Life Dong Won Kim, the CEO & Director of Hanwha General Insurance Yun-Sik Park, the CEO & Representative Director of Hanwha Investment & Securities Hee-Baek Kwon, and the CEO of Hanwha Asset Management Yong-hyun Kim.
At the conference, the Hanwha's leaders captured insights firsthand on the newest innovations and trends in the global fintech space. They took the opportunity to hold working meetings with companies developing the latest technologies and fintech platforms. With the knowledge and insights gained from Money20/20 Asia, Hanwha seeks to disrupt the Korean finance industry, expand its presence in Southeast Asia, and secure future competitiveness.
Hanwha was the only Korean financial company to attend this year's conference and it was also its first time participating in Money20/20 Asia. Money20/20 is organized by Ascential PLC, a British B2B media company. The conference serves as an anchor event for the global fintech industry. It is a popular forum attracting participants from around the world who, through networking and exchanging ideas, are able to innovate. Over 1,400 tech companies, from startups to market leaders such as Google and IBM, take part every year to discuss the latest developments that are disrupting the fintech industry. The first Money20/20 Asia conference took place in March of 2018 in Singapore and then in Hangzhou, China in November of 2018.
During their time in Singapore, Hanwha officers sought out highly-regarded fintech experts to discuss topics, such as cryptocurrency, tokenization, platform ecosystems, payment and settlement systems, and financial service ecosystems. These discussions yielded valuable insights that could allow Hanwha to gain a leadership edge in the Fourth Industrial Revolution.
Hanwha networked with other global companies in the fintech industry for business development opportunities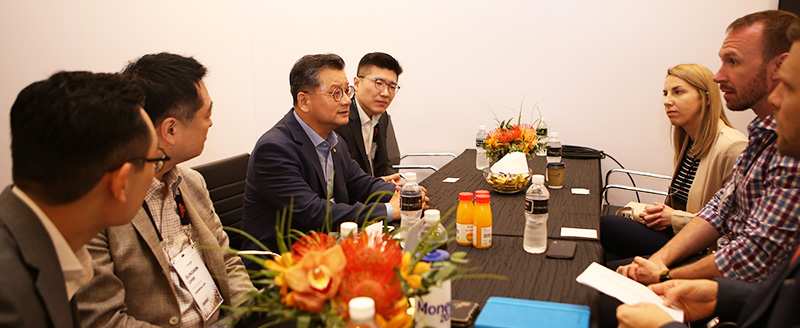 CEO Yeo of Hanwha Life sat down with John Stecher, the Chief Innovation Officer of Barclay's PLC, to learn more about Barclay's startup accelerator program and its increasing focus on emerging technologies. CEO Yeo also had meetings with other business leaders investing in cutting-edge fintech technologies, including Speedinvest (a European venture capital group) and Tryb Group (a Singaporean fintech investment fund). These meetings focused on establishing digital strategies and setting up a global recruiting network for new talent.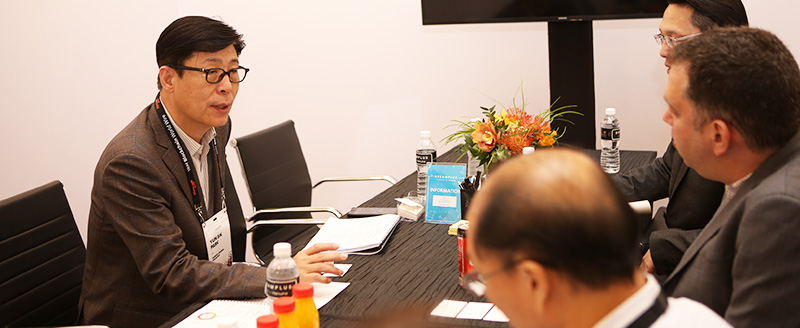 CEO Park of Hanwha General Insurance sought partnerships to enhance Hanwha's services and digital marketing offerings. He spoke with Dror Oren, Chief Product Officer and Co-Founder of Kasisto, Inc., about the conversational AI platform Oren's company is developing. CEO Park also met with representatives from Microblink to gain ideas on how Hanwha General Insurance could improve the quality of its digital services. Microblink is a tech company developing vision technology for mobile and web applications. Hanwha General Insurance has partnered with leading Korean companies SKT and Hyundai Motors to digitize the insurance business in Korea and reshape the industry.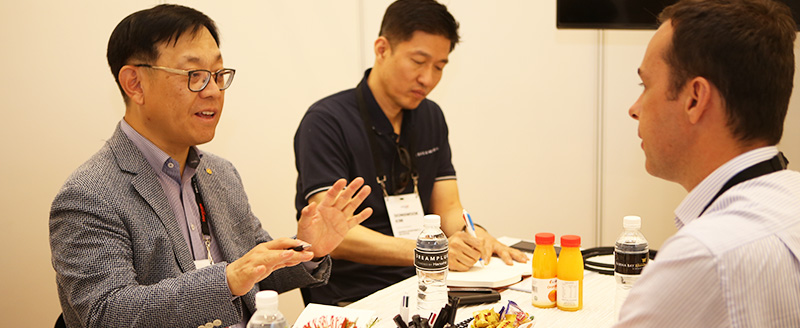 CEO Kwon of Hanwha Investment & Securities focused on securing partnerships to improve his division's competitiveness in digital asset management and other strategic business areas. One of his meetings was with Michele Ferrario, CEO of StashAway. The two spoke about StashAway's automated investment engine, exchanged knowledge on robo-advisors, and discussed the possibility of collaborating in the future. CEO Kwon then met with Grab Financial Group, a company that provides digital financial services across six Southeast Asian countries. During the meeting, the two companies discussed issues currently facing the fintech industry and how Hanwha Investment & Securities and Grab Financial could collaborate in the future.
CEO Kim of Hanwha Asset Management has been seeking to identify future digital trends and fintech investment opportunities. To this end, he met with Chief Innovation Officer of Ping An Insurance Group Jonathan Larsen to learn about Ping An's investment strategies in fintech and digital healthcare. They discussed the possibility of Hanwha Asset Management and Ping An establishing a partnership. CEO Kim also held a meeting with the Singapore-based Golden Gate Ventures, an early-stage VC firm. The two companies agreed to look into future joint ventures.
CDO Kim of Hanwha Life has developed a keen interest in fintech and is a common fixture at major conferences such as the World Economic Forum and Boao Forum. CDO Kim attended Money20/20 Asia to study the trends and strategies that could drive future growth in the digital financial industry. While in Singapore for Money20/20 Asia, CDO Kim met with executives from Temasek Holdings, a Singaporian State-owned holding company, and CP Group, Thailand's largest conglomerate. They exchanged views on the fintech market and discussed potential collaborations between Hanwha Life and the two groups. CDO Kim also spoke with OurCrowd, a crowdfunding platform, about the possible new directions into which the fintech industry might expand.
DreamPlus startup incubator was promoted at the conference and encouraged startups to participate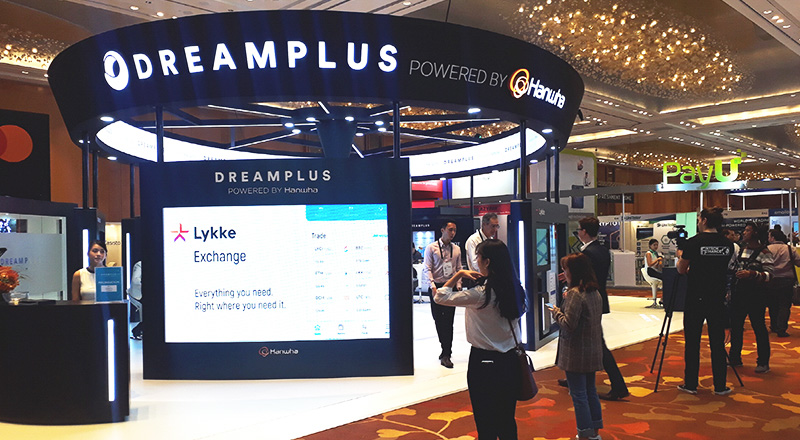 In addition, Hanwha's financial divisions hosted Hanwha DreamPlus Night on the evening of March 20 to promote Hanwha Life's DreamPlus startup incubator. One hundred members of the finance and startup industries, including representatives from JP Morgan and Golden Gate Ventures, networked over cocktails and hors d'oeuvres.
"We are here to be pioneers in new markets through digital finance," CEO Kim of Hanwha Asset Management said to those attending DreamPlus Night. "Let's move to the future, as partners."
DreamPlus is a fast-growing startup incubator and ecosystem that provides aspiring entrepreneurs with the mentorship and support to develop their ideas into successful products for the market. From its hub in Seoul, DreamPlus is fostering a new culture of creativity and innovation that is rapidly expanding globally through its vast world-wide network.
Hanwha Life
Established in 1946, Hanwha Life is not only a leading South Korean life insurance company but also the first and oldest in the nation. For the past 75 years, Hanwha Life has played a critical role in developing the industry and expanding the country's economic growth. In 2021, Hanwha Life reported total assets of USD 112.76 billion, demonstrating its sound structure and firm commitment to adding innovative products and services that meet a wide range of customer needs.

For more information, visit: www.hanwhalife.com/en

Hanwha General Insurance
Established in 1946, Hanwha General Insurance is the first South Korean insurance company entirely funded by domestic capital. Through the decades, Hanwha General Insurance has played a pivotal role in developing South Korea's general insurance industry. Today, the company is a major insurer with total assets of USD 17.65 billion (as of the end of 2021). Hanwha General Insurance provides advanced services to enhance customer value and offers a comprehensive product portfolio, ranging from long–term insurance to auto and general insurance.

For more information, visit: www.hwgeneralins.com/en

Hanwha Investment & Securities
Established in 1962, Hanwha Investment & Securities provides comprehensive asset management services, including brokerage and acquisition of stocks, bonds, and derivatives, as well as sales and asset management services for various financial products. With our differentiated systems and high-quality talent, we have successfully established ourselves as a reliable asset management partner. Our financial products and customer-oriented services are offered domestically and overseas.

For more information, please visit: www.hanwhawm.com/en

Hanwha Asset Management
Founded in 1988, Hanwha Asset Management has grown into a comprehensive asset management company offering a full range of financial instruments, including stocks, bonds, MMFs, fund of funds, social overhead capital, derivatives, real estate, ETFs, and PEFs in both domestic and overseas capital markets. At the end of 2017, we were among South Korea's top three asset management companies with USD 82.17 billion in assets under management (AUM). We have top-tier expertise and well-organized systems in all areas, including product development, research, compliance, and risk management. All our products and services cater to the needs of our customers because we apply our principles and management philosophy to placing our customers first before anything else.

For more information, please visit: http://eng.hanwhafund.co.kr

Contact Us
Thank you for your interest in Hanwha.
Please contact us for your inquiries.
Email Us
Information Message
Please enter your email address.
Information Message
Please enter a correct email address.
Success
Keep an eye on your inbox for the latest stories from Hanwha.
Information Message
Your subscription request has already been processed. Thank you.