Hanwha Joins Movement to Shape a Shared Future that Addresses Climate Change at the 48th World Economic Forum
Hanwha Joins Movement
to Shape a "Shared Future"
at the 48th World Economic Forum
The focus of the 48th World Economic Forum will be on Creating a Shared Future in a Fractured World
Leaders of Hanwha Total Petrochemical, Hanwha Q CELLS, and Hanwha Corporation/Machinery to participate in the forums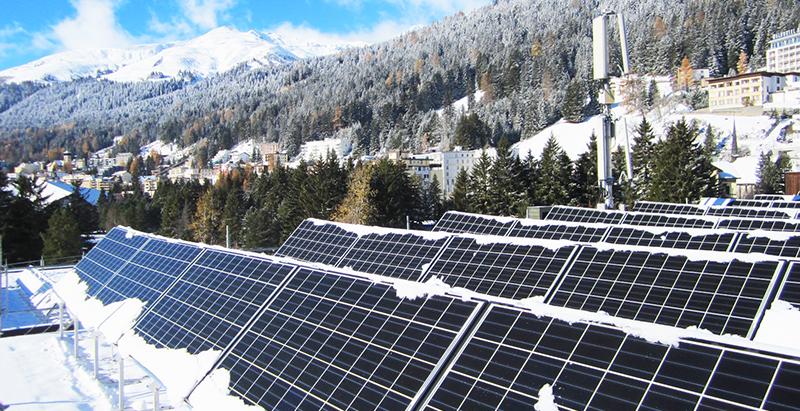 The 48th World Economic Forum (WEF) will take place in Davos, Switzerland from January 23rd through the 26th. Leaders of Hanwha Group have been invited to join this prestigious global meeting comprising of chief executives, political leaders, technology pioneers, and leaders of academia from all over the world to discuss major issues facing international communities and how to affect world change. The aim this year is to bring these leaders together to create a shared future for a better world.
Hanwha has been attending the WEF annually since 2010. Hanwha is also the Forum's strategic partner in sectors including chemicals, insurance & asset management, and aerospace. This year's delegation from Hanwha includes the leadership of Hanwha Total Petrochemical, Hanwha Q CELLS, and Hanwha Corporation/Machinery. Hanwha's leaders are particularly interested in joining the global discussions on topics related to their respective businesses.
By sharing insights at a venue like the WEF and fostering close relationships with world governments and other industry leaders, Hanwha is finding ways to create shared value through mutual exchange and cooperation in a world that is growing ever more connected.
Returning to Davos, this year, is Hanwha Q CELLS Chief Commercial Officer Dong Kwan Kim, who was named a
"Young Global Leader" by the WEF in 2013. CCO Kim regularly attends the Forum, both in Switzerland and Summer Davos in China, and is recognized as a leading voice in the international community, especially in regards to sustainable energy. In 2015, he and other energy industry leaders discussed new business models for energy distribution and carbon removal while, in 2016, he participated in a panel led by former US Vice President Al Gore on low-carbon economies. In 2017, CCO Kim spoke further about clean energy and how he believes the solar energy industry will continue to grow in a panel entitled "Tomorrow's Clean Energy Giants".
Hanwha has consistently taken an active role in helping the WEF address pressing issues that affect the world today.
In 2013, in support of the Forum's Towards a Greener Davos initiative to drive green growth globally, Hanwha, the world's leading provider of solar energy solutions, installed 340kW-capacity photovoltaic modules to the Davos Congress Centre. These environmentally-friendly solar modules can reduce carbon dioxide emissions by up to 20 tons per year, and provide a practical and up-close example of sustainable solar energy to world leaders.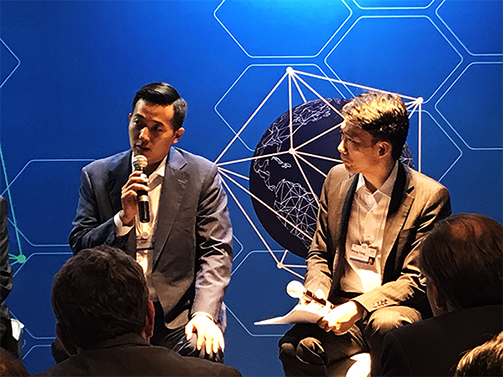 2018 World Economic Forum: "Creating a Shared Future in a Fractured World"
Over 2,500 people from all over the world are expected to gather this year at Davos to discuss the current state of world affairs, methods to strengthen international cooperation, and how to overcome nationalism.

Today, we find ourselves witness to dramatic changes and issues globally, including fragmentations in society, politics, and economics. Inclusive growth is increasingly difficult, and resources are depleting at an alarming rate. There is urgent need for global leaders and businesses to come together and drive positive change for the greater good. To this end, this year, world leaders will be engaged in meetings focused on: Creating a Shared Future in a Fractured World. Agendas will cover global governance, geopolitics, sustainable economic development, the Fourth Industrial Revolution, and social and economic transformations.

Meetings between Hanwha and other global leaders will be held at Hanwha's Davos office. The building is located near the Davos Congress Centre and is an ideal venue for global business meetings and networking events that touch upon Hanwha's varied business interests and the company's commitment to social responsibility.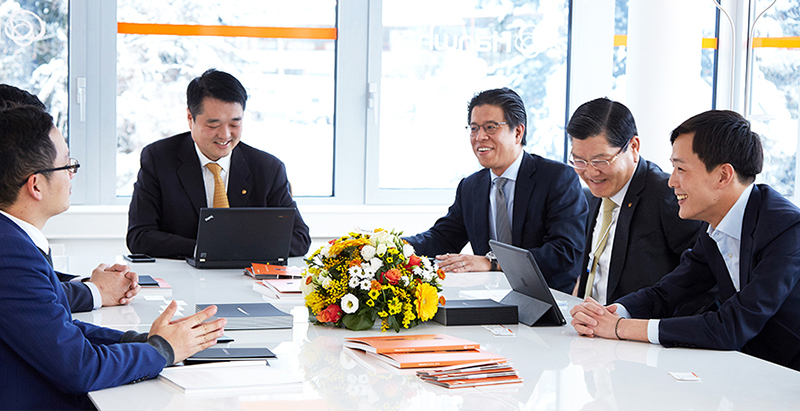 Using its office's proximity to the WEF venue, Hanwha seeks to promote its corporate culture of adapting – adapting constantly to meet the needs of consumers around the world and to as wide of an audience as possible. In 2017, Hanwha Q CELLS and the Global Green Growth Institute (GGGI) held a breakfast forum at the Davos office. The meeting was an opportunity for energy experts to network and for Hanwha Q CELLS to share the company's success stories and to demonstrate its status as an industry thought leader by sharing its ideas on the future of the energy industry.
Hanwha is well-positioned to develop sustainable solutions through industry leadership and innovation. Our business portfolio spans across diverse industries - including chemicals, aerospace, mechatronics, solar energy, and finance.
At Hanwha, we work tirelessly to secure a brighter future for individuals, corporations, and communities around the world.
Hanwha Group
Founded in 1952, Hanwha has grown quickly by anticipating and responding to changing business environments with a balanced business portfolio that includes energy & materials, aerospace, finance and retail & services. Our expertise and synergy in key areas have catapulted us into the seventh-largest business in South Korea and a Fortune Global 500 company. Hanwha continues to grow rapidly as we strive to pursue global leadership in all of our businesses. We are building a robust foundation for sustainable development and a brighter future for everyone.

For more information, visit: www.hanwha.com
Contact Us
Thank you for your interest in Hanwha.
Please contact us for your inquiries.
Email Us
Information Message
Please enter your email address.
Information Message
Please enter a correct email address.
Success
Keep an eye on your inbox for the latest stories from Hanwha.
Information Message
Your subscription request has already been processed. Thank you.