Envisioning the Future: How Hanwha Life CEO Seung Joo Yeo Empowers Communities with Digital Finance Solutions

August 21, 2023 (KST)
"We seek to provide value that goes beyond finance
and extends to the lives of our customers."
The world looked quite different in 1946. ENIAC, the first programmable general-purpose digital computer, had just completed its three-year construction, and mobile phones were merely a concept. Even in the most advanced markets, financial management was carried out through visits to brick-and-mortar buildings, and credit cards were still a decade away. In 1946 Korea, however, a new story was unfolding, beginning with the grand opening of the country's first life insurance company, Hanwha Life.

Now, nearly 80 years later, the financial management landscape has undergone a tremendous era of transformation with the introduction of digital finance solutions and advanced financial technology capabilities. Through generations of rapid change, Hanwha Life has continued to grow alongside its customers while establishing itself as an innovator in the digital finance space. According to Hanwha Life CEO Seung Joo Yeo, this has been a critical component driving the company's success. By leveraging adaptation and leading with trust, Hanwha Life has evolved as a company dedicated to creating digital-based financial solutions that empower individuals and communities to enjoy sustainable growth and economic prosperity.
Tailored Digital Finance Solutions for Every Lifestyle
Financial technology, or fintech, has been around for quite some time. But what is fintech, exactly? The term is commonly used as a catch-all for technology that augments, streamlines, digitizes, or disrupts traditional financial services. Smartphones, mobile integration capabilities, and the COVID-19 pandemic have all contributed to significant transformation in this landscape. Advanced digital finance services have now completely revolutionized how people can manage their finances, making it easier than ever to shop, bank, and invest in a way that suits your lifestyle — all from the palm of your hand. Yeo notes the importance of this shift in the digital finance transformation era. "Nowadays, you can handle nearly any financial matter on your smartphone, free from physical and temporal constraints," he states. "This allows consumers to enjoy both convenient remote transactions as well as more personalized and streamlined financial services."

With its diverse ecosystem of digital platforms, Hanwha Life is taking fintech to new heights, transcending the boundaries of time, space, and evolving trends to provide enhanced solutions for various lifestyles. The Hanwha Life app provides users with ease of access to insurance services. LIFEPLUS, the joint brand of Hanwha's financial affiliates, has expanded its presence in the daily lives of consumers by exploring how to make an app with positive impact. "Last year, we launched the LIFEPLUS TRIBES app, which has established virtual interest-based communities centered on a variety of experts and influencers," said Yeo.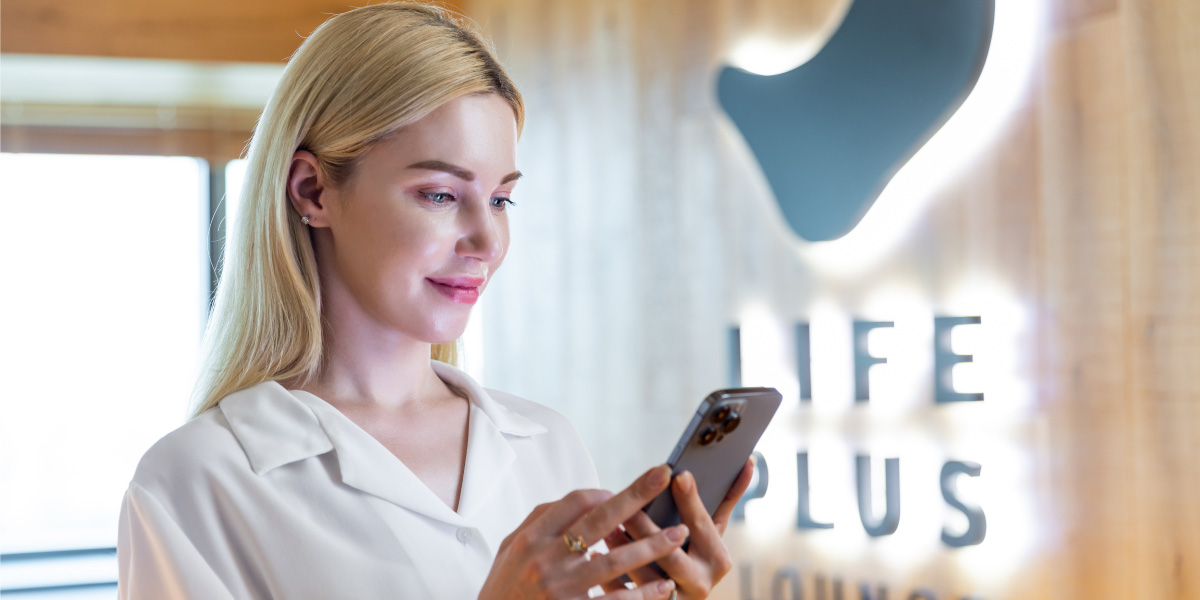 In addition, Hanwha Life offers smart trading tools that aim to make investing simple and approachable. STEPS, Hanwha Investment & Securities' mobile trading service, is specifically designed to be a user-friendly and easily accessible platform where new investors can learn the fundamentals of trading. The app also offers lower financial barriers to entry, allowing users to invest in fractional shares, or a portion of a stock that is less than one full share. Furthermore, Hanwha Asset Management's PINE app offers an easy way for retail investors to buy and sell funds without fee-charging banks or securities firms. This ease of access is what sets Hanwha Life's digital finance services apart. It was the first large insurance firm to separate production and financial product sales, which has created an innovative sales structure and business model that boosts convenience for customers and insurance planners alike. The company's Orange Touch and Orange Tree platforms allow everything from customer management to insurance subscriptions to be performed with a smartphone, providing both consumers and planners with an unparalleled digital experience.

Hanwha Life is also finding ways to combine financial products and digital solutions to offer differentiated services that speak to the human experience. The company's recently released Need Cancer Protection System is an example of this value, providing insured individuals with tailored protection and peace of mind for difficult seasons. From insurance to investments, Hanwha Life provides human-centric services that not only aim to improve convenience, but also quality of life.
Benefitting Society with Global Services
As digitalization gains a stronger presence in society, the role of smartphones becomes increasingly important in our daily lives. The term "phono sapiens" has even been coined to describe this trend as it becomes common for younger generations to view smartphones as a natural extension of themselves. This changing societal value is the driving force behind Hanwha Life's fintech innovations. "Hanwha Life will continue to develop and improve our digital services as a part of our mobile-first strategy to reflect the diverse values of our customers, and continue to respond quickly to the rapidly shifting business environment," notes Yeo.

Hanwha Life cares deeply about its impact on individual customers and communities. Therefore, the company is expanding its reach to adopt environmental, social, and governance (ESG) strategies that benefit society. For Hanwha Life, this looks like a growing list of activities that contribute to greater social sustainability, including plans to increase its share of eco-friendly social investments from 2% of working capital to 5% by 2030, reduce carbon emissions by 40%, and continue to improve its diversity, equity, and inclusion index. "Going forward, Hanwha Life will continue to promote social value and grow as a company that fosters trust," says Yeo.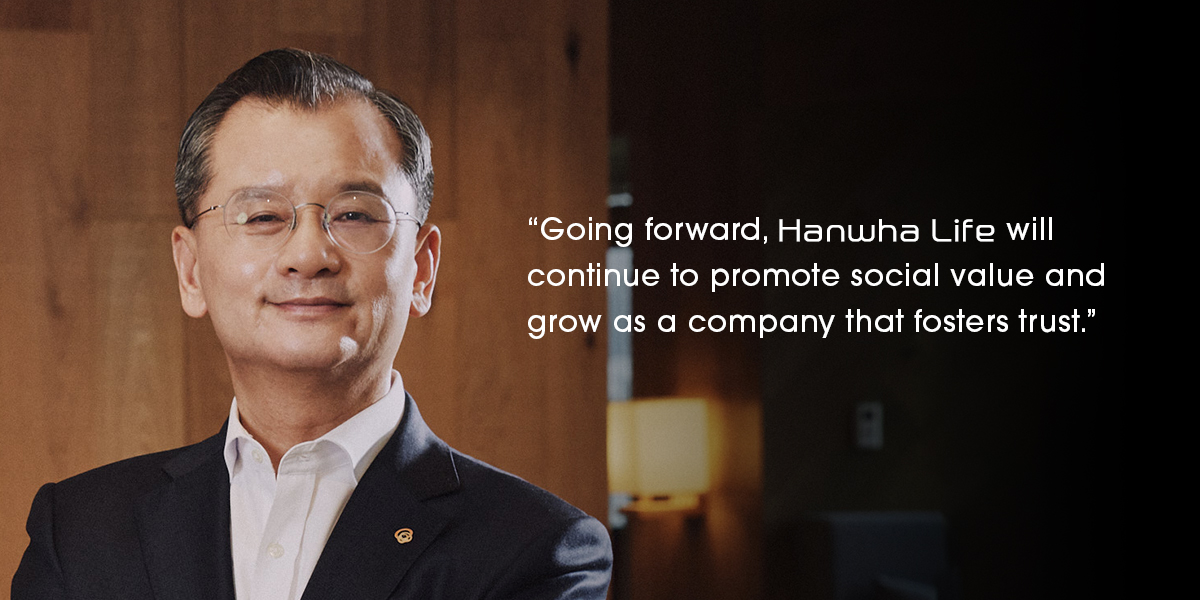 The company is also finding ways to invest in future pioneers through its DREAMPLUS program. This initiative is an open innovation hub and business enabler program, which offers startup support in several global locations, including Korea, the U.S., and Japan. Yeo adds, "By providing support for startups with growth potential, we will work toward promoting positive social values and develop a nurturing ecosystem for human capital, which is the foundational growth engine of a sustainable society."
Community Enrichment Through Innovation
Hanwha Life's digital finance offerings center on the LIFEPLUS philosophy, underlining the company's efforts to support customers in living a fuller life. The company is constantly pursuing avenues of expansion that promote healthy lifestyles and personal growth. Furthermore, Hanwha Life is looking forward to a future where both potential and existing customers can utilize technology to establish communities centered on their interests.

Yeo cites collaboration and connectivity as key ingredients in expanding Hanwha Life's technology and furthering the company's position as a leader in global, sustainable future finance. "Building on our innovations in digital finance, we plan to enhance cooperation between different sectors, provide educational programs for talented individuals, and further enhance our existing strengths while finding synergy with external parties to create greater growth," he said.

The company's development plans begin with building its global presence through developing a technological finance platform that utilizes its existing capacity. At the same time, Hanwha Life is looking for opportunities to break into new markets via cross-border cooperation with partner firms and pursuing strategic mergers and acquisitions (M&As). With these two approaches working in tandem, Hanwha Life anticipates an uptick in business opportunities that will expand the company's operations in Southeast Asia and create new ventures in the Americas.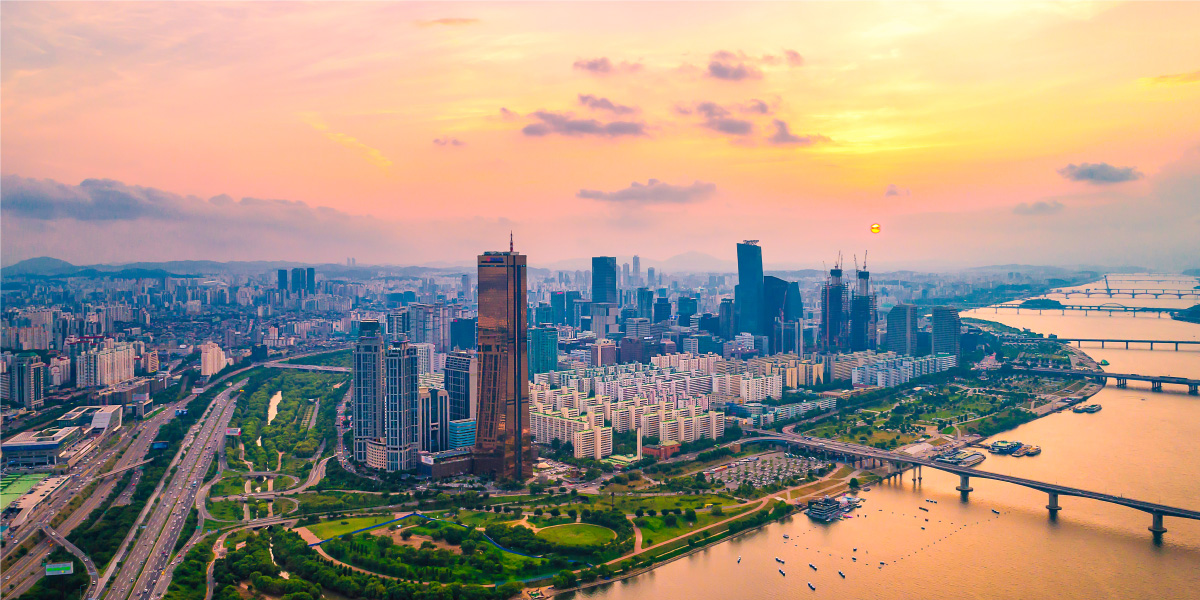 Bridging the Technology Gap
With its robust ecosystem of fintech solutions, Hanwha Life is bridging the gap between human and technology, using digital solutions to enhance connectivity, collaboration, and community across borders. Equipped with smart tools and platforms, Hanwha Life is not only achieving human progress for today and tomorrow, but enriching lives while empowering individuals, families, and communities.