Hanwha Affiliates Leverage Capacity to Establish a Clean Hydrogen Value Chain
Hanwha will establish a clean hydrogen value chain encompassing hydrogen production, storage, transportation, and utilization through cooperation among seven of its affiliates.
Hanwha's clean hydrogen business will join its existing green energy businesses in contributing to global carbon neutrality efforts.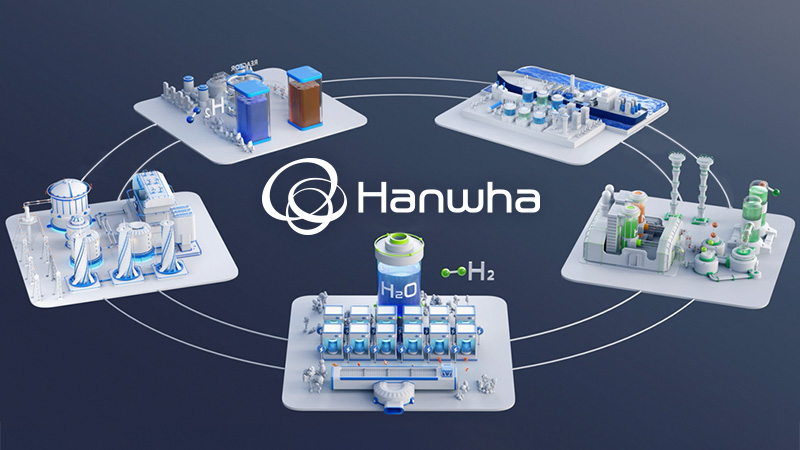 Hanwha showcased the future of hydrogen, emphasizing the potential creation of a comprehensive clean hydrogen value chain through collaboration with seven of its affiliates. The involved entities are Hanwha Corporation, Hanwha Energy, Hanwha Solutions, Hanwha Aerospace, Hanwha Ocean, Hanwha Impact, and Hanwha Power Systems. The presentation took place at H2MEET 2023, an international hydrogen industry exhibition held in South Korea.
Hanwha's hydrogen value chain will use renewable energy and ammonia and encompass clean hydrogen production, storage, transport, and utilization. The company's burgeoning clean hydrogen business will join its existing eco-friendly energy portfolio to further its contribution to global carbon neutrality efforts.
In order to further develop clean hydrogen production technology, Hanwha Solutions is developing next-generation anion exchange membrane water electrolysis (AEMWE)¹ technology, which can produce hydrogen using less power and with a lower initial investment cost than existing water electrolysis methods. Electrolysis can be powered using renewable energy sources like wind and solar power to produce green hydrogen. Hanwha Energy also plans to contribute to the supply of green hydrogen in the U.S. through renewable energy sources.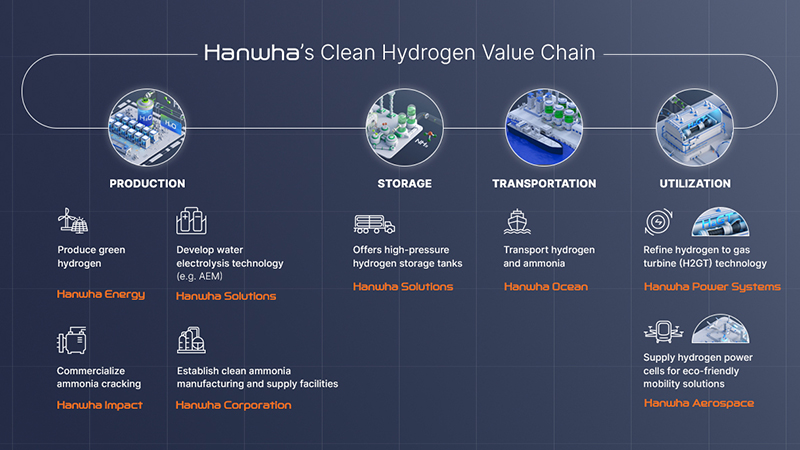 Hanwha Corporation plans to establish competitive ammonia manufacturing and supply facilities both domestically and globally through cooperation with businesses in North America, Australia, and the Middle East. As it can store hydrogen at high volumes, ammonia is being recognized as a promising carrier within the expanding hydrogen economy. Hanwha Impact is also conducting R&D and working with diverse partners in service of its goal of commercializing ammonia cracking² by 2027.
Hanwha Solutions offers a range of hydrogen storage solutions, including composite high-pressure tanks optimized for a variety of uses and methods of transportation including trailers, hydrogen vehicles, drones, and aerospace vehicles. Hanwha Cimarron, a subsidiary of Hanwha Solutions, has joined hands with Shell to build extensive hydrogen refueling infrastructure in California by supplying its Neptune 517-bar hydrogen tanks, the highest among Type IV tanks.
Hanwha Ocean will also play a key role in the transportation of hydrogen with its hydrogen and ammonia carriers and green ships³ that run on an eco-friendly propulsion system based on ammonia, methanol, and hydrogen. The company has earned Approval in Principle (AiP) from the British Lloyd's Register classification society and the American Bureau of Shipping (ABS) for its ammonia-propelled carriers.
Hanwha Power Systems continues to refine its hydrogen co-firing technology, or hydrogen to gas turbine (H2GT) technology — an intermediary technology crucial in realizing 100 percent hydrogen power generation. Alongside its partners Thomassen Energy in the Netherlands and Power Systems Mfg. (PSM) in the U.S., Hanwha has been working to advance hydrogen co-firing gas turbine solutions, which recently led to the world's first 60 percent hydrogen co-firing of an 80-megawatt gas turbine.
Hanwha's hydrogen value chain extends to power cells for use in eco-friendly mobility technology and transportation. Hanwha Ocean has equipped 3,000-ton submarines with its hydrogen fuel cell systems, and Hanwha Aerospace plans to utilize 100 kW lightweight hydrogen fuel cells in urban air mobility (UAM) and regional air mobility (RAM) as part of its aim to expand its eco-friendly air mobility business.
¹ Anion exchange membrane water electrolysis (AEMWE): A potentially low-cost and sustainable technology for hydrogen production that combines the advantages of proton exchange membrane water electrolysis and traditional alkaline water electrolysis systems.

² Ammonia cracking: A process of producing hydrogen from ammonia decomposition over a catalyst at high temperatures.

³ Green ships: Eco-friendly vessels outfitted with energy efficient, green technologies aimed at suppressing greenhouse gas emissions and meeting IMO emissions standards.
Hanwha Corporation
As the root of the Hanwha Group, Hanwha Corporation has been driving industry growth and changing the world since its establishment in 1952 through constant innovations and challenges. The company operates its business through three divisions: Global, Momentum, and Engineering & Construction (E&C). The Global Division aims to create a sustainable future with its core materials and technology-based solutions. The Momentum Division offers cutting-edge machinery, processing equipment, and intelligent solutions for client success and human progress. Lastly, the Engineering & Construction Division aims to become a green infrastructure developer through eco-friendly and sustainable development. Hanwha Corporation will continue to grow its global presence by developing high value-added technologies to pioneer new businesses.

For more information, visit: www.hanwhacorp.co.kr/eng/
Hanwha Aerospace
Founded in 1977, Hanwha Aerospace has become a leading company in the aerospace industry in South Korea. Today, Hanwha Aerospace's products serve not only aerospace but also the defense and marine sectors. With an unwavering focus on customer-centric quality management, technological innovation, and product competitiveness reinforced by advanced technologies, Hanwha Aerospace is surging forward as a global leader in the burgeoning space and aerospace business as well as in the land, sea, and air defense industries.

For more information, visit: www.hanwhaaerospace.co.kr/eng/
Hanwha Ocean
Hanwha Ocean is a leading global company with extensive expertise and experience in the shipbuilding and offshore industry. Boasting the world's most competitive LNG carriers built with eco-friendly and highly efficient technology, the company has continuously pioneered new businesses since 1973, producing a vast range of vessels, including commercial ships, drillships, and specialty ships. Hanwha Ocean will be at the forefront of pioneering advanced marine solutions for decarbonization and further expand Hanwha's green energy ecosystem to create positive, sustainable change throughout the world.

For more information, visit: www.hanwhaocean.com
Hanwha Power Systems
Established in 1977, Hanwha Power Systems launched as an energy equipment business in 1997 by building on its reliable technology and deep experience in gas turbine engines. Since then, the company has become a global powerhouse and has delivered more than 6,500 air and gas compressor units worldwide. In 2017, Hanwha Power Systems relaunched as an independent company and achieved an operating surplus for four consecutive years through 2021, establishing a foundation for stable growth. In October 2022, the company was acquired as a subsidiary of Hanwha Impact.

For more information, visit: www.hanwhapowersystems.co.kr
Hanwha Solutions
Hanwha Solutions aims to deliver sustainable solutions for the planet through smart energy solutions and customer-focused materials. The company operates its business through three divisions: Qcells, Chemical, and Insight. The Qcells Division offers total energy solutions from photovoltaic module manufacturing, power plant operation to electricity retailing service. Long recognized as a prominent leader in the chemicals industry, the Chemical Division is growing into a global green energy materials company with its cutting-edge solutions for eco-friendly materials. The Insight Division is providing differentiated solutions through comprehensive development and financing for projects such as cities, smart green industrial complexes, renewable energy, premium real estate and premium content. With its innovative technologies for sustainable growth, Hanwha Solutions strives to become a global leader in bringing a better future for humanity.

For more information, visit: www.hanwhasolutions.com/en/
Hanwha Impact
Hanwha Impact is leading the charge for a net-zero future with low carbon, sustainable energy and innovative future-ready projects. A subsidiary of Hanwha Solutions, the company secures revolutionary technologies through a range of business development and open innovation via active mergers, acquisitions and strategic investments aimed at creating a positive impact on people and the planet. Hanwha Impact seeks to lead next-generation sustainable advancements through forward-thinking innovations in various fields, including eco-friendly energy, biotechnology, and digital and data technology.

For more information, visit: www.hanwhaimpact.com
Hanwha Energy
Beginning with a cogeneration business in 2007, Hanwha Energy has diversified its business portfolio — including solar power, energy storage solutions (ESS), and liquified natural gas (LNG) — to evolve into a retail energy business that offers a comprehensive set of energy solutions. To build sustainable growth, Hanwha Energy is expanding its solar power generation and retail business globally. Simultaneously, the company is promoting an energy solutions business that suits each region's value chain of the electric power industry based on ESS.

For more information, visit: hec.hanwha.co.kr/eng/enMain.do
Contact Us
Thank you for your interest in Hanwha.
Please contact us for your inquiries.
Email Us
Information Message
Please enter your email address.
Information Message
Please enter a correct email address.
Success
Keep an eye on your inbox for the latest stories from Hanwha.
Information Message
Your subscription request has already been processed. Thank you.