Hanwha Enters into a New Era of Sustainability with
70th Anniversary Celebration
October 14, 2022 (KST)

Introduction
Days after Hanwha successfully sent over 500 drones dancing into the ether, lighting up the night sky with the brand's logo and earning a Guinness World Record, the company celebrated another landmark occasion in its history—Hanwha's 70th anniversary. Since its founding in 1952, Hanwha has experienced many challenges. However, it has proven its resilience time and time again, persevering through adversity to turn obstacles into opportunities for growth.

As Hanwha begins a new chapter in its history, the company remains driven by its tenacious spirit, embracing innovation and partnership to bring a more hopeful, sustainable future into fruition.
Hanwha set a Guinness World Record for the most remote operated drones launching fireworks simultaneously.
Hanwha Makes Modern Progress
When Hanwha first opened its doors, its founder had a clear vision—to establish a daring company that seeks to tread the path others dare not travel while simultaneously fostering social growth and prosperity through business. Hanwha has stayed the course, growing from a domestic industrial business to a Fortune Global 500 company pioneering next-generation solutions in four key business areas: aerospace solutions, green energy solutions, digital finance solutions and sustainable innovative solutions.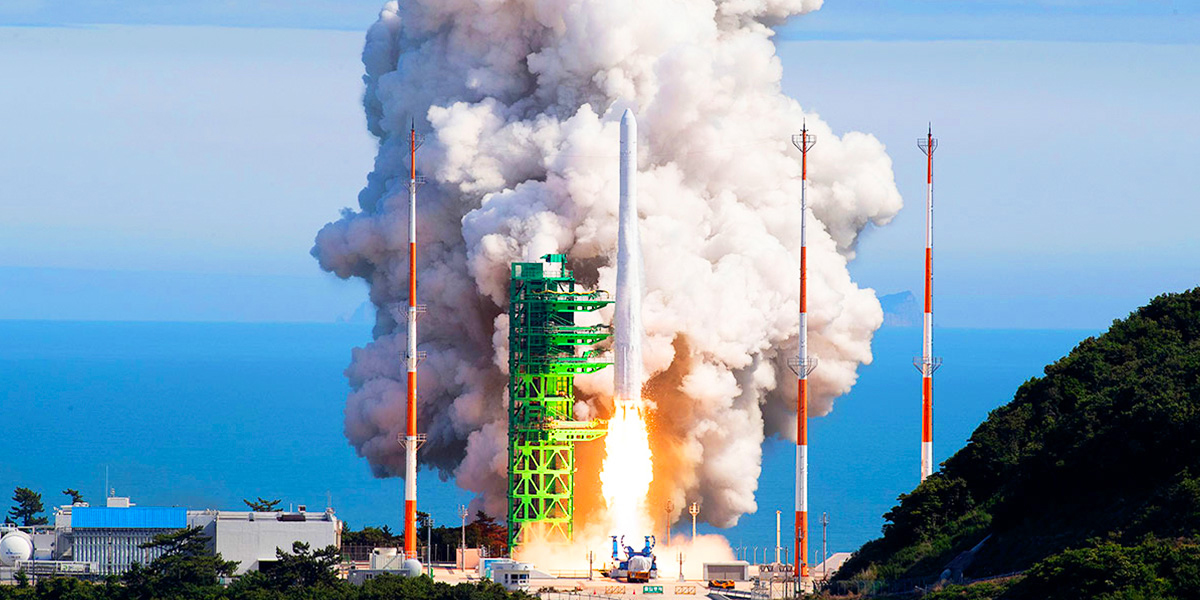 Climate Action Reaches Record Heights
The advancement of space technology has emerged as an important component in preserving our planet both now and in the future. As such, Hanwha is prioritizing the ongoing development and innovation of core technology in providing space-centered solutions for Earth. In doing so, the company is building economic infrastructure for the world, environment and society.

In 2021, Hanwha established a task force called Space Hub aimed at orchestrating research, development and investments across a wide spectrum of business areas, including space launch vehicles, satellites, satellite-based communications, and Earth observation (EO). Since its launch, Space Hub has played a pivotal role in developing future space technologies as Hanwha makes further inroads into space exploration.

One product of this endeavor is the successful launch of South Korea's space rocket, Nuri-ho. Hanwha put its knowledge of space travel and engineering to work in designing and building the rocket's six powerful engines, lifting the vessel into the atmosphere and making history.

Just as 300 domestic companies came together to give Nuri flight, Hanwha has recognized partnership as an essential component of space mobility—especially when it comes to developing next-generation urban air mobility (UAM). Hanwha Aerospace has partnered with Vertical Aerospace to develop electromechanical actuators (EMAs) for electric take-off and landing (eVTOL) aircraft. In addition, Hanwha Systems has made investments in Overair, a leading U.S. air-taxi startup. Through collaboration, Hanwha Aerospace and Hanwha Systems are pioneering future zero-emissions aviation technologies to help bring air taxis like the Butterfly to life.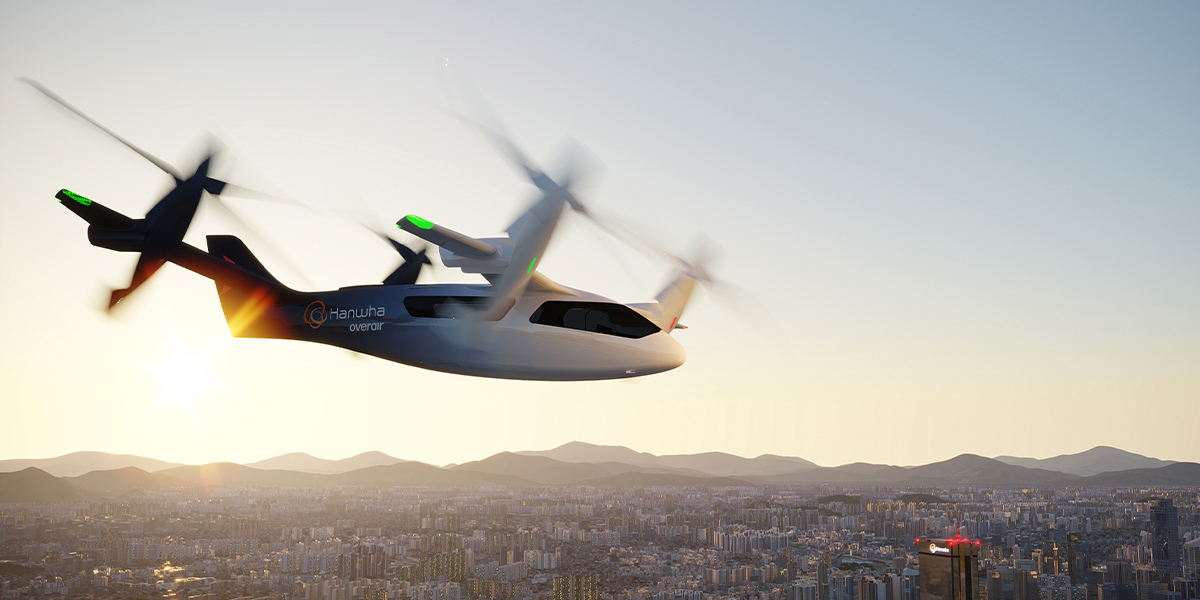 In line with the United Nations' Space for the Sustainable Development Goals (Space4SDGs), Hanwha has also bolstered its focus on developing satellite technology as a powerful tool in the fight against climate change. With this technology, companies and scientists can get a better grasp on what climate change is and its current effects on the Earth. Satrec Initiative, a satellite maker in which Hanwha Aerospace is the largest shareholder, plans to send an ultra-high-resolution imaging satellite into low Earth orbit by 2024, further proving the sky's the limit with Hanwha's bold take on space exploration.

As Hanwha looks towards new horizons for opportunity, it builds on existing businesses to preserve and create peace. Accordingly, Hanwha's defense division protects liberty and helps strengthen sustainable social defense infrastructures by providing cutting-edge defense solutions for land, sea and air (both airspace and aerospace).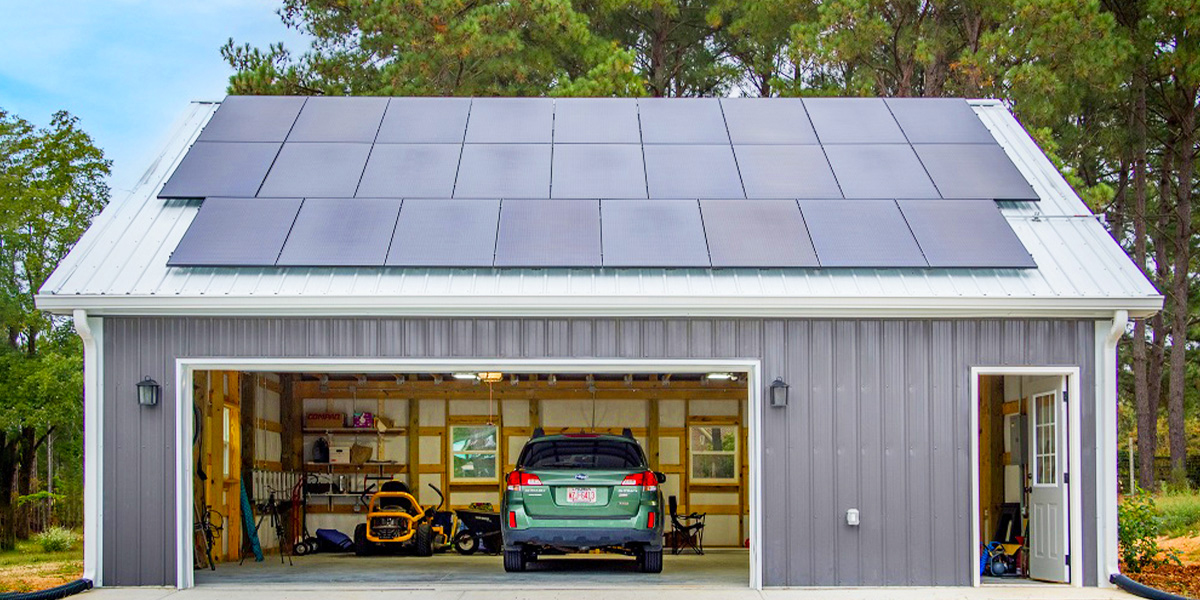 Life-Giving Green Energy Solutions
At the forefront of Hanwha's sustainable action against climate change is its green energy solutions including renewable energy sources—solar energy, wind power, and hydrogen—as well as technology solutions and AI-based energy management systems. Leading this green energy transformation is Hanwha Qcells (Hanwha Solutions Qcells Division), one of the world's leading clean energy companies, and Hanwha Solutions' Q ENERGY, a European provider of holistic solutions across the entire value chain of renewable energy downstream projects. Hanwha Qcells' Q.PEAK DUO modules, manufactured using the company's proprietary Q.ANTUM technology, have gained recognition throughout the industry for their reliability and performance, earning PVEL's Top Performer and EUPD Research's Top Brand PV 2022 distinctions, among others.

To aid in the widespread adoption of clean energy, Hanwha Qcells has made notable investments into ramping up their solar module production capacity. In 2019, the company opened the Western Hemisphere's largest solar panel manufacturing facility, and plans to fund a USD $142 million expansion to further enlarge its production capacity next year.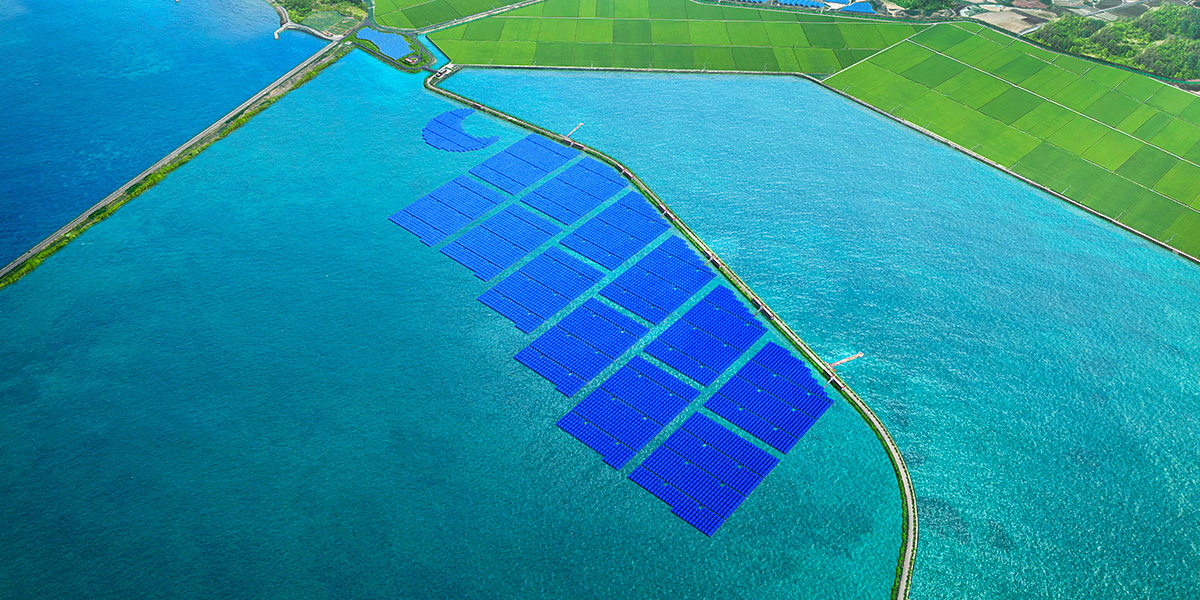 Hanwha Solutions is also tackling wind power. In joining forces with RES France, Hanwha is able to utilize the company's wind farm installation capacity, allowing Hanwha Solutions to expand its business beyond solar and transition into a total renewable energy solutions provider. Q ENERGY has bold plans to develop a floating offshore wind power project in Spain, adding to its portfolio of 350 MW of wind power across Europe.

Rounding out Hanwha's green energy solutions is hydrogen. Although using hydrogen as fuel creates zero carbon emissions, the level of emissions involved in the hydrogen production process can vary depending on the source. Because of this, Hanwha researchers are exploring ways to produce green hydrogen, which is hydrogen produced using clean energy from solar, wind or another sustainable energy source without any carbon emissions.

Many are looking to hydrogen as the sustainable fuel of the future. One innovation key to decarbonizing the energy grid is Hanwha's "hydrogen to gas turbine technology," or H2GT, which retrofits existing LNG-fired turbines to run on up to 65% hydrogen fuel by volume. Hydrogen storage poses another challenge to making the fuel mainstream. To address this issue, Hanwha Cimarron, Hanwha Solutions' high-tech materials division, has commercialized the Neptune, a revolutionary carbon-fiber tank that makes storing hydrogen safe, efficient and reliable. Through building out the hydrogen ecosystem, Hanwha intends to expand its range of eco-friendly energy sources and solidify its role as a completely clean energy provider. With a diverse offering of green energy solutions, Hanwha is leading the transition to renewable energy and creating a sustainable environment.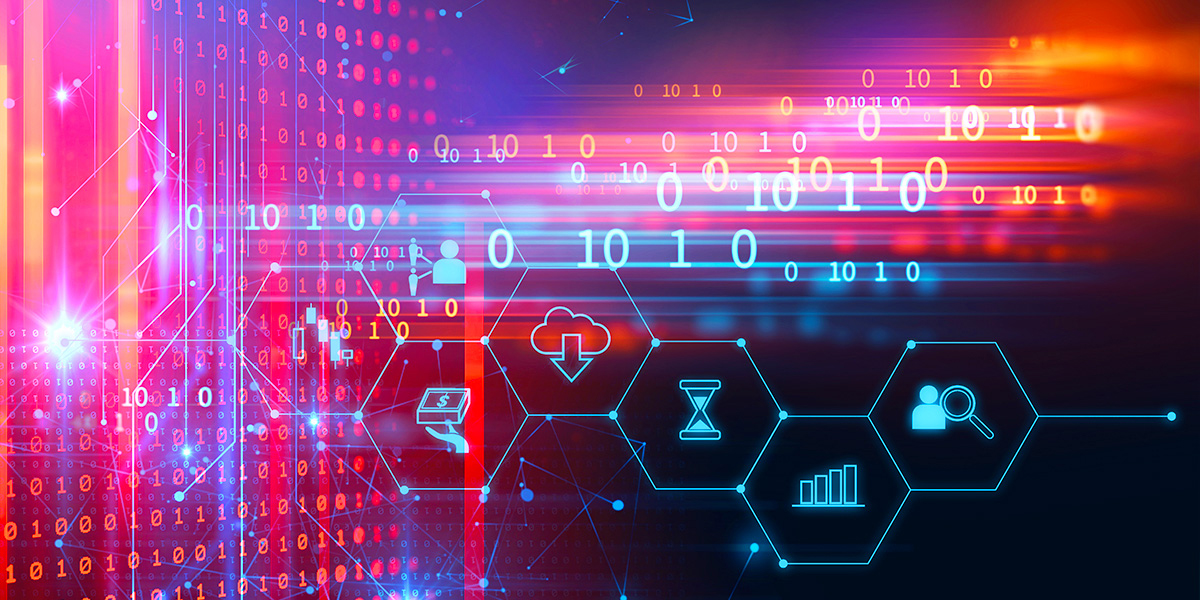 Redefining the Future of Finance
The financial industry is developing at a rapid pace and experiencing an influx of unprecedented changes. Hanwha is staying ahead of the curve, contributing to the sustainable growth and economic prosperity of its customers through digital-based financial solutions optimized for various lifestyles. Korea's first and leading life insurance company, Hanwha Life, has led the charge, expanding beyond domestic operations to include successful global subsidiaries. Hanwha Life provides various customer-centered digital services and continues to expand its global business and secure growth engines in fintech and big data.

Hanwha is also making financial management more secure and convenient with its digital technologies. The company's innovative digital financial services will not only offer ever-more sophisticated, seamless and effortless financial solutions for consumers, but also lead the sustainable retooling of the financial industry. For example, Hanwha Asset Management's mobile app PINE targets Gen Z and Millennial customers with a simple platform that allows users to buy and sell funds without going through fee-charging bank and securities firms. Furthermore, LIME, a mobile app from Hanwha Life, makes it easy for customers to check information about insurance plans, access lifestyle content and engage with other users.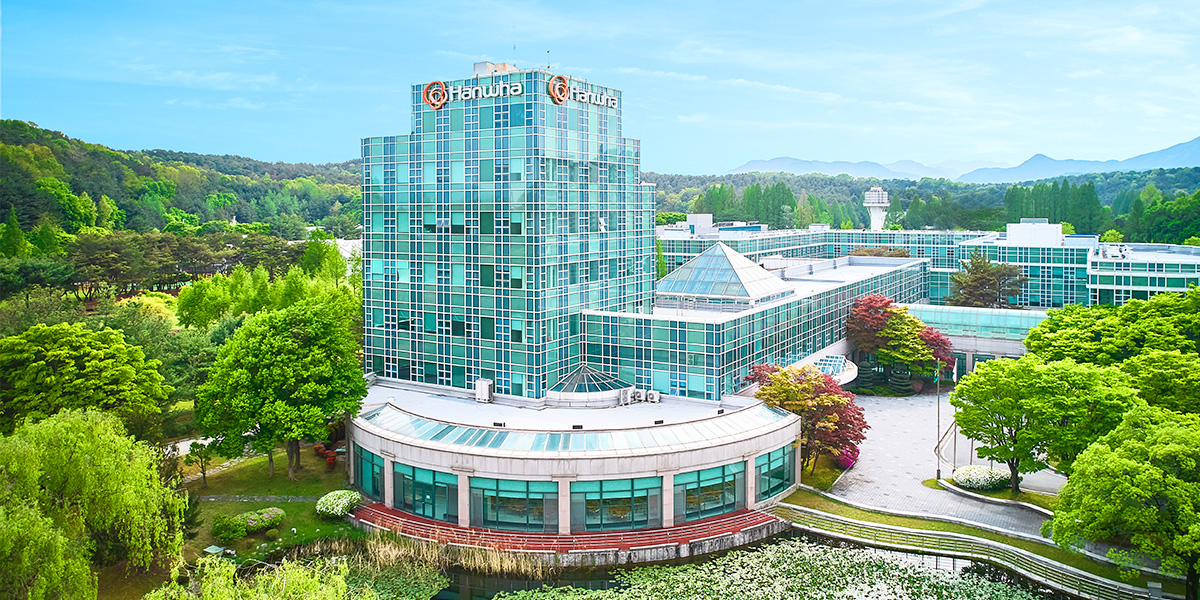 Forward-thinking Sustainable Innovations
Hanwha is actively expanding its new business portfolio in pursuit of forward-thinking sustainable innovations, with Hanwha Impact strengthening its presence in revolutionary technologies and investing in future solutions including biotechnology, genetic engineering, food security and data storage and utilization.

Plastic is a significant contributor to global pollution. While plastic use isn't going away any time soon, Hanwha is backing research and technology to make plastics more eco-friendly. Hanwha Solutions has invested in Novoloop, a cutting-edge plastic upcycling startup recognized as one of the World Economic Forum (WEF)'s Technology Pioneers of 2022. In addition, Hanwha Solutions Chemical Division has established a research center dedicated to developing eco-friendly technologies, including plastics-to-chemicals. By pursuing these growth channels, Hanwha takes daring steps forward in preparing solutions for a sustainable tomorrow for all of humanity.
A Better Earth for All
With sustainability as its highest, overarching purpose and goal, Hanwha is able to provide the value of sustainability not just to stakeholders, but to the world. For Hanwha, "a relentless commitment to sustainability drives our bold innovation, allowing us to create transformative solutions for individuals, society, and the planet."

As Hanwha reflects on its journey over the past 70 years, there is a sense of deep gratitude for each person who has supported the company at every step of the way. Because of this community of changemakers, Hanwha has been able to realize incredible growth and a successful path forward. At the heartbeat of every Hanwha business is sustainability, and the company strives to improve the everyday lives of its customers through this fundamental value. As Hanwha leaps into its next era, it remains committed to creating a better world for future generations.

"Excellence cannot be achieved overnight," stated Hanwha Group Chairman Seung Youn Kim in an address commemorating the company's 70th anniversary. "We have cultivated excellence over time…maintaining a strong conviction to improve the quality of life for humanity and build a sustainable future. Together, we can build upon our past and launch into the future to create the next 100 years of Hanwha."