Sustainability for All: How Hanwha's SDG Commitment
Creates Prosperity and Progress
November 24, 2022 (KST)

In the seven years since the United Nations member states came together to adopt the 2030 Agenda for Sustainable Development and Sustainable Development Goals, the world has weathered a series of crises. Despite initial progress being made, a new report details how the COVID pandemic and global political challenges are threatening and even erasing these gains, potentially placing the 2030 target beyond reach. But it's not just governments feeling the pressure to make swift progress in the fight to build a better world. Calls are mounting for increased cooperation and investment from the private sector in efforts to meet the SDG targets.

What does "sustainable" mean and what is "sustainability" put into practice? The United Nations frames sustainability as development that ensures adequate resources for future generations without decreasing present quality of life. The entire sustainability ecosystem is vast, touching everything from education to food security, green energy and economic development, and while the private sector has been stepping up its commitments to SDG progress, advancement will only be seen when businesses create real, sustainable change through action. Driven by the relentless pursuit of sustainability for Earth, for life, Hanwha is committed to leading by example, focusing on activities that support long-term economic growth in local communities without negative social, environmental or cultural impacts. Here's how Hanwha is helping turn the ship around, directly advancing SDGs 2, 4, 7, 8, 9, 12, 13, 14, 15 and 17 through activities in three key areas: economic sustainability, environmental sustainability and social sustainability.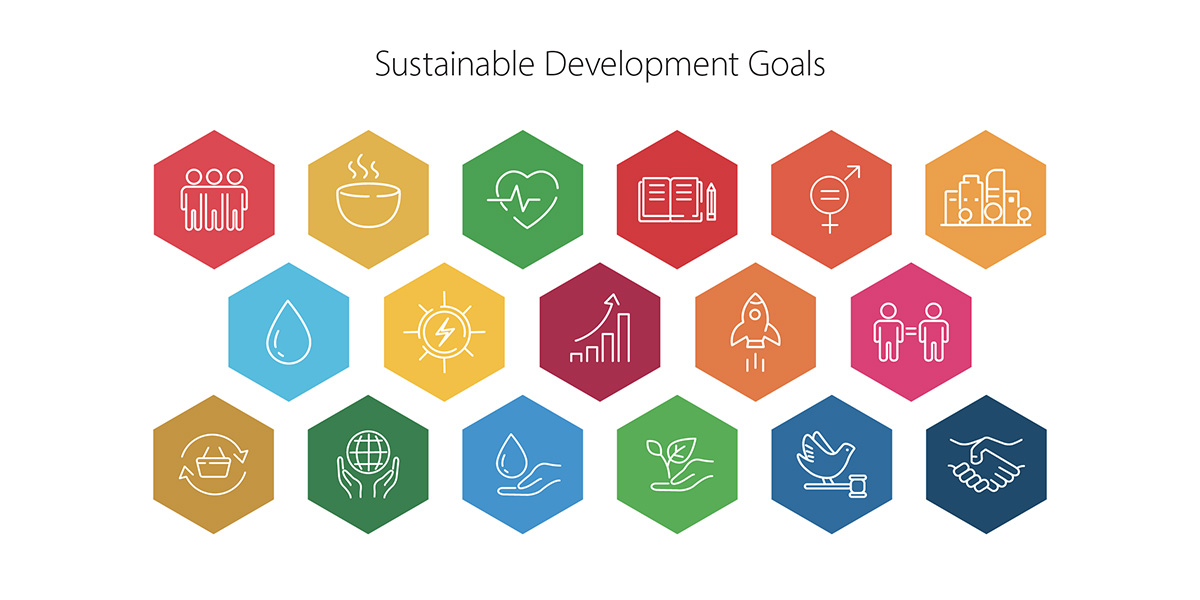 Investments That Pave the Way for Progress
Economic Sustainability: Hanwha is working to advance green energy, eco-friendly materials and innovative sustainable businesses that will form the foundation for industrial and economic development by supporting SDG 8: Decent Work and Economic Growth, SDG 9: Industry, Innovation and Infrastructure, and SDG 12: Responsible Consumption and Production.

Creating Shared Values
Throughout its entire network, Hanwha aims to respect employee rights and create a healthy work-life balance. The company's culture is designed with the prosperity of its people in mind, offering benefits including flexible shifts, sabbatical opportunities, parental leave, and study leave for career development. Aligned with SDG Target 8.8, Hanwha also prioritizes a safe work environment with firm safety policies, regular safety inspections, safety education and strictly managed emergency response training. Hanwha also actively supports and implements human rights policies including the ten principles of the UN Global Compact. Hanwha recognizes that there is strength in diversity and does not discriminate based on gender, race, nationality or religion. Moving forward, Hanwha will keep striving to attain sustainable and inclusive growth that enhances the lives of all stakeholders.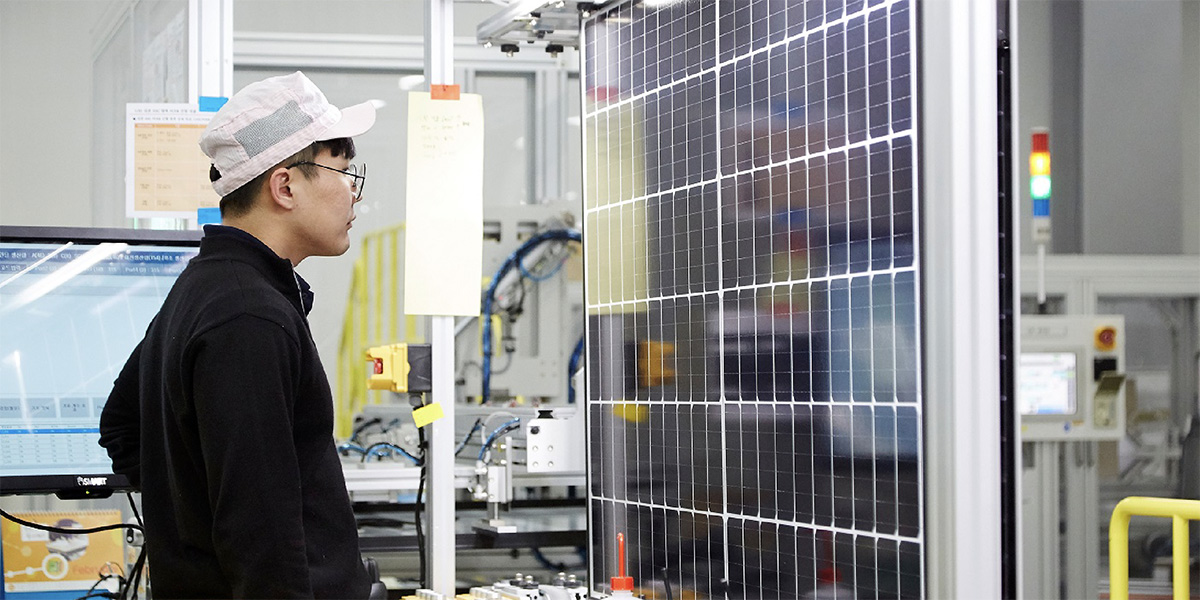 Building Community With Clean Energy
Economic revival throughout the world is being hindered by ongoing waves of COVID-19, inflation and supply chain disruptions. Add a growing and unsustainable reliance on natural resources into the mix, and it can be easy to see why progress towards SDGs 8, 9 and 12 has slowed. To shape a new circular economy and aid in economic recovery, Hanwha is backing projects that help benefit both global climate targets and local communities.

Though the cost of moving towards greener energy sources has been criticized by some, the IEA has confirmed that solar is now the cheapest electricity in history. The energy transition could pay for itself over time, meaning when it comes to investing in solar expansion, there's no better time than the present. With its U.S.-based solar module manufacturing facility already operating at a capacity of 1.7-gigawatts and an additional 1.4 gigawatts on the way, Hanwha has become one of the largest solar manufacturers in the U.S. The company's planned solar facilities will not only increase total annual production from 1.7 gigawatts to over 3 gigawatts, but will also create 470 jobs in the local community, tying in with both SDGs 8 and 9. Hanwha Solution's Q ENERGY is further strengthening Hanwha's contributions to these two goals, having invested over 11 billion EUR in renewable energy initiatives to lead the green energy transition across Europe.
Planet-friendly Plastics
Investment in clean energy infrastructure is just one part of the changes needed to jumpstart the green economic recovery. Investment in sustainable materials is also needed to put a halt to negative environmental impact while encouraging new business ventures. About 400 million tons of plastic waste is produced each year, filling our rivers and oceans and negatively affecting wildlife. SDG 12 aims to reverse this impact, with a call for the environmentally sound management of all wastes throughout their life cycle while substantially reducing waste generation through prevention and reduction. In line with this, Hanwha Solutions has backed Novoloop, an upcycling startup that has been recognized as one of the World Economic Forum (WEF)'s Technology Pioneers of 2022 for its plastic upcycling technology. The Hanwha Solutions Chemical Division is also conducting research into PTC, or plastics-to-chemicals technology. Such research aims to find ways to transform waste plastics into naphtha, which can then be made into basic plastic materials such as ethylene and propylene. This technology would make it possible to establish a circular economy for plastics. In addition, the company is developing a harmless plastic manufacturing material and working to make biodegradable plastics a staple of daily life by developing plastics that biodegrade in just months for use in everyday food packaging.

From startups to large-scale energy solutions, Hanwha will continue to seek opportunities to bring about positive, long-term economic sustainability across multiple sectors and geographic regions.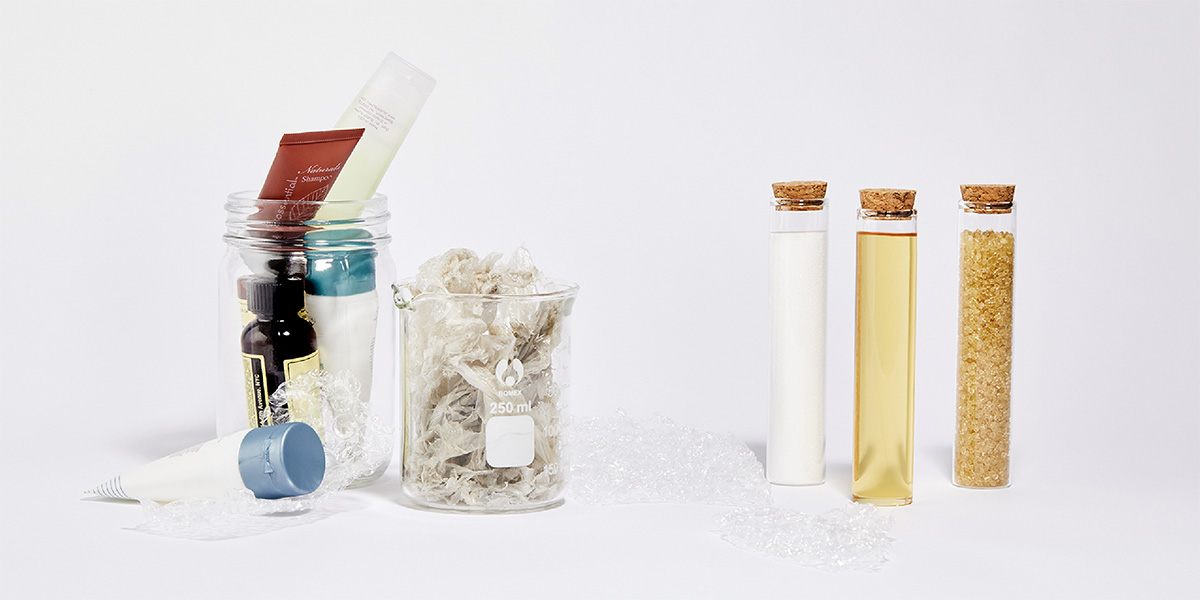 Supporting Life Through Sustainable Innovation
Environmental Sustainability: Hanwha is addressing urgent environmental issues, including climate change and global greenhouse gas emissions, with clean energy solutions and eco-friendly technology backing SDG 7: Affordable and Clean Energy, SDG 13: Climate Action, SDG 14: Life Below Water, and SDG 15: Life on Land.

Comprehensive Solutions for Decarbonization
According to the United Nations and World Economic Forum, a projected 679 million people will still lack access to electricity by 2030 if current trends continue. Furthermore, over the next decade, global greenhouse gas emissions are estimated to rise by almost 14% even with a number of entities operating under net-zero commitments. Swift and ambitious action must be taken to lessen the impact of emissions and connect communities with clean, cost-effective electricity.

Since electricity and heat production is the largest single source of global emissions, pursuing urgent measures to support SDGs 7 and 13 is crucial to drastically lower these emissions. That's why Hanwha is leveraging its solar, wind and hydrogen solutions to build a comprehensive energy value chain that contributes to the current and future health of the planet.

To avoid an unprecedented climate catastrophe, the world must achieve a reduction in global greenhouse gas emissions of 43% by 2030. However, transitioning heavy industry to clean energy presents one of the biggest challenges to moving decarbonizing efforts forward. Hanwha offers immediate solutions to reduce carbon emissions in this sector through its "hydrogen to gas turbine technology," or H2GT. The company has secured a hydrogen co-firing gas turbine remodeling project at a plant in Linden, New Jersey which is expected to be the first in the world to burn 40% hydrogen, along with an order to retrofit a Rotterdam, Netherlands gas turbine to burn more than 30% hydrogen, its second and third H2GT projects respectively.

This year, Hanwha also announced several solar expansion plans, including a new 150-megawatt solar power plant in Wyoming, and became the largest shareholder of clean polysilicon manufacturer REC Silicon, providing Hanwha with the opportunity to harness hydropower-based energy to produce polysilicon, a key component in solar panels. Next year, REC Silicon's Washington plant plans to resume the use of hydropower to fuel manufacturing, further supporting the development of a clean, end-to-end U.S. solar supply chain. Another way Hanwha is accelerating access to completely clean energy is through research into green hydrogen which is produced with power from solar panels, wind turbines or other sustainable energy sources, and produces only clean water when burned for fuel.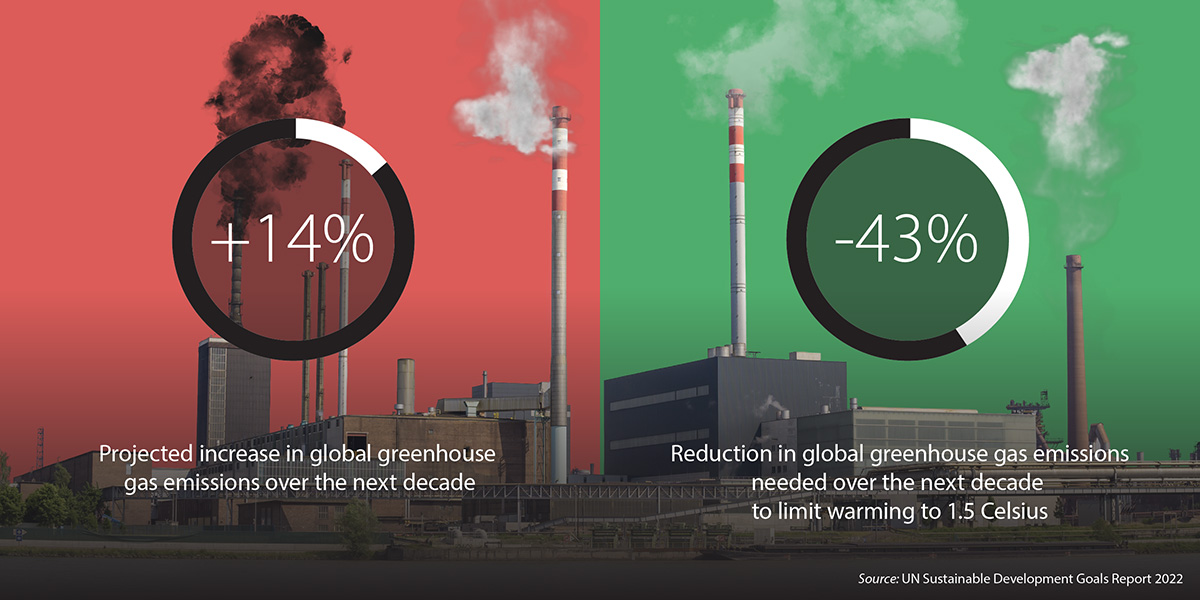 Future Earth Care and Infrastructure
The number of extreme weather events and natural disasters has significantly increased in recent years causing massive damage and economic losses. In much of the world, these scenarios will only continue to become more severe and frequent as a result of climate change. Satellite technology and Earth observation can help curb the negative aftermath and have been recognized by the United Nation's Space for the Sustainable Development Goals (Space4SDGs) as a powerful resource in learning about and tackling climate change. To help better understand climate change and its current effects on the planet, Satrec Initiative, a satellite maker backed by Hanwha Aerospace, has set its sights on sending an ultra-high resolution imaging satellite into low Earth orbit by 2024. Hanwha Aerospace and Hanwha Systems are also making progress in the eco-friendly air taxi sphere to propel urban air mobility (UAM) forward.

In advancing SDGs 7 and 13, it is important to employ forward-thinking strategies that consider not only how green energy is produced, but how it is stored and transported. In collaboration with Lumcloon Energy, Hanwha Energy is breaking ground on yet another new energy-storage system (ESS) project, its third in Ireland, to assist with the stability and reliability of the country's renewable energy supply.
Innovative Preservation
Though preserving the Earth for the future of society remains at the heart of the Sustainable Development Goals, the vital role played by our land and marine ecosystems in preserving all of life cannot be forgotten. Hanwha's new Solar Beehive, which supports crucial bee population growth through solar-powered habitats, provides direct support to SDG 15: Life on Land and exemplifies how innovation can be leveraged to preserve the delicate balance of our ecosystems and biodiversity. Hanwha also supports ongoing reforestation efforts via Hanwha Solar Forests, which were recognized at the 2018 United Nations High-Level Political Forum on Sustainable Development as an exemplary model of how corporate partnerships can contribute to achieving the SDGs. This acknowledgement builds on praise received by the United Nations seven years prior when the Hanwha Solar Forest campaign was named a model example of reforestation at the U.N. Convention to Combat Desertification (UNCCD) in addition to being the first corporation utilizing solar energy to grow trees in the fight against the effects of desertification. Furthermore, the company's Clean Up Mekong campaign contributes to SDG 14: Life Below Water by removing ocean-bound plastic from the Mekong River.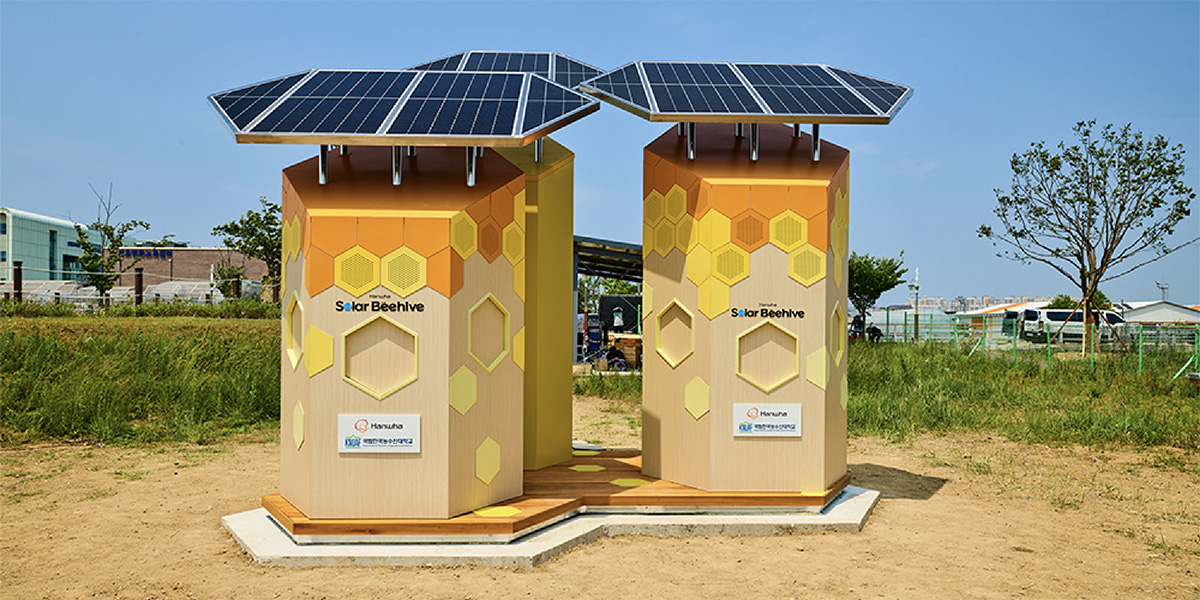 Together for Tomorrow
Social Sustainability: Hanwha strives to make a positive impact on the global community through corporate activities that back SDG 2: Zero Hunger, SDG 4: Quality Education and SDG 17: Partnerships for the Goals.
Bridging the Education Gap
Access to inclusive and equitable quality education and lifelong opportunities for all as outlined in SDG 4 forms the building blocks of economic growth in local communities and on the global stage. When individuals are offered resources and tools that help them grow into their full potential, they are able to give back to their communities and begin a trajectory towards upward socioeconomic mobility. However, the pandemic has caused severe disruptions to educational resources and placed the SDG 4 targets in jeopardy. Hanwha is helping to bridge these gaps with programs that support safe, healthy and optimized learning environments.

One such effort is DREAMPLUS, a program founded to provide promising startups across the globe with access to mentors, workspace, funding, networking opportunities and other resources, helping accelerate these businesses' success and deepen their impact in global markets. Through the DREAMPLUS program, young companies that play a vital role in next-generation innovation and technology are able to realize their dreams and contribute their unique skills to the betterment of society.

To give students the best chance at achieving their goals, schools must encourage both mental and physical health. SDGs 2 and 4 go hand in hand in meeting the holistic needs of students as multiple studies have shown the significant impact of nutrition on brain development. Hanwha is investing in food technology to address food insecurity while also creating a safer, more secure learning environment through its Making a Clean School campaign. A continuation of its Happy Sunshine Campaign, Making a Clean School enhances children's education experience by installing donated solar energy systems and providing eco-friendly solutions for reducing fine dust in schools, which is proven to significantly affect learning outcomes. Through this program, children also learn about the climate crisis and talk through possible solutions. Making a Clean School not only provides children with clean air, but piques students' interest in what causes air pollution and climate change, inspiring the next generation of innovators to explore new realms of possibilities within the climate action sphere (SDG 13).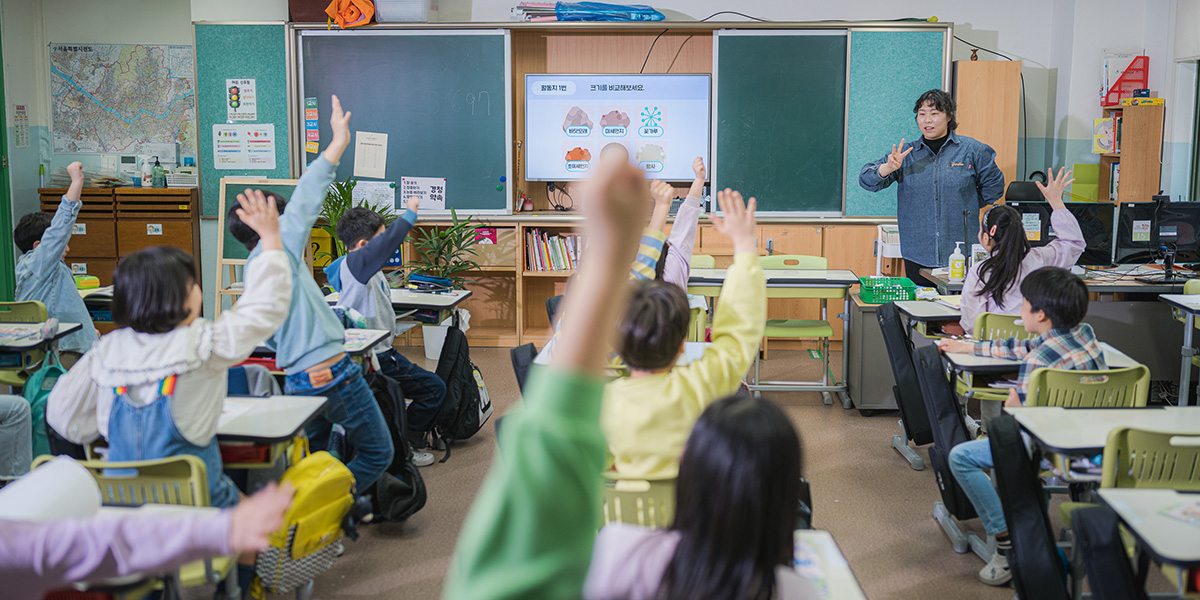 Achieving Progress Through Partnership
No one country, industry or institution is fully to blame for the current state of our world, but it will require rigid alignment to the SDGs as well as taking responsibility across all borders to move the needle on climate change. International cooperation as outlined in SDG 17: Partnership for the Goals must be a priority throughout all corners of the globe to find lasting solutions.

Hanwha has partnered with several international organizations to make concrete progress on the SDGs and achieve climate milestones. Since 2010, Hanwha has shown its support for Davos, the World Economic Forum's annual meeting, donating solar panels in 2013 that were installed across the Davos Congress Center's 1,000-square-meter rooftop and attending each meeting as a strategic partner. Hanwha has also partnered with the Global Green Growth Institute (GGGI) and Partnering for Green Growth and the Global Goals (P4G) to push tangible and inclusive sustainable action forward.

Driving SDG Growth and Success
The 17 SDGs provide a "to-do" list against which governments and businesses can measure where they are versus where they should be in working together as part of a global effort to achieve a better tomorrow. They call for multiple areas of global action to decarbonize cities and industries, circumvent the deeply harmful effects of climate change, diminish inequalities and build a resilient economy. Although seven years have passed since the list was first agreed to, a multitude of factors are putting their progress in peril. The need for global cooperation to make progress is more urgent now than ever.

Though achieving the 17 Sustainable Development Goals will be no small task, Hanwha remains deeply committed to contributing to their success through its economic, environmental and social sustainability initiatives. This commitment is only possible thanks to robust institutional support. With sustainability as its north star, Hanwha will continue to explore innovative solutions and creative technologies that bring a brighter future into fruition. Revolutionary change is possible, and Hanwha is prepared to lead the way to unite businesses, governments, organizations and individuals together in the pursuit of peace, prosperity and progress for all.

* The UN SDG banner and icon images are owned and under copyright by the United Nations.
Hanwha uses cookies to improve site functionality and provide you with a better browsing experience and service. By using this siteor clicking on "OK", you consent to the use of cookies. Learn more.
Close