Hanwha Unveils Global Strategy to Establish Green Energy Hub at WEF Annual Meeting 2023
Vice-Chairman of Hanwha Group Dong Kwan Kim met with CEOs from The AES Corporation of the U.S., Mitsui O.S.K. Lines, Ltd. (MOL) of Japan and Enel of Italy during the WEF Annual Meeting in Davos from January 16 to 20.
During green energy supply chain discussions, Hanwha stated they will "utilize renewable energy capabilities and energy infrastructure technology."
Hanwha is participating in five centres and platforms of the World Economic Forum (WEF), including the Centre for Nature and Climate and the Energy, Materials and Infrastructure platform, to build a green energy value chain and address the energy crisis.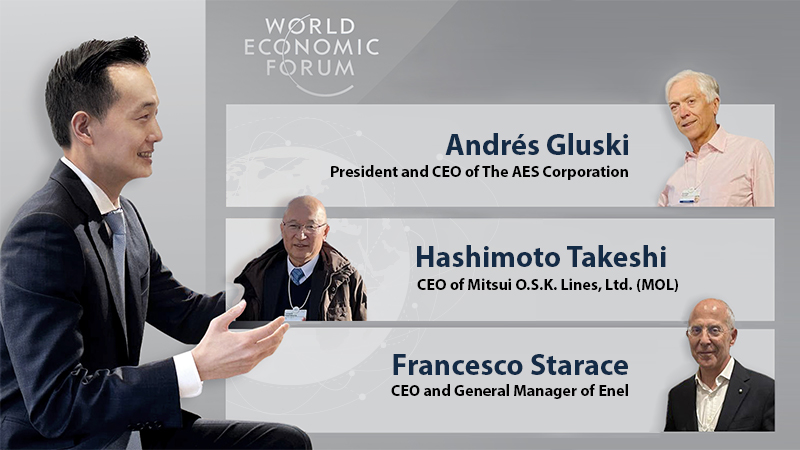 Hanwha has set a strategy in motion aimed at strengthening its global green energy network to address the climate crisis and resolve energy security issues arising from geopolitical disputes. The strategy involves utilizing Hanwha's renewable energy capabilities, energy infrastructure technology and global cooperation to establish an "energy hub."
Hanwha, a Strategic Partner of the World Economic Forum (WEF) since 2010, recently participated in the WEF Annual Meeting 2023 held from January 16 to 20 in Davos, Switzerland. At this year's event, which carried the theme of "Cooperation in a Fragmented World," Hanwha met with global companies in the fields of liquefied natural gas (LNG) transport, solar and wind energy, and hydrogen.
On January 17, Dong Kwan Kim, Vice-Chairman of Hanwha Group, met with Andrés Gluski, President and CEO of The AES Corporation, a U.S.-based global energy company, to discuss renewable energy conversion measures for decarbonization. The AES Corporation is the biggest renewable energy developer in the U.S. and recently announced plans to build a large-scale green hydrogen production facility in Texas.
On the same day, Kim also met with Hashimoto Takeshi, CEO of Mitsui O.S.K. Lines, Ltd. (MOL), a global shipping company in Japan that operates 700 ships, including LNG carriers. MOL has continuously invested in LNG infrastructure, including LNG floating storage and regasification units (FSRUs) that directly supply natural gas by vaporizing LNG at sea. LNG is considered to be an important "bridge fuel" as it lessens global dependence on oil while the ultimate transition to green energy is underway.
Additionally, Kim met with Francesco Starace, CEO and General Manager of Enel, the largest energy company in Italy, to discuss global cooperation in renewable energy, including solar and wind energy. The Enel Group has been focusing on increasing renewable energy production in South American countries and transitioning from gas, the current main source of electricity production in Europe, to solar and wind energy.
On January 18, Kim met with Patrick Pouyanné, Chairman and CEO of TotalEnergies, which has partnered with Hanwha on solar power projects, including establishing a joint venture in the U.S., and discussed ways to cooperate in the energy industry. Kim went on to exchange ideas on future opportunities for cooperation with leading global energy corporations such as the top management team of Vestas, a Danish firm that currently holds the largest share of the global wind turbine market.
Starting this year, Hanwha is participating in meetings relating to five of the Davos Forum's centres and platforms, including the Centre for Nature and Climate and the Energy, Materials and Infrastructure and Mobility platforms, to enhance global cooperation and strengthen the capacity of its affiliated businesses to respond to the climate crisis and drive progress towards sustainability. The company assigned a specific executive to each platform to discuss global issues and continue cooperation with related stakeholders.
Hanwha has already established a robust network of businesses that address renewable energy in three main stages: green energy production (Hanwha Solutions, Hanwha Energy, Hanwha Corporation/E&C), storage and transportation of green energy including hydrogen and ammonia (Hanwha Corporation, Hanwha Impact), and electricity generation and supply combined with energy storage systems (ESS) (Hanwha Solutions, Hanwha Energy, Q ENERGY), which currently serves the U.S. and Europe.
Through the acquisition of Daewoo Shipbuilding & Marine Engineering (DSME), which is currently in progress, Hanwha also plans to utilize the company's established LNG production (FLNG)-transportation (LNG carrier)-supply (FSRU) infrastructure along with its wind turbine installation vessels (WTIV) to secure its position as a global energy provider. The move will help Hanwha establish a green energy value chain that produces both land- and ocean-based renewable energy that can be transported all over the world.
"We will make 2023 a landmark year in our journey towards becoming a global green energy company that leads the energy transition and climate action," Hanwha stated.
Hanwha's Participation in the WEF Annual Meetings
Hanwha has participated in the WEF Annual Meeting every year since 2010, expanding its network in the group's main business sectors, including energy solutions, aerospace and fintech, and promoting innovation driven by the onset of the Fourth Industrial Revolution.

As a Strategic Partner of WEF, in 2013, Hanwha donated solar modules that were installed on the Davos Congress Centre rooftop and reduce CO₂ emissions by 20 tons per year. This move helped the WEF earn ISO 20121:2012 certification in 2018, confirming the sustainable operation of its flagship event.

 ·  Click here to watch a video about how the WEF is supporting sustainability at Davos and Hanwha's solar
   contribution is powering the Davos Congress Centre at the :07~:12 mark.
Contact Us
Thank you for your interest in Hanwha.
Please contact us for your inquiries.
Email Us
Information Message
Please enter your email address.
Information Message
Please enter a correct email address.
Success
Keep an eye on your inbox for the latest stories from Hanwha.
Information Message
Your subscription request has already been processed. Thank you.