Hanwha's Approach to ESG Management
Hanwha's Approach to ESG Management:
Adding Value Across Core Business Segments
September 7, 2021 (KST)
As of late, environmental, social, and governance (ESG) criteria have become a highly discussed concept in corporate management. Companies around the world are making efforts to internalize ESG management as a part of business practice. But it is important to note, ESG management is not a completely new concept. Developing win-win relationships with stakeholders is a core theme of ESG and has long been an ingrained objective of corporate management as a reflection of the concept of creating shared value (CSV) and sustainable management. 

Experts cite three major reasons behind the recent influx of interest in ESG management. First, the former paradigm of shareholder primacy has been shifting to one of stakeholder capitalism. Second, investors are beginning to consider non-financial factors, such as environmental, social, and governance, in addition to existing financial ones. Finally, the climate crisis and the COVID-19 pandemic have resulted in an increased interest in the sustainability of mankind and the planet.

In addition, there has been a surge in ESG investing which can be linked to a popular belief that businesses can do well by doing good. Companies performing well on a range of issues including climate action, diversity, and equality are seen as better, more profitable long-term investments for investors. According to Morningstar, USD 51 billion was invested in ESG-impact funds in 2020—more than double the year prior. In PwC's 2021 Consumer Intelligence Series survey on ESG, 92% of business respondents agree that companies committed to ESG will outlast competitors.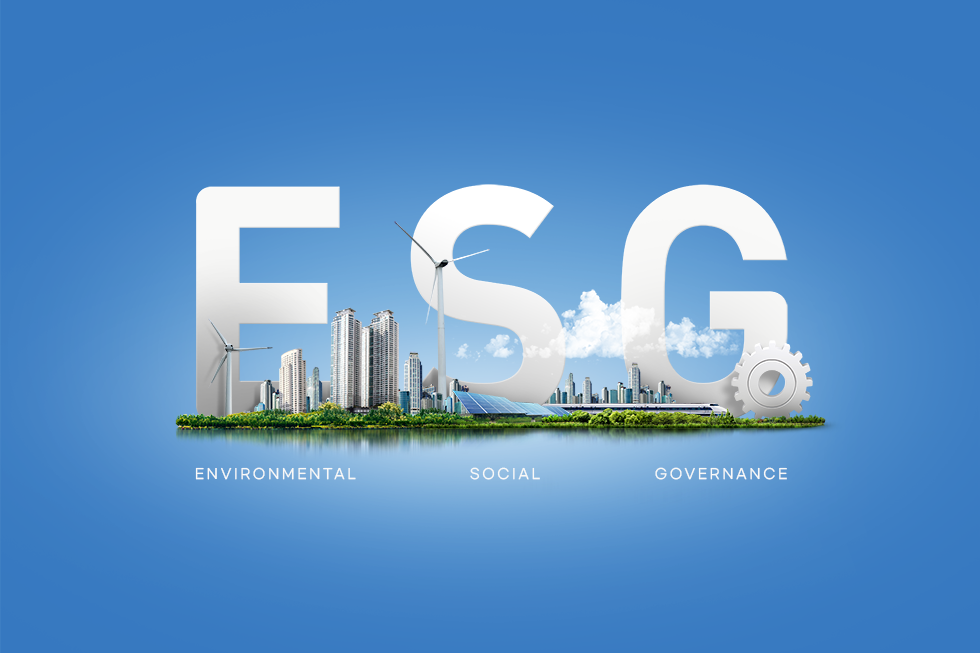 As an early adopter, Hanwha has been at the forefront of responsible management since announcing its Quality Growth 2020 vision back in 2010. Since then, it has focused on creating new business opportunities, dominating industries through specialization, and establishing a strong global market position. To that end, Hanwha has been innovating and leveraging its expertise to revamp and expand its core businesses. It has supported social issues by building solutions that employ best practices, eco-friendly technology, and community outreach.

Hanwha Chairman Seung Youn Kim has doubled down on his Quality Growth vision, vowing to expand the company's ESG management objectives to strengthen the company's global market competitiveness. "Many global companies have set environmental, social, and governance (ESG) standards for their operations as part of their corporate behavior. We need to strengthen our own ESG efforts, through better compliance and by implementing strategies that enhance the sustainability of our own business activities. And as a global leader in renewable energy, we have to proactively tackle climate change and lead the environmental efforts that will take us into a zero-carbon era," Chairman Kim stated in his 2021 New Year's address.

Going Green Across the Board
Hanwha is taking significant steps to go green. It's generating eco-friendly energy and building products that do no harm to people or the environment.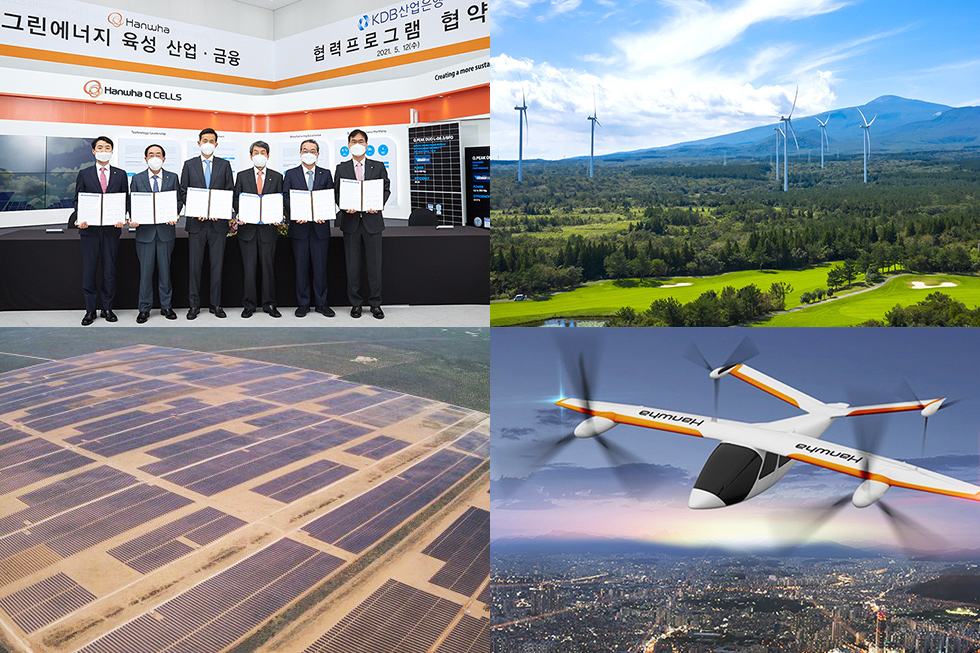 A key step in going green is gaining financial support for eco-friendly projects to their successful completion. Hanwha did this by earning an investment fund worth KRW 5 trillion from Korea Development Bank (KDB) under the Industry and Financial Cooperation Program. This program has acknowledged Hanwha as a sustainable global energy provider and at the same time, recognizes Hanwha for being the first company in the low-carbon, eco-friendly energy sector, dedicated to renewable energy production and ESG adoption. Hanwha is set to launch solar energy projects in the U.S. and Europe as well as accelerate the development of next-generation high-efficiency solar modules. Moreover, Hanwha is planning to make significant investments in green hydrogen to produce renewable energy from solar and wind. 

Hanwha's continued expansion into the renewable energy sector is driven by advancements by Hanwha Solutions (Q CELLS Division) and Hanwha Energy in solar energy technology. Together, Hanwha Solutions and Hanwha Energy are building a comprehensive solar energy value chain—from obtaining raw materials to flipping a switch at home, and everything in between. Whether it's providing equipment, operating power plants, or offering project financing—these two companies have become leaders in their respective industries with their success and hard work. Hanwha Solutions (Chemical, Q CELLS, Advanced Materials Division) and Hanwha Power Systems are currently developing a similar value chain for green hydrogen, hydrogen that is generated through low-carbon production processes. Hanwha Impact is also developing a mixed hydrogen combustion technology to assist in lowering CO₂ emissions. The technology, which burns natural gas along with hydrogen to generate electricity, will enable the retrofitting of LNG-fired power plant's gas turbines to run on up to 65 percent hydrogen fuel. Powering plants in this way would result in more than a 30 percent decrease in CO₂ emissions and significantly fewer nitrogen oxide emissions.


Ongoing growth and success in the solar energy market have allowed Hanwha to extend its business globally with solar projects across the world. This includes greater expansion into North America through 174 Power Global, its wholly owned U.S. subsidiary, which is partnering with French energy provider TotalEnergies to penetrate the U.S. market.  

With solar and hydrogen projects firmly underway, Hanwha has also set its sights on wind energy. Hanwha E&C has expanded its construction business to environmental projects such as wind power generation, bolstering its ascent to become a top-tier construction company. Projects include both land-based and offshore wind farms, which are helping to reduce the energy carbon footprint dramatically.

Investing in renewable energy has proven to be a smart move for Hanwha. Yet, it's Hanwha's commitment to sustainability, that is driving its innovation in green technology and its development of new, original ways to create eco-friendly products. This is demonstrated by Hanwha Solutions' selection as the main operator of the national Waste Plastic Pyrolysis Oil-Based Naphtha Production Technology Project, launched by Korea's Ministry of Trade, Industry and Energy. Hanwha Solutions will be developing a Plastic to Chemicals (PTC) technology that utilizes waste from plastic decomposition to create usable plastic by 2024. Hanwha Compound, a wholly owned subsidiary of Hanwha Solutions, also continues to research additional materials including biodegradable alternatives, such as polylactic acid (PLA), to answer the global consumers' increasing desire for eco-friendly and easily recyclable products.

Hanwha's green technologies are helping to combat climate change. Yet, air pollution continues to be an issue, especially in urban environments where passenger vehicles emit immense amounts of pollutants such as carbon and fine dust. As part of its ongoing effort to reduce air pollution and improve air quality, Hanwha Systems is employing eco-friendly Urban Air Mobility (UAM) technology. The company has invested in a partnership with Overair, an American PAV manufacturer. In the U.S., engineers from Hanwha Systems and Overair are jointly developing an electric propulsion system, a core component of air taxis, for the Butterfly. The Butterfly is an electric vertical take-off and landing aircraft (eVTOL) that can avoid highway gridlock without contributing to motor vehicle pollution. It was specially designed for noise reduction and efficiency with the ability to fly at the maximum speed of 320 km/hr with four passengers and one pilot on board.

As ESG is a core business principle, Hanwha pursues its implementation in a variety of forms. Hanwha Solutions (Q CELLS Division) has been recognized for its efforts, becoming the first Korean company to receive a Carbon Footprint (CFP) certificate from the French government as well as receiving the Class I Solar Module CFP certification from Korea's Ministry of Trade, Industry and Energy. Additionally, it has implemented RE100 through the Korean RE100 (K-RE100) program. Its participation is two-fold, purchasing renewable energy as well as self-generating to cover the needs of the business and reduce dependencies on non-renewables. Hanwha Solutions and Hanwha Total Petrochemical are also committed to reducing their impact on the environment by participating in the K-EV100 earlier this year. Through the program, the companies will replace all vehicles owned with electric or hydrogen alternatives by 2030 further reducing the impact of harmful fossil fuels.
Investing in a Green Future
Later in 2021, Hanwha will actively issue green bonds worth KRW 700 billion (USD 628 million) for the purpose of funding its many green projects. Green bonds are special-purpose bonds issued to raise funds for eco-friendly initiatives such as renewable energy and electric automobiles. The first were issued by Hanwha Solutions in April of 2021, worth CNY 1 billion (USD 153 million), to be invested in Solar Energy. To gain eligibility for green bond issuance, Hanwha Solutions won a second party opinion (SPO) by Sustainalytics, a global ESG certification organization and member of the UN Global compact, confirming that the company met the green bond framework.  

Joining Hanwha's ESG management efforts, are six financial divisions that have jointly announced their commitment to support carbon-free power. Hanwha Life, Hanwha General Insurance, Hanwha Investments and Securities, Hanwha Asset Management, Hanwha Savings Banks, and the digital non-life insurance company Carrot, have vowed not to participate in, underwrite bonds for, nor finance coal-powered plants. They have agreed to invest only in eco-friendly assets such as renewable energy with the goal of tackling climate change. The six financial divisions also announced support for the Task Force on Climate-related Financial Disclosures (TCFD), which develops recommendations for more effective climate-related disclosures that could promote more informed financial decisions and enable stakeholders to understand better the climate-related risks and opportunities in the financial sector. Hanwha Life has adopted the United Nation's Principles for Sustainable Insurance (PSI) into practice, embedding the decision-making process in and raising awareness of critical ESG factors.

In addition, Hanwha Asset Management, in line with stakeholders' increasing demand for ESG-related information surrounding the investment environment, has developed an independent ESG evaluation system of its own—the first of its kind in South Korea. The company has established a database by collecting ESG-related information on each investment target and uses it to inform an internal digital platform which enables ESG factors to be reflected in the overall investment process. By considering non-financial factors in addition to financial ones, the system lays a foundation for responsible investment activities while managing ESG-related opportunities and risks proactively.

Hanwha's green investments are not only in finance, but technology that offers tangible solutions the energy industry needs. Hanwha recently participated at the P4G Seoul Summit, Korea's first-ever multilateral summit on the environment, organized by Partnering for Green Growth and Global Goals (P4G), a global initiative to combat climate change.

During his keynote address, Hanwha Solutions CEO Dong Kwan Kim stated, "Technological innovations that dramatically reduce carbon emissions while utilizing existing production facilities are necessary." CEO Kim highlighted Hanwha's hydrogen to gas turbine (H2GT) technology that enables the retrofitting of liquefied natural gas (LNG) power plants to run on hydrogen fuel, thereby reducing emissions. He also called attention to an AI-powered solar energy storage software that identifies the most efficient supply response when managing fluctuating demand. The software is integral to solutions designed by Hanwha Solutions' affiliate  Growing Energy Labs, Inc. (Geli) which optimize price and volume based on production and consumption data to reduce the cost of storage and alleviate pressure on power grids, making solar energy more ubiquitous and affordable.

CEO Kim also highlighted the Hanwha Solar Forest Project that exemplifies the use of green energy solutions for the greater good, now and for the future. Emphasizing the importance of cross-sector collaboration that has made the project successful, CEO Kim underscored how Hanwha's corporate activities are making a difference in people's lives and their communities.

Connecting with local communities through activism and social projects has played a pivotal role in Hanwha's ESG approach to management. By actively getting involved in the community with eco-friendly projects, Hanwha has built trust while serving as a responsible corporate citizen that supports societal needs.
Together We Grow
Hanwha, in cooperation with Korea Development Bank (KDB), has recently set up an ESG fund worth KRW 100 billion (USD 89 million) to foster small and medium-sized enterprises (SME) that leverage green technology. Hanwha and KDB will each invest KRW 30 billion and raise the remaining KRW 40 billion from the private sector by the end of 2021. The goal is to create a low-carbon industrial ecosystem that will drive green business.  

Concurrently, Hanwha will continue the work it began of always striving to be a good corporate citizen. In 2009, Hanwha signed a "Shared-Growth and Fair-Trade Agreement" along with 1,500 SME partners to collaborate for mutual growth. Under this agreement, Hanwha will financially support the SMEs from a co-prosperity fund that so far totals USD 356 million.

Among multiple partner initiatives underway is Hanwha's own mutual growth initiative that has been very successful. Hanwha E&C has been honored with the rank of "Excellent" as a company four years running. This is based on the shared growth index overseen by the Korea Commission for Corporate Partnership, an independent organization. In 2020, Hanwha E&C signed its latest fair-trade agreement with 210 other partner companies during an online signing ceremony to offer financial support programs for companies to help them expand their businesses.

Helping partner businesses grow is an important goal for Hanwha—and one that has become tangible. In cooperation with its partners, Hanwha has opened the Shared Growth Mall, an online shopping platform for SME products that can be used by partner executives and employees. The mall is designed to help SMEs expand their market and offers 40 different categories and includes 40,000 SME products at affordable prices, such as home appliances, food, fashion items, and household goods.   
Working Together to Make a Greener World
Hanwha is working with groups around the world, providing solar technology to energize events and clean local ecosystems. When that wasn't enough, Hanwha stepped up its efforts to help make the world greener with on-the-ground projects of its own.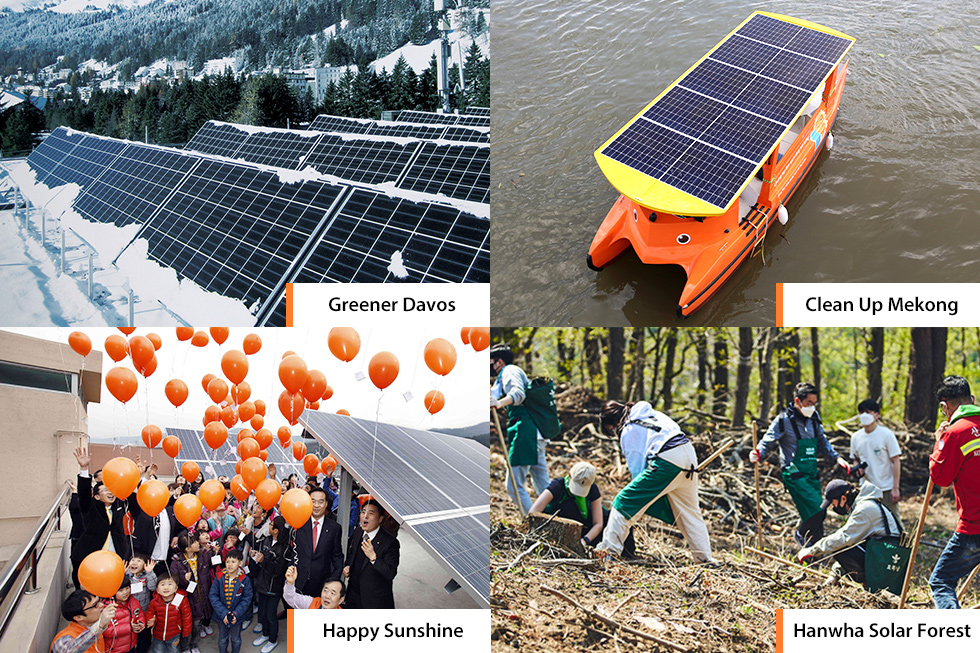 Greener Davos
As a part of its outreach, Hanwha participates in global community events. In 2013, in contribution to the World Economic Forum's announcement of the "Towards a Greener Davos" initiative, Hanwha donated high-efficiency Q.PEAK 275-Wp solar modules to the Davos Congress Center in Davos, Switzerland. The solar PV modules are sufficient to offset the facility's carbon emissions by 20 tons per year, further helping to lower the environmental impact of the annual meeting. Hanwha's contribution played an important role in the WEF receiving ISO 20121:2012 certification for sustainable event management in 2018.   
Clean Up Mekong with Hanwha Solar Boat
Hanwha's reach is all over the world, especially to those most in need. In 2019, two Hanwha solar boats were donated to collect dangerous amounts of floating waste that pollute the Mekong River. The solar boats have been working non-stop in 6 to 7-hour shifts, 7 days a week, without discharging any carbon emissions. And for the last 2 years, between 400 to 500 kg of waste have been removed from the river every day.
Happy Sunshine
As part of its social initiatives, Hanwha also helps groups that seek to improve their communities. Since 2011, the Happy Sunshine initiative has empowered communities and social projects by providing solar power systems that have literally brightened people's lives across 320 locations in Korea and various areas in China, including schools in the Qinghai and Hubei provinces. Through this program, Hanwha also donates to areas struck by natural disasters. In Japan, Hanwha provided KRW 1 billion worth of solar power systems, food, and construction materials in areas hit by the Great East Japan Earthquake in 2011. Over in Columbia, Hanwha Q CELLS recently donated a total of 310 kW of solar modules to a region that was hit by hurricanes in late 2020. The module shipments will go to educational facilities attended by nearly 5,600 students, to help contribute to power infrastructure restoration and education revitalization. Collectively, the Happy Sunshine program has produced more than 2GW of sustainable solar electricity over the last ten years.
Hanwha Solar Forest
Hanwha has not been afraid to create far-reaching, innovative initiatives directly. Hanwha Solar Forest is a global campaign to counter climate change, air pollution, and desertification by replanting forests lost to logging and land clearing. For over ten years, since the campaign's inception in 2011, more than half a million trees have been planted across China, Mongolia, and Korea. The project has not only made a significant positive impact on the world and local communities, but it has also shown the power and necessity of cross-sector collaboration when executing green strategies.
Developing Future Leaders
Nurturing talent is a part of Hanwha's social conscience, which is why the DREAMPLUS incubator was established. The program helps entrepreneurs get their startups off the ground with funding, mentorship, a workplace, and access to over 300 startup networks.

Since 2015, DREAMPLUS has invested approximately KRW 700 billion in startups, assigning KRW 120 billion to a domestic fund designed to foster them and KRW 600 billion to a fund aimed to support their foreign market entry and growth. It's committed to supporting the successful growth of startups through continuous investment in their futures.

DREAMPLUS operates the GLOBAL CENTER for startups aiming to expand overseas. It plans to establish services in China, Vietnam, Indonesia, and Singapore, following the U.S. and Japan, to further support its mission. In addition, the center continues to find opportunities to collaborate with global companies and further the success of startups within its program.

Talent should be supported financially and nurtured early on. That's why, in 2011, Hanwha established the Hanwha Science Challenge, the largest science competition in Korea. This annual competition has allowed 10,000 Korean high school students to showcase their talent, encouraging them to explore the science behind global environmental issues such as climate change.

Environment and social factors are crucial to Hanwha's goal of sustainability which cannot be achieved without responsible governance. For that purpose, Hanwha is establishing and implementing management strategies in all areas of ESG.    

To ensure proper integration of ESG management, Hanwha established ESG committees in every one of its listed companies for global-level ESG management. The ESG committee of each affiliate is the highest deliberation body—playing a critical role that oversees ESG management activities, including mid to long-term implementation of basic policies and strategies. To leverage the expertise of industry leaders and ensure impartiality, two-thirds of the committee members of each ESG committee, including its chairperson, were appointed alongside independent directors from each respective company.  Furthermore, Hanwha has established the 'Hanwha Group ESG Committee' to support and advise the ESG committees of each of the respective companies in their various ESG management activities.

Moreover, to promote advancement of its corporate governance structure, Hanwha has taken active steps to increase the independence, expertise, and diversity of the board of directors of its listed companies. This includes increasing the ratio of female and foreign independent directors, as well as appointing a diverse array of experts.

All seven listed companies of Hanwha (Hanwha Corporation, Hanwha Life, Hanwha Solutions, Hanwha Systems, Hanwha Aerospace, Hanwha General Insurance, and Hanwha Investment & Securities) are projected to publish a sustainability report that includes sustainability management performance and strategies in 2021.
Striving for ESG Management
As business success becomes inextricably linked to socioeconomic value, Hanwha is forging ahead towards a new paradigm of ESG management that places a higher value on people and the Earth.

Hanwha is investing heavily in green technology to help combat climate change and bring forth a new carbon-zero era. The company's commitment can be seen in its investments, funding efforts, and support of partner companies that ensure mutual growth in the green market as well as reaching out to communities and assisting social initiatives. Above all, Hanwha is implementing ethical management measures that provide transparency and establish ESG initiatives across its affiliates. 

As a global, eco-friendly energy solutions provider and a company with leading brands across various sectors in South Korea, it has long been Hanwha's aim to pursue and add sustainable values to its business. Hanwha will continue to be a responsible corporate citizen, producing environmentally-friendly energy and developing products that will lead to a greener, safer world.